In the second episode of Ladies Knight, Jennifer talks to Adia Onyango aka "chess traveler" about Adia's favorite places to combine chess and travel, the importance of representation and chess, and their mutual fondness for this podcast's name. Adia also talks about her plans to break the 2200 barrier and her passion for blindfold chess.
[audio] https://content.blubrry.com/ladiesknight/Ladies_Knight-Episode_2_February_2019.mp3 [/audio]
Podcast (ladies-knight): Play in new window | Download | Subscribe by Email  Subscribe to Ladies Knight on Itunes here and on Android here.  Adia Onyango is the captain of four teams in the Commercial Chess League of New York including two all women's teams and runs two Facebook chess groups, Chess Connections and Women and Girls Do Play Chess. Find her on Instagram and read articles about her on this site by Jamaal-Abdul Alim and on the chess drum by Daaim Shabazz.  Ladies Knight features music by the artist Juga, who went viral when her"> song, Oh Capablanca,dropped in the Fall of 2018. You can find more about Juga on https://www.jugamusica.com/ Find a full index of US Chess podcasts here. To support the podcast, consider making a donation to advance our Women's Programs at https://new.uschess.org/give/donate-online-women/.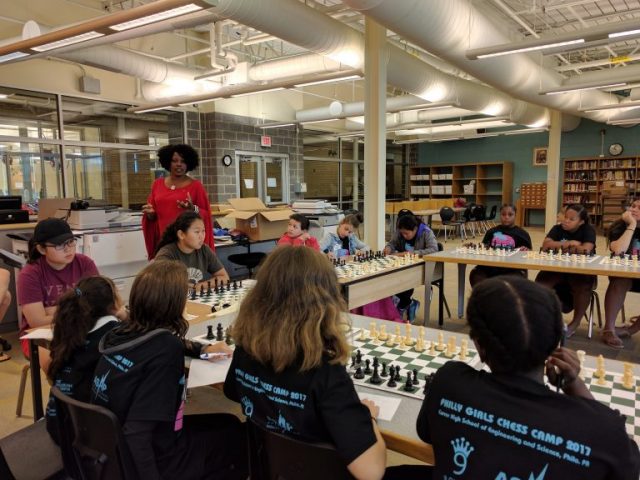 Adia Onyango about to start a chess simul in Philadelphia