Nine-year-old Max Lu (CT) became the youngest US Chess Master at a quad in Scarsdale last week, beating the record previously held by Awonder Liang.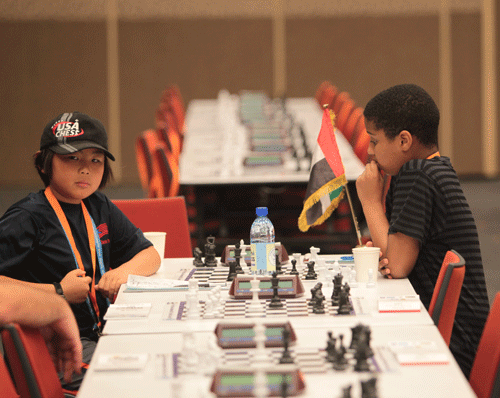 Maximillian Lu playing Sultan Al Darmaky of the UAE in South Africa, Photo Reint Dykema
Maximillian Lu of Connecticut earned the National Master title at a
quad in Scarsdale, NY, 28 days shy of his tenth birthday.
Accordingly to preliminary calculations, this makes Maximillian the youngest master in US Chess history, beating the record previously held by Awonder Liang. Max's father, David told US Chess that Max lost a tough game in a quad, held on September 2 at the Bob Peretz Chess Club. FM Leif Pressman broke his fortress in a rook endgame and Max "was initially very upset and exhaused from the loss as it was such a close game and he knew it could have secured master for him." But Lu shook off the defeat and won against an expert in the final round. Here is Max's first round victory over John Riddell in round 1 of the quad:
[pgn]

[Event "Bob Peretz Chess Club 2015"]
[Date "????.??.??"]
[Round "?"]
[White "Riddell, J."]
[Black "Lu, Max"]
[Result "0-1"]
[ECO "B92"]
[PlyCount "62"]
[EventDate "2015.12.03"]
[SourceDate "2015.12.17"]

1. e4 c5 2. d4 cxd4 3. Nf3 d6 4. Nxd4 Nf6 5. Nc3 a6 6. Be2 e5 7. Nb3 Be7 8. g4
h6 9. Be3 Be6 10. Rg1 b5 11. Nd5 Bxd5 12. exd5 Nbd7 13. Qd2 Nb6 14. Na5 Nbxd5
15. Nc6 Qd7 16. Nxe7 Nxe3 17. Qxe3 Qxe7 18. g5 hxg5 19. Qxg5 g6 20. a4 b4 21.
O-O-O Rxh2 22. Rh1 Rxh1 23. Rxh1 Kd7 24. Qe3 Kc7 25. a5 Nd7 26. Qe4 Rb8 27.
Bxa6 Nc5 28. Qc4 d5 29. Qe2 Qf6 30. Bb5 Qf4+ 31. Kb1 Qe4 0-1[/pgn]
Max himself pinpointed a tactic from a tournament at the Boylston Chess Club as a favorite on his precocious road to 2200.
[pgn][Event "Boylston chess club G/65 quads"]
[Site "?"]
[Date "2015.08.01"]
[Round "?"]
[White "Taylor, Curtis"]
[Black "Lu, Maximillian"]
[Result "0-1"]
[SetUp "1"]
[FEN "4rrk1/3n1pp1/p6p/1pbP3q/3N1Bn1/1B3R2/P1PQ2PP/2R3K1 b - - 0 1"]
[PlyCount "15"]

1... Re4 2. c3 b4 3. Bc2 bxc3 4. Qd3 Bxd4+ 5. Kf1 Rfe8 6. h3 Nc5 7. Qc4 Rxf4 8.
Qxd4 Nh2+ 0-1[/pgn]
David told US Chess, "One of Max's favorite books is
Open
by Andre Agassi. Every time Max losses a close game i quote Agassi's coach Brad Gilbert, "Good things ... are about to happen" which annoys Max as much as it did Agassi after a close loss.  After reaching 2200 Max said, "Okay good things are about to happen."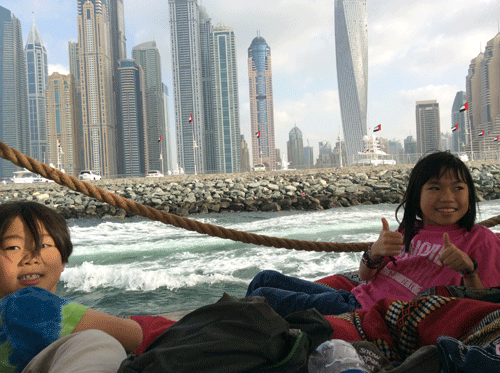 Max Lu with the youngest ever US Chess female chess master, Carissa Yip, pictured here at the World Youth in UAE