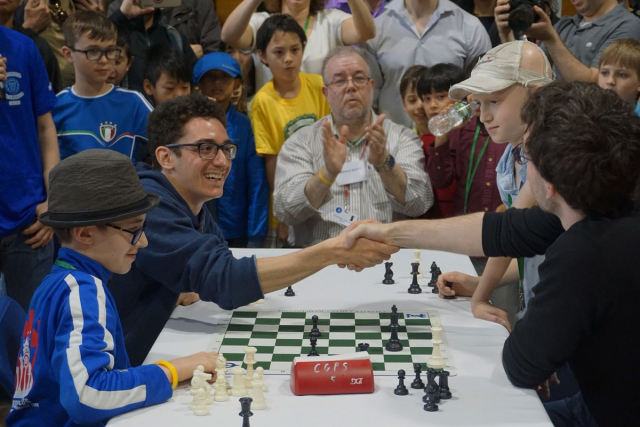 Fabiano doesn't get to deliver checkmate very often these days, but when he does he's ecstatic. Photo: Vanessa Sun
The #3 article in Best of CLO 2018 is
Robert Hess on Charity Chess: $56,000 Raised by GM Robert Hess.
Judges praised Robert's detailed account of the second Charity Chess Champs, which
benefited ovarian cancer research
. Among the attendees was World Championship candidate Fabiano Caruana, and Robert vividly described his gracious visit.
Fabiano, Marc, and I go way back. We are separated in age by under a year and we all grew up in New York City. In 2017 Fabiano was unable to attend the Charity Chess Championship, though he provided autographed boards. What a difference a year makes. In 2018, a year in which he scored the biggest triumph of his chess career by winning the Candidates, Fabiano made an afternoon appearance. He was in the middle of a brief stay in New York before heading to Norway Chess (which he won!). In fact, his flight was that very evening, yet here he was in front of a starstruck audience. For any teachers reading this, you want to know the best way to get students to line up silently in a single file? Bring in the idol of every kid in attendance. Fabiano had only agreed to take part in a special match for charity, but the world's second-highest-rated player is as kind-hearted as they come. He signed dozens of autographs and took photos with anyone and everyone who asked.
The third edition of the
Charity Chess Champs
will be held on Sunday, June 2nd in New York City and will benefit Pancreatic Cancer research.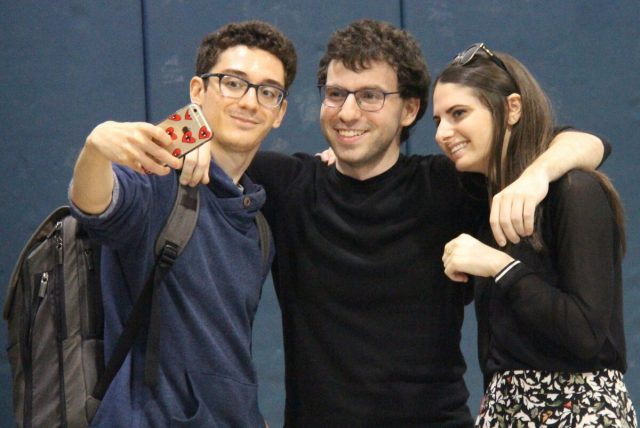 Fabiano enjoying a selfie with author GM Robert Hess and Alexandra Wiener. Photo: Neot Doron-Repa
The Judges Sound Off 
It is so awesome to see high profile players in the chess community come together for this type of charity event.  Hopefully this article will help inspire other organizations to see the value of using chess to raise funds and bring awareness to their causes.  Knowing how much effort goes into arranging special events, it was especially nice to see Hess pay homage to those both in the forefront and behind the scenes that made this event a success. -  
Jennifer Vallens
Lots of narrative, good annotation and an interesting inclusion of games-
Joshua Anderson 
This brilliantly written story takes the reader into the Charity Chess event and even across the board from the World Championship challenger Caruana. Competitive games brought together many youngsters and even a few old-timers, all in the name of collecting donations for the fight against ovarian cancer. While the author's self-deprecating humor  (apparently best served with a cold slice of pizza) contributed to the reading pleasure, the annotated games and multiple personal angles bring this article to life. At the end, the reader regrets missing out on this exciting day of chess.-
Michael "f-pawn" Aigner
Best of CLO Countdown 
10. 
Arthur Guo and Winston Ni Win Big in Atlanta by Vanessa Sun and Michael Rohde 
(
Judging Article
) 9.
 FM Resika on the US Senior: Singing and Chess are Icing on Cake
 by FM Nathan Resika (
Judging Article
) 8.  
Caruana Misses a Chance, Draws Game 8 vs. Carlsen
 by IM Kostya Kavutskiy (
Judging Article
) 7. 
Eyes Wide Open: Gareyev Wins 2018 U.S. Open by Al Lawrence 
by Al Lawrence (
Judging Article
) 6. 
US Chess School in San Fran: Sam Takes the Chocolate 
by NM Robert Shlyakhtenko (
Judging Article
) 5. 
Priya Trakru on the US Chess School: Power Queens
by Priya Trakru (
Judging Article
) 4. 
Q+A With Rochelle Ballantyne: Representation is Important
 by Melinda J. Matthews (
Judging Article
) 3. 
Robert Hess on Charity Chess: $56,000 Raised by GM Robert Hess.