Femme Batale (rhymes with Femme Fatale) 
raised over $10,000 for women and girls in chess, including over $8000 combined for  
US Chess Women Program,
 and for women's and girls programming at 
Chess in the Schools UK
. Chess.com hosted the event on
November 19th as part of their team battle series.
Beloved moderator and
top donor "Chessbae", came up with the idea for the event. She told CLO:
I was thrilled to see this long-anticipated match and overjoyed to see how the community came together to support women and girls in chess.
Youtube star and World Championship commentator IM Anna Rudolf
joined 
photographer and WFM Maria Emelianova
 for Team Europe. I teamed up with our premiere
Ladies Knight guest, streamer and WFM Alexandra Botez
. The match was a best of five 
Hand & Brain match,
a format in which one team-mate names a piece, and the other decides where to move it. For instance, if you say "pawn" on the first move, I can pick any pawn and move it one or two squares. But I can't play
1. Nh3. 
The funny, fast format resulted in plenty of hilarious misinterpretations as well as strong sequences. Here are a few key moments:
Game Two 
How did team North America finish game two here as White?  
30. Rxb7! stunned Black, since Qxb7 loses to Qd6+ Ke8 Nxf6#. But 30...Qd4! would have kept the game alive, especially in the blitz time control.
Game Four
How did Team Europe get a decisive advantage as White here?  
14. Rc1! is a crushing move, as now ...Nxd2 (as played) is best, but 15. Bxf7 Rxf7 16.Rxc7 Nxf1 17. Qxf1 and Black doesn't have nearly enough compensation.

Position after 29.Qe8! I thought we were just crushed here in view of the back rank threats, with ...Bxd4 losing instantly to Qh8+, picking up a piece. Alexandra called out bishop in this position, a brilliant choice. After 29...Bh4, which I found by process of elimination, the game is actually double edged, and ended in a draw with queen and pawn  vs. rook and bishop and pawn, thus winning the match for Team North America. Final position, clinching match in favor of Team NA.  You can watch the entire match replay on chess.com's twitch channel.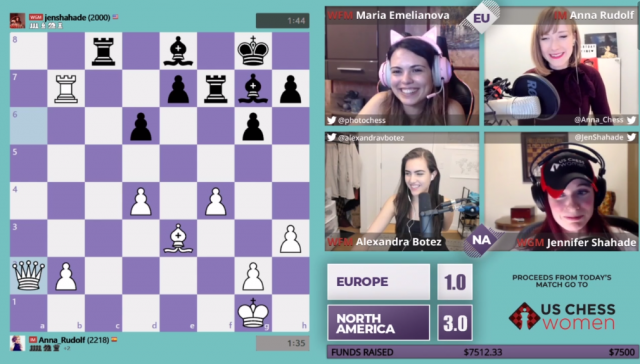 North America now advances to play a star-studded South American team of WIM Ayelen Martinez and WGM Deysi Cori. Thanks Giving Chessbae shared the idea for the event with Maprail, who said he'd like to fund it with other donors. He brought in Kevin C Wong and Nikola Stojsin who supported the event with significant donations and vision. Special thanks to everyone at chess.com, including Nick Barton and Aran Graham. Poker player, entrepreneur and chess afficianado Bill Perkins started the fundraising off with a bang on November 19, with a $2000 donation. Bill will be organizing a charity chess tournament in his hometown, Houston in 2020, so look for more news on that coming soon to CLO. Other members of the poker and sports communities also donated, including poker player Chris Kruk and Houston Rockets General Manager Daryl Morey.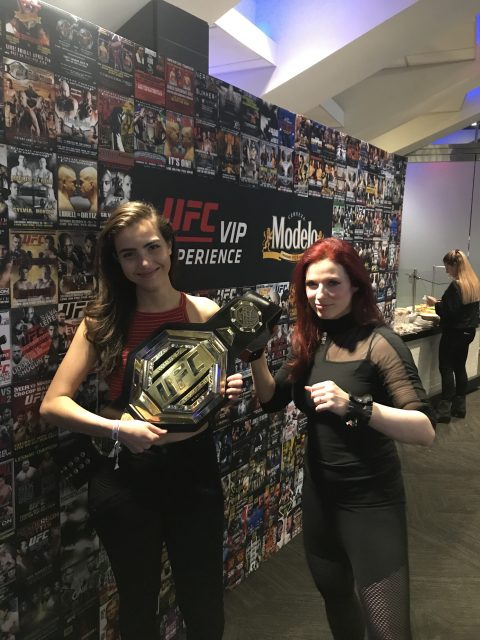 Alexandra and Jennifer at a UFC match in New York

Continuing on the theme of encouraging girls and women in chess, we showed the US Chess Girls in Chess video during the broadcast, and discussed the upcoming Chess in Education Conference in London. This year's conference features chess and female empowerment and is headlined by the top female player in history, Grandmaster Judit Polgar. US Chess also has a strong presence at the conference, including US Chess Executive Director Carol Meyer, Women's committee members Maureen Grimaud and Kimberly Doo McVay, IA Sophia Rohde of the Little House of Chess, and Karsten McVay, co-founder of g2GM (Girls to Grandmasters). During the match, we all discussed the influence Judit Polgar had on our career, how to get more girls and women into the game and the art project that Anna Rudolf helped me with, "Not Particularly Beautiful". The chat was relentlessly positive, even when I spent three minutes to make a single move in a team blitz game (Oops!). Review or browse the entire match on twitch.  In the holiday giving spirit? Make a donation to further increase the impact of the match using our online form, where you can select the "Women's Initiative" to give to programs like our Girls Clubs, Regional Events and grants to girls chess programs all over the country. 
The first