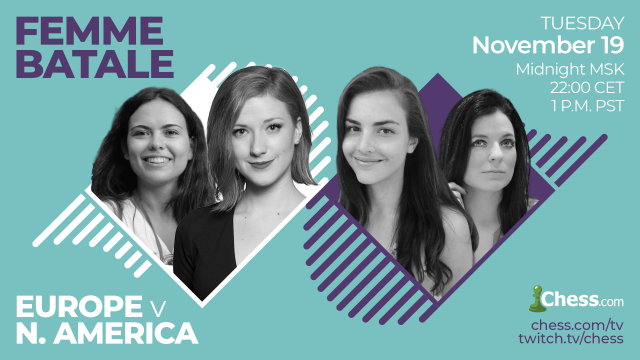 On Tuesday, November 19th at 4 ET, Women's Program Director Jennifer Shahade will
 team up with WFM Alexandra Botez against IM Anna Rudolf and photographer WFM Maria Emelianova in the first chess.com Femme Batale
(rhymes with Femme Fatale.) The match will raise money for women's and girls' initiatives via our own
US Chess Women Program,
and
Chess in the Schools UK
, mirroring the North America vs. Europe theme of the match. The prize pool and charity pot was kicked off in style by twitch supporter "maprail", the beloved "chessbae94", as well as "NikolaStojsin" and "KevinCWong." Join in the fun and say hi on
twitch.tv/chess
or
chess.com/tv
. You can make a donation live on the stream. If you miss the stream,
you can donate using our online form, choosing "Women's Initiative" from the dropdown menu.