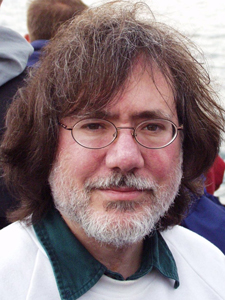 The #3 article in Best of US Chess 2015 is
10 Lessons Learned from the 2015 Sinquefield Cup
 by GM Ian Rogers. Judges praised the Australian GM and prolific writer's wit and breadth of knowledge in recapping 2015 Sinquefield Cup highlights.
Of late, when the world reads news items about Saint Louis they tend to involve violence, racism and riots, so the success of the Sinquefield Cup and the obvious fondness that the players hold for their time in Saint Louis provides an important counterbalance to the city's international image.
The Central West End, with its outdoor dining and leafy streets (as well as the Saint Louis Chess Club, the World Chess Hall of Fame and the Kingside Diner), could almost be mistaken for a cosmopolitan European city and nearby Forest Park and the Saint Louis Zoo are impressive indeed.
GM Rogers is a frequent contributor to uschess.org and Chess Life Magazine. In addition to his award-winning article, he wrote a
Musical Preview of the Sinquefield Cup.
He also wrote popular pieces this year on 
Chess on a Train
and
the World Blitz and Rapid in Berlin.
 You can find more links to his work in his Best of CLO award recognitions in 2013
(also for reporting on the Sinquefield Cup)
 and
for the Grand Slam in 2012.
Rogers' articles are often complemented by photography from his wife, Cathy Rogers.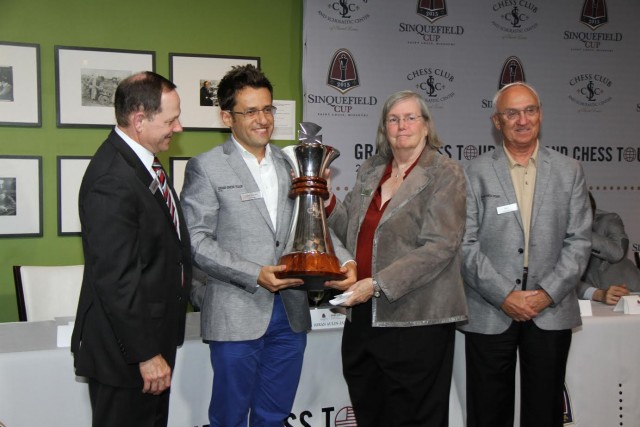 Mayor Francis Slay, Sinq Cup Champ Levon Aronian, Rex and Jeanne Sinquefield, Photo Cathy Rogers
The Sinquefield Cup, which began in 2013, is an official stop on the Grand Chess Tour.
The 2016 edition will take place in Saint Louis from in August.
The Judges Sound Off
GM Ian Rogers shared his often witty observations from the Sinquefield Cup in Saint Louis, won by Levon Aronian ahead of World Champion Magnus Carlsen and Hikaru Nakamura. Readers can enjoy the writer's broad knowledge, both on and off the chessboard. For example, we read how one participant contemplated the acquisition of a goat after an unsatisfactory performance.- Michael Aigner We all watched the 2015 Sinquefield Cup, it was a brilliant tournament, but no good sports event is complete without an equally good "highlight reel". Rogers provides that and much more, with some 'behind-the-scenes' stories and angles that the casual observer may not have noticed.- Kostya Kavutskiy GM Ian Rogers is a highly respected Australian GM who gave us an in-depth look at lessons learned from this prestigious event from observing, listening and commenting on what he personally lived as a writer during the event.)- Claudia Munoz While a few of the observations in this piece were rather obvious (e.g. that Nakamura reached # 2 in the world, and that Anand is older than other top 10 players), most were insightful and provided a good deal of extra value to readers who already had access to the results of the event.   - Kele Perkins What makes a good article to me is one that is informative, instructive or entertaining.  Ian Rogers manages to provide an article that is all of things.  His mapcap  "lessons learned" were clever, factual and just really funny.- Jennifer Vallens
Best of CLO 2015 Countdown 
#3-
10 Lessons Learned from the 2015 Sinquefield Cup
 by GM Ian Rogers. #4- 
Four Medals in
Greece: "This is real chess
 by GM Alejandro Ramirez
(Judging article)
#5- 
"No Offense, but
GMs Aren't Good at Bughouse"
 By GM Irina Krush
(Judging article) 
#6-
Eric Rosen on his Final IM Norm
by IM Eric Rosen
(Judging article) 
#7 – 
Samir Sen on the US Chess School
 by Samir Sen
(Judging article)
#8-
Why is Carlsen Dominant? (A Theory)
 by Cristian Chirila
(Judging article) 
#9- 
Shabalov Completes Quest at U.S. Open
 by FM Mike Klein
(Judging article) 
#10- 
The View From the Other End of the Playing Hall
by Ben Silva
(Judging article)