The July 2019 edition of "Cover Stories with Chess Life" is now live! This monthly podcast, hosted by Senior Director of Strategic Communication Daniel Lucas, goes in depth and behind the scenes of each month's Chess Life cover story.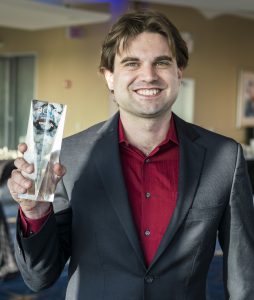 GM Sam Shankland with his 2018 U.S. Championship trophy. Photo by Lennart Ootes, courtesy of the Saint Louis Chess Club.
This month, we talk to GM Sam Shankland about the July Chess Life 2019 U.S. Championship cover story. The defending champ penned a personal perspective of the event from Saint Louis.
"The Skittles Room" is our monthly segment in which we talk to people doing something interesting or of note within US Chess. This month we talk to Pete Karagianis, the Assistant Director of Events for US Chess and the host of our Chess Underground podcast which drops on the fourth Tuesday of each month. Pete and I discuss the upcoming U.S. Open which will be held in Orlando, Florida this August 3-11.
And don't miss your chance at winning a $50 gift certificate to 
USCFSales.com
! Send in your question to 
podcast@uschess.org,
 and if your question is selected as the Best Question, you will win the gift certificate. Next month's 
Chess Life
 cover story will be the spring scholastic national championships and we'll be talking to the legendary Bruce Pandolfini. Send in your questions now about this topic or anything about 
Chess Life
 that strikes your fancy. Make sure to subscribe on iTunes, Google Podcasts, or Spotify!