The
2019 World Senior Team Championships
 will be contested from April 16-24th at the
Olympic Palace Hotel
in Rhodes, Greece. Two titles will be awarded in each of two sections: World Senior Team Champion and World Senior Women Team Champion in both 50+ (born in or before 1969) and 65+ (born in or before 1954) categories. The U.S. 50+ Team will be looking to defend its gold medal victory from the 2018 Senior Teams, held last July in Dresden, Germany. See Joel Benjamin's report in the October 2018 issue of
Chess Life
, along with
this story here on CLO
for more details on that win.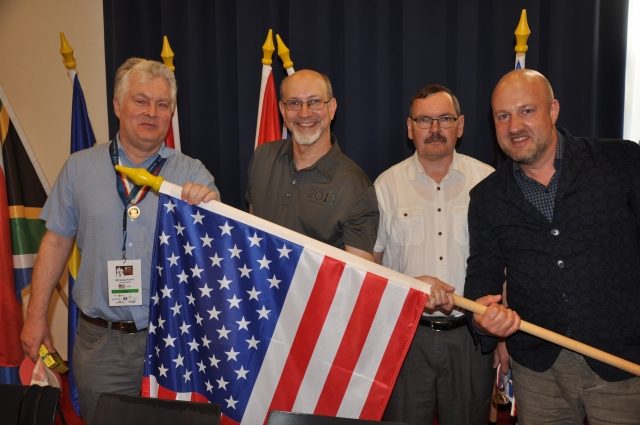 Our 2018 World Senior Team squad
This year's squad retains four of last year's stars – Joel Benjamin, Jaan Ehlvest, Alexander Shabalov, and Alex Yermolinsky – and brings Igor Novikov on-board to replace Sergey Kudrin. The highest rated team in the field, and with five of the top nine players in the 50+ section by rating, the U.S. will certainly be the team to beat. The 2018 gold medal winning Russian 65+ team will also be hoping for a repeat performance this year. As their average team rating is more than 100 elo points higher than the second place Germans, the Championship title is, at least on paper, theirs to lose. One unique feature of the World Senior Teams is that club or regional teams can register to play, so long as all players compete under the same national flag. Last year the German club team "Lasker Schachstiftung GK," with GMs Alexander Graf and Artur Yusupov on top boards, finished third in the 50+ section. Teams from Athens, Norresundby, Offenbach (Frankfurt), Oslo, and St. Petersburg, among others, are competing in this year's Senior Teams.
CLO
will have periodic updates as the tournament progresses.
---
Playing Schedule: Round Date                Time (GMT+3) 1          2019/04/16      15:00 2          2019/04/17      15:00 3          2019/04/18      15:00 4          2019/04/19      15:00 5          2019/04/20      15:00 6          2019/04/21      15:00 7          2019/04/22      15:00 8          2019/04/23      15:00 9          2019/04/24      10:30 Pairings and Results: 50+ section:
http://chess-results.com/tnr413742.aspx
65+ section:
http://chess-results.com/tnr426179.aspx
Games will be streamed at
chess24.com
and photos will be available at
the organizer's Facebook page
.