GM Hovhannes Gabuzyan scored an impressive 7 ½ out of 9 to win the 10
th
Annual Southwest Class Championship and take home $3200.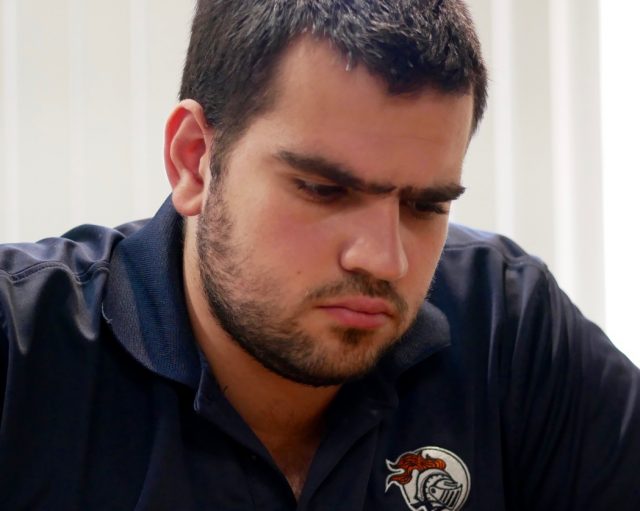 GM Hovhannes Gabuzyan (photo Michael Regan)
The tournament's third seed, Gabuzyan essayed the risky "Swiss Gambit" on his way to victory. He drew in rounds one and two with FM Christopher Shen and NM Jason Wang, and with IM Aleksandr Ostrovskiy in round five.  Gabuzyan won the remainder of his games over IMs Levy Rozman, Emil Stefanov, Erik Santarius, Titas Stremavicius, and FM Andrew Hong before winding up on board one in the last round with black versus top seeded GM Jeffery Xiong. Leading the field by half a point, I'm sure Gabuzyan would have been happy with a draw to tie for first, but as Xiong needed to win, the game was a complicated struggle that Gabuzyan won.  Here is the crucial game:
[pgn]

[Event "Southwest Class"]
[Site "?"]
[Date "2019.02.18"]
[White "Xiong, Jeffery"]
[Black "Gabuzyan, Hovannes"]
[Result "0-1"]
[ECO "B90"]
[WhiteElo "2666"]
[BlackElo "2612"]
[PlyCount "46"]
[EventDate "2019.??.??"]

1. e4 c5 2. Nf3 d6 3. d4 cxd4 4. Nxd4 Nf6 5. Nc3 a6 6. h3 e5 7. Nde2 h5 8. Bg5
Be6 9. Bxf6 Qxf6 10. Nd5 Qd8 11. Qd3 Nd7 12. O-O-O g6 13. Kb1 Bh6 14. Nec3 Nc5
15. Qe2 O-O 16. h4 b5 17. f3 b4 18. Nxb4 Rb8 19. a3 Qb6 20. b3 Rfc8 21. Kb2 Qb7
22. Rxd6 a5 23. Na6 Nxb3 0-1

[/pgn]
Jeffery Xiong was the top seed and certainly played like it. Late round losses kept him out of the winner's circle as he lost to second seeded GM Anton Kovalyov in round seven and third seeded Gabuzyan in the final round.  While he "only" tied for 5
th
at 6-3, Xiong produced some high quality wins along the way.  In the penultimate round Xiong defeated GM Angel Arribas to stay within striking distance of Gabuzyan, setting up the last round matchup on board one.
[pgn]

[Event "Southwest Class"]
[Site "?"]
[Date "2019.02.18"]
[White "Xiong, Jeffery"]
[Black "Arribas, Angel"]
[Result "1-0"]
[ECO "B81"]
[WhiteElo "2666"]
[BlackElo "2454"]
[PlyCount "47"]
[EventDate "2019.??.??"]

1. e4 c5 2. Nf3 d6 3. d4 cxd4 4. Nxd4 Nf6 5. Nc3 e6 6. g4 a6 7. g5 Nfd7 8. Be3
b5 9. a3 Bb7 10. h4 Nc6 11. h5 Rc8 12. Rh3 Nde5 13. f4 Nc4 14. Bxc4 bxc4 15.
Nxc6 Bxc6 16. Qd4 Qd7 17. Qxc4 d5 18. exd5 exd5 19. Qf1 Qf5 20. Bd4 Bd6 21.
Bxg7 Kd7 22. Bxh8 Bxf4 23. Rf3 Re8+ 24. Ne2 1-0

[/pgn]
GM Anton Kovalyov was the second seed and his 7-2 score would be good for first place in many years; in fact Kovalyov won the 2018 Southwest Class with a score of 7-2.  He finished with five wins and four draws, but like Gabuzyan, he also did it in an unusual way.  Kovalyov also drew his first two rounds (against Mauro Ampie and IM Arthur Guo) but worked his way up the crosstable, defeating Xiong in round seven. Here is that critical game:
[pgn]

[Event "Southwest Class"]
[Site "?"]
[Date "2019.02.17"]
[White "Kovalyov, Anton"]
[Black "Xiong, Jeffery"]
[Result "1-0"]
[ECO "E60"]
[WhiteElo "2615"]
[BlackElo "2666"]
[PlyCount "77"]
[EventDate "2019.??.??"]

1. c4 g6 2. Nf3 Bg7 3. d4 Nf6 4. e3 O-O 5. Be2 d6 6. O-O e5 7. dxe5 dxe5 8.
Nxe5 Qe7 9. Nd3 Rd8 10. Qb3 Na6 11. Nc3 c6 12. f3 Nh5 13. Ne4 Be6 14. a4 f5 15.
Nef2 Qf7 16. Qc2 Kh8 17. f4 Qg8 18. Ne5 Nf6 19. Bd2 Nd7 20. Nf3 Qf8 21. a5 Ndc5
22. Rab1 Rxd2 23. Qxd2 Rd8 24. Qe1 Nb3 25. Nd3 Nac5 26. Nde5 Bxe5 27. Nxe5 Nd2
28. Rd1 Nce4 29. Bf3 Nxf1 30. Nxg6+ hxg6 31. Qh4+ Kg7 32. Rxd8 g5 33. Rxf8 gxh4
34. Rb8 Nxe3 35. Rxb7+ Kf6 36. Rxa7 Nxc4 37. a6 Bd5 38. Rb7 c5 39. Rb8 1-0

[/pgn]
INSERT Kovalyov – Xiong IM Brandon Jacobson also scored 7-2 to tie for second place which was worth $1600. Jacobson achieved a GM performance with a 2723 FIDE performance rating, but because he did not play the three necessary GM opponents, and because he had to miss a round due to illness, his performance did not quality for the GM norm. Still, Jacobson showed he is ready to advance to the next level and I would expect him to be making his norms very soon.  Here is his last round win over GM Kamil Dragun.
[pgn]

[Event "Southwest Class"]
[Site "?"]
[Date "2019.02.18"]
[White "Dragun, Kamil"]
[Black "Jacobson, Brandon"]
[Result "0-1"]
[ECO "D00"]
[WhiteElo "2589"]
[BlackElo "2418"]
[PlyCount "114"]
[EventDate "2019.??.??"]

1. d4 Nf6 2. Bg5 d5 3. Bxf6 gxf6 4. c4 e5 5. e3 Nc6 6. Nf3 Be6 7. c5 Rg8 8. Nc3
exd4 9. Nxd4 Nxd4 10. Qxd4 f5 11. g3 c6 12. Bh3 Qe7 13. Qd3 O-O-O 14. O-O Qf6
15. Ne2 Bxc5 16. b4 Bb6 17. Rfd1 h5 18. a4 f4 19. Bxe6+ fxe6 20. exf4 h4 21. a5
Bc7 22. b5 hxg3 23. hxg3 c5 24. b6 axb6 25. axb6 Bxb6 26. Qb3 Kc7 27. Nd4 Rg6
28. Rab1 e5 29. f5 exd4 30. fxg6 c4 31. Qb2 Qxg6 32. Rxd4 Rf8 33. Kg2 Rxf2+ 34.
Qxf2 Bxd4 35. Qf4+ Kc6 36. Re1 Bc5 37. Re2 Bd6 38. Qf3 b5 39. Re3 b4 40. Qd1 b3
41. Qa1 Qc2+ 42. Kh3 Qf5+ 43. Kg2 Qc2+ 44. Kh3 Qh7+ 45. Kg2 Qb7 46. Qa4+ Qb5
47. Qa8+ Kc5 48. Qa3+ Qb4 49. Qa7+ Qb6 50. Qa3+ Kb5 51. Qc1 d4 52. Rf3 Qc6 53.
Qd1 Bc5 54. Kh2 b2 55. Rf1 Qh6+ 56. Kg2 Qc1 57. Qg4 b1=Q 0-1

[/pgn]
The crosstable gives the appearance of many norms being earned. This was somewhat true, but as it turned out, only one norm counted. IM Jacobson's GM performance didn't meet norm requirements, as mentioned above. FM Christopher Yoo took clear fourth with a score of 6 ½ - 2 ½ with an IM norm, but because Yoo's IM application is pending, this norm was just icing on the cake. Similarly, FM Andrew Hong's score of 5 ½ - 3 ½ would be good for an IM norm, but Hong also has three IM norms.  Since both Hong and Yoo are above 2400 FIDE, their titles should be confirmed at the next meeting. The norm that mattered is for IM David Brodsky who made a GM norm with a score of 6-3.  Brodsky played five GMs (scoring 2 ½ out of 5) and three IMs (scoring 2 ½ out of 3) to achieve a FIDE 2621 performance and a norm.  Brodsky was paired up every round after his round one win, so he should pickup some rating points which will get him closer to the FIDE 2500 rating necessary for the GM title.  He also won $211.11 for his efforts, but I suspect this was far less important to him.  Here is Brodsky's last round win over IM Kacper Drozdowski, sealing the deal for the GM norm.
[pgn]

[Event "Southwest Class"]
[Site "?"]
[Date "2019.02.18"]
[White "Brodsky, David"]
[Black "Drozdowski, Kacper"]
[Result "1-0"]
[ECO "B41"]
[WhiteElo "2402"]
[BlackElo "2490"]
[PlyCount "69"]
[EventDate "2019.??.??"]

1. e4 c5 2. Nf3 e6 3. d4 cxd4 4. Nxd4 a6 5. c4 Nf6 6. Nc3 Qc7 7. Be2 b6 8. O-O
Bb7 9. Qd3 d6 10. f4 Nbd7 11. b4 Be7 12. Bb2 O-O 13. a3 Rac8 14. g4 Rfd8 15. g5
Ne8 16. Qg3 Bf8 17. Rac1 Ba8 18. f5 exf5 19. Nxf5 Ne5 20. Nd5 Bxd5 21. cxd5 Qd7
22. Rxc8 Qxc8 23. Bxe5 dxe5 24. Qxe5 Nd6 25. Ne7+ Bxe7 26. Qxe7 Rd7 27. Qe5 Qd8
28. Qf4 Re7 29. e5 Qe8 30. e6 Qd8 31. Bg4 Kh8 32. Rc1 h5 33. Bxh5 fxe6 34. Bg6
Kg8 35. Qxd6 1-0

[/pgn]
The 10
th
edition of the Southwest Class was the largest in its history, drawing 417 total players. The 84 player Master section including 10 GMs, 23 IMs, 15 FMs, one WGM, one WIM and a total of 55 players rated 2200+ FIDE, all of whom were competing for a $33,000 guaranteed prize fund. But the Masters weren't the only ones going home with some money! Other section winners were:
Expert
Nguyen Li, Segev Eliezer, Hirem Premkumar, 5 ½ - 1 ½, $1166.67
Class A
Miguel Garcia, 6-1, $2000
Class B
Brendan Heneghan, 6-1, $804
Class C
Luis Jimenez and Steven Gray, 6-1, $1300
Class D
Patrick Wang and Xueyi Chen, 6-1, $600
Class E
Grace Wang, 6 ½  – ½, $800
Mixed Doubles
Grace Wang and Eric Wang, 10-4, $500 to each player
Blitz T
ournament
IM Advait Patel, 7 ½ - ½, $135 NTD Steve Immitt directed for Continental Chess Association assisted by David Hater, Brian Yang, Rob Jones, and Anthony Guerra. Full tournament details can be found at
www.southwestclass.com
. Previous Continental Chess tournaments can be found at the Continental Chess website at 
http://www.chesstour.com/cross.html