Test how well you've been following the Sinquefield Cup with a mid-tournament tactics quiz.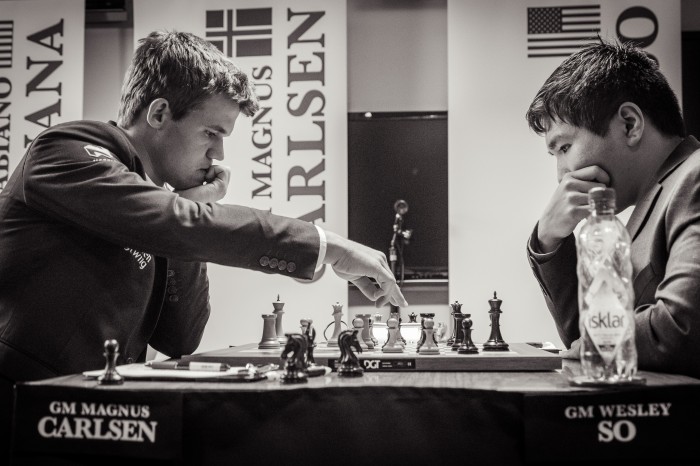 Carlsen vs. So, Photo Grand Chess Tour
In the most recent rounds of the Sinquefield Cup, two new leaders have emerged: Levon Aronian and Magnus Carlsen. Aronian found his way to the top of the scoreboard by winning two beautiful attacking games against Caruana and So. Carlsen, on the other hand, had a shaky start with a first round loss to Topalov, but has since recovered and managed three and half points out of the last four games. Here's a look at some of the tactical combinations from the exciting first round of the tournament, which had the rare result of all decisive games between these top-level grandmasters.
Tactic #1 GM Wesley So vs. GM Maxime Vachier-Lagrave
[fen flip=true]r2q1rk1/5pbp/2p3p1/1p2pb2/8/1PNP2P1/P1Q1PP1P/R1B1K2R b KQ - 0 1[/fen]
Show Solution
18...e4! When your opponent's king is uncastled, open up the center. 19.dxe4 Bxe4! White can't defend all of the weaknesses in his position. 20. Nxe4 Bxa1 and Black went on to convert his material advantage into a win.
Tactic #2 GM Levon Aronian vs. GM Fabiano Caruana
[fen]4r3/2p1P1kp/1pPnB3/8/p3R3/P7/1P4PP/6K1 w - - 0 1[/fen]
White to move.
Caruana just played 36...Nd6, attacking Aronian's rook. How did one of the current tournament leaders respond?
Show Solution
37. Bd7! Never retreat unless you have to. After the rook exchange, White's passed pawn is too strong. 37...Nxe4 38. Bxe8 Kf6 Has Caruana won the passed pawn? 39. Bg6! Only at the cost of his knight. Black resigns.
Tactic #3 GM Anish Giri vs. GM Alexander Grischuk
[fen]5rk1/p3bppp/b1R1pn2/1q2N3/N2PP3/6PP/P1QB1PBK/r7 w - - 0 1[/fen]
White to move.
How did Giri turn his better placed pieces into a material advantage?
Show Solution
27. Bc3 Black's rook has gone too far into White's position without an escape route. 27...Rf1 (If 27...Rb1 28. Nb2 blocks the rook's retreat.) 28. Nb2 Qb7 29. Rxa6 Qxa6 30. Nbc4 and the rook is lost.
Tactic #4 GM Hikaru Nakamura vs. GM Viswanathan Anand
[fen]1nr1b1k1/2r5/p2bp2p/5pp1/P4P2/1N1B2P1/2RBP2P/2R2K2 w - - 0 1[/fen]
White to move.
Anand just made a mistake with 36...Nb8. How did Nakamura gain the upper hand against the former world champion?
Show Solution
37. Rxc7 White trades rooks to divert Black's bishop from guarding the c5 square. 37...Rxc7 38. Rxc7 Bxc7 39. fxg5 hxg5 40. Nc5 The double attack against the a6 and e6 pawns give White a significant advantage.
Follow the Sinquefield Cup live from August 29, Saturday to September 2, Wednesday at 1:50 EST/12:50 CST http://grandchesstour.com/