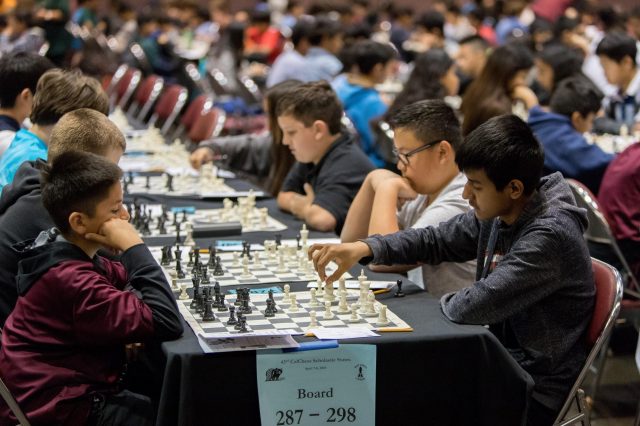 "Strength in Numbers" is the motto of the Bay Area-based NBA Champions, the Golden State Warriors. It also perfectly described the CalChess Scholastic State Championships that took place April 6-8. Organized by San Jose-based
BayAreaChess
and held at the Santa Clara Convention Center in the heart of Silicon Valley, this year's SuperStates set a new attendance record by drawing 1,160 of the best junior players from Northern California and the Central Valley, despite competing with Easter and spring break vacations. This eclipsed
last year's record
attendance of 1,106. "It's heartwarming to see true representation all across Northern California and once again surpass last year's numbers," said Dr. Judit Sztaray, BAC Executive Director and tournament organizer. "With important upgrades and improvements, we hoped we provided a safe, fair and fun experience for all players and their parents and coaches." (more on that below)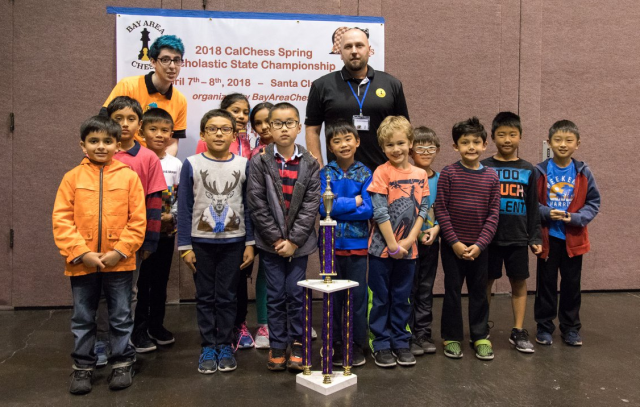 Strength in Size
This year's winning teams were propelled by large, powerful lineups. Harker School of San Jose, which won the national HS championship in 2016, brought 61 players to SuperStates. Harker won two team titles, including the top FIDE-rated K-12 Championship section, led by individual champion, IM Vignesh Panchanatham and runner-up, NM Michael Wang.
Fallon Middle School
of Dublin brought 41 players to SuperStates. Skipping the concurrent Junior High Nationals in Atlanta was the right call - Fallon won or tied for first in three sections, including shared first in the K-8 Championship with the winners on tiebreak, Horner Jr. High of Fremont (full disclosure - the author is the parent head coach for Fallon). Demonstrating that high school chess is still alive, Lowell High School and Jewish Community HS of San Francisco together brought 25 players. Lowell, the defending K-12 JV (800-1599) team champions, topped its San Francisco rival, JCHS, which had won the same title in 2016. In the club team category, BayAreaChess won nine titles, including the K-12 and K-8 Championships. BAC, which besides running tournaments like SuperStates also t
eaches chess at 100+ local schools,
was represented by 330 players, including many new tournament competitors (more on that below). Liu Chess School, which brought 66 players, won the K-5 and K-3 Club Championships. Two Fremont clubs, Shoreview Chess Club and NorCal House of Chess were represented by 33 and 46 players, respectively. Shoreview won the K-6 Club Championship, while NorCal won the K-6 JV Club title. View the
full standings
,
rating results,
and
Facebook
photo
albums
of the action and trophy ceremonies.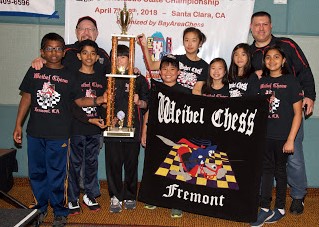 Weibel Elementary won 6 out of 8 team titles this year, including the K-5 Championship above. Photo courtesy of Dr. Alan Kirshner.
In Cross-Town Rivalry, An Upset
The best example of Strength in Numbers was the latest rendition of the longtime rivalry between two powerhouses, Weibel Elementary and Mission San Jose Elementary. The Fremont schools, located just two miles apart, have been dueling since 1990, or almost three decades, both in Northern California and on the national stages. The Joe Lonsdale-coached MSJE has held the upper hand in recent years. It is the defending national K-5 elementary school champion, and swept all four of the elementary Championship sections at SuperStates last year. Most recently,
MSJE won 4 out 7 sections
at the CalChess Grade Level Championships in December, to two for Weibel. This was Weibel's year at SuperStates, though. Entering 84 players in 8 sections, Coach Dr. Alan Kirshner's team won or tied for first in six of them, including upsetting MSJE in the K-5 Championships by half a point, which Kirshner credited heavily to the play of top scorers Nikko Daniel Le (3rd place) and Yesun Le (7th). Weibel also won the Kindergarten section and tied for first in the K-6 Championships (2nd on tiebreak to MSJE), which Kirshner said was the biggest accomplishment due to the 400 point rating differential between MSJE's and Weibel's top K-6 players. He called 6th graders Prisha Jain, Krish Gangal, Umesh Gopi, and Isha Varada "the real heroes" for the upset. Kirshner said Weibel's many strong girl players were key this year, and, longer term, that the rivalry with MSJE has "undoubtedly been the reason for the success for both teams." MSJE, which entered 61 players, won three sections, including the K-6 Championship and the K-3 Championship. "We were disappointed to lose the K-5 Championship (for the first time ever), but one of the great things about chess is that children learn to win and lose and handle both with class," said Lonsdale. "We were very pleased with our K-3 victory as our top player (Kavya Meiyappan) was away. First grader Lucas Jiang (4th place) really stepped up for us in K-3." Both teams are preparing for the National Elementary Championships in Nashville in May. While Weibel is sending a small team, MSJE is going all-out. Instead of defending its K-5 title, MSJE plans to focus on the K-1 and K-6 sections, where it placed 2nd and 3rd, respectively, last year. "We have moved our top two 5th graders (Allyson Wong and Aghilan Nachiappan) into K-6 to improve our chances," Lonsdale said. As a result, "our K-6 team is stronger than most of our other K-6 teams that have won 1st in K-6 in the last several years. Our K-1 team is also very strong."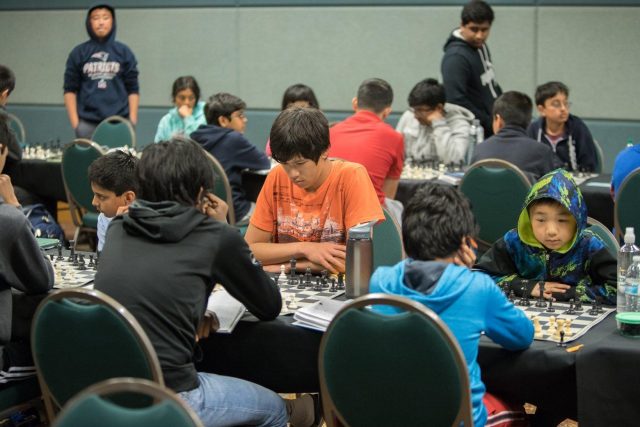 The FIDE-rated K-12 Championship section attracted numerous nationally-age-ranked players.
Strength in Ratings
The Bay Area is one of the strongest regions in the U.S. for scholastic chess, so it's no surprise that the tournament drew several dozen nationally-age-ranked players in 5 Championship sections, especially in the FIDE-rated K-12 Championship. Despite some notable absences - IM Cameron Wheeler and the rest of his defending national HS championship team, Monta Vista High School of Cupertino; FM Christopher Yoo, NM Rochelle Wu, and others - this year's tournament was both strong, with a dozen players rated 2000+ and another 26 A players, and fiercely contested throughout all 16 sections.  
Individual Champions
K-12 Championship - IM Vignesh Panchanatham
K-8 Championship - Shreyas Nayak
K-6 Championship - Kevin Pan (tiebreak over Ahyan Zaman and Ruthvi Singireddy)
K-5 Championship - Nicholas Weng
K-3 Championship - Bryan Xie
Kindergarten - Alexander Braun
K-12 JV - Jeremy Cawthon
K-8 JV - Ronak Suri
K-6 JV - Lucas Quan (tiebreak over Henry Lien)
K-3 JV - Henry Shirley (tiebreak over Adam Tai)
K-12 Beginner - Kapil Malladi
K-8 Beginner - Kenmin Ho (tiebreak over Jai Gupta and Dewey Liu)
K-6 Beginner - Rishi Kanti (tiebreak over Alexander Yee)
K-3 Beginner - Cabrales Goldstein (tiebreak over Prayag Nambiar and Raphael Leung)
K-6 Rookie - Manit Monga (tiebreak over Trent Adamson and Manuel Heredia)
K-3 Rookie - Dev Bhatt (tiebreak over Henry Deng, Soren Curry, and Douglas Chen)
For more information, check out the full standings and rating results.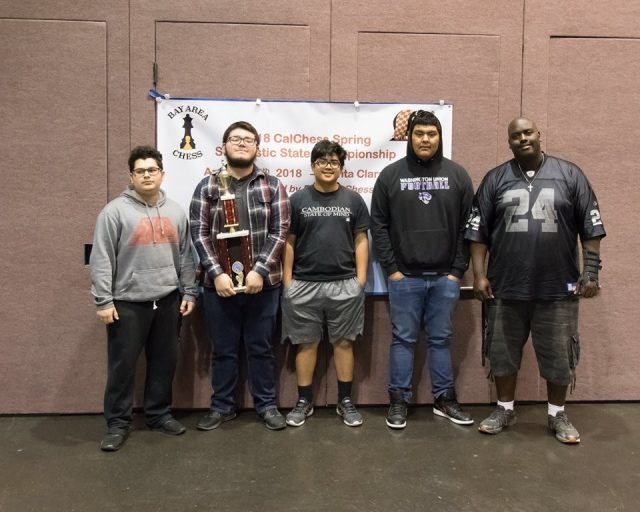 Washington Union High School of Fresno, co-winner of K-12 Beginner (Under 800) section.
Strength in Diversity
A special emphasis for BayAreaChess was to increase the geographic and socioeconomic diversity of the players.
For instance, the Central Valley was well represented this year, as reduced entry fees courtesy of BAC's sponsors, encouraged players to make the several hour drive from Sacramento, Fresno, Stockton and other areas to compete. Despite a relative lack of tournament experience, these players and teams excelled. Two Fresno teams, Sunnyside High School and Washington Union High School, went 1-2 in in the K-12 Beginner (Under 800) section, while Blue Oak School from Chico won the K-6 Rookie. Huron Middle School took second in the K-8 Beginner section.
In club competition, the Sacramento Valley Scholastic Chess League, with 37 players, won for top K-6 Rookie club and took second K-8 Beginner club, while the Central Valley Scholastic Chess Club, comprised of 19 players, won top club in K-12 Beginner and K-6 Beginner sections, while one of its members, Manit Monga, tied for first in the K-6 Rookie with SVSCL's Trent Adamson.
BAC also helped helped bridge the socioeconomic distance for nearby schools. For example, Grant Elementary School in San Jose is one of 10 lower-income Title I schools where BayAreaChess provides a
free weekly lunchtime chess class
. Coached by BAC's James Bethany and aided by waived entry and membership fees, 5 Grant players made SuperStates their first rated outing. Grant placed second in the K-6 Rookie section, and one of its players, Manual Heredia, went 5-0 and tied for first.
Two other similar San Jose schools also did well in their debuts.
Leyva Bulldog Tech
placed 3rd in the K-8 Beginner section, with one player, Kenmin Ho, winning the section with a perfect 5-0 score. KIPP Prize Academy, coached by Jasmine Kaur, placed 8th, with one player, Viktor Pham, placing in the top 20.
"All of these schools are predominantly low income and mostly Latino, and these kids have never participated in any event like this," said Abel Talamantez, Director of
BayAreaChess's enrichment programs
and assistant TD for SuperStates. "It really shows that if these kids are given the opportunity to compete, they are ready to surpass all expectations. In our mission of 'Transforming Lives through Chess,' what happened this weekend with these students certainly will resonate in their schools and in their communities, and will even further embolden our efforts for more outreach."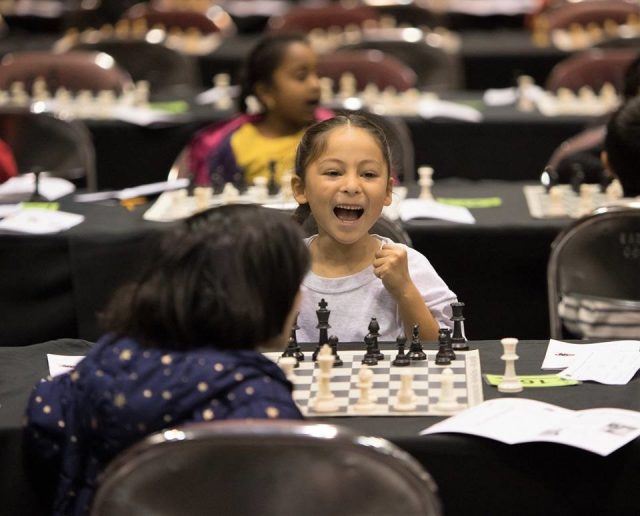 Smooth Sailing at Scale
For such a massive tournament, SuperStates again ran smoothly, said tournament organizer, Sztaray. Besides a new parent-child pickup procedure to ensure the safety of younger players, BAC "worked hard to provide sufficient staffing inside and outside of the game hall," she said. In addition, younger players could enjoy free entertainment, while players of all ages could have their games analyzed for free by BAC GM coaches. Finally, "we worked hard to submit the tournament for rating in a super quick time, despite processing hundreds of new USCF memberships and the results of 3000+ rated games!"
Sztaray
thanked the experienced TD crew at SuperStates for how well it ran: Chief TD Tom Langland, Chief Assistant TD John McCumiskey, Assistant TDs Jordan Langland, Abel Talamantez, and the sectional chief TDs: Richard Koepcke, Andrew Mueckenberger, Wolfgang Behm, Brian Lee Morris, Arthur Braden, Reka Sztaray, Matthew LeForce, Michael Joseph D'Alfonsi, Dana Langland, and Arthur Liou. She also thanked the rest of the BAC coaching and management team that was on-site, specifically James Bethany, Elena Kondakova, Jasmine Kaur, NM Derek O'Connor, FM Teemu Virtanen, and many other staff and volunteers. GM Zviad Izoria (who soon play in the U.S. Championship), GM Enrico Sevillano, GM Atanas Kolev, and Faik Aleskerov all provided free expert analysis for players. Finally, Sztaray thanked the sponsors: the Lonsdale family, Shastha Foods, U.S. Chess Trust and the on-site vendors, including
ChessKid.com,
Fine Designs,
Wood Expressions,
Lauren Goodkind and others.
Check out the event pictures on BAC's Facebook page:
Album 1
,
Album 2
and
Album 3
by the talented Dayv of
Umlaut Photography
, and the
Photo Booth
. If you attended the event, please take the survey:
https://goo.gl/forms/tbp4VrUdmTYLHvGO2​​​​​​​
---
ABOUT THE AUTHOR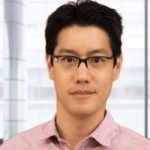 Eric Lai
 is a Bay Area-based journalist, tech marketing consultant, and head coach of the Fallon Middle School chess team.