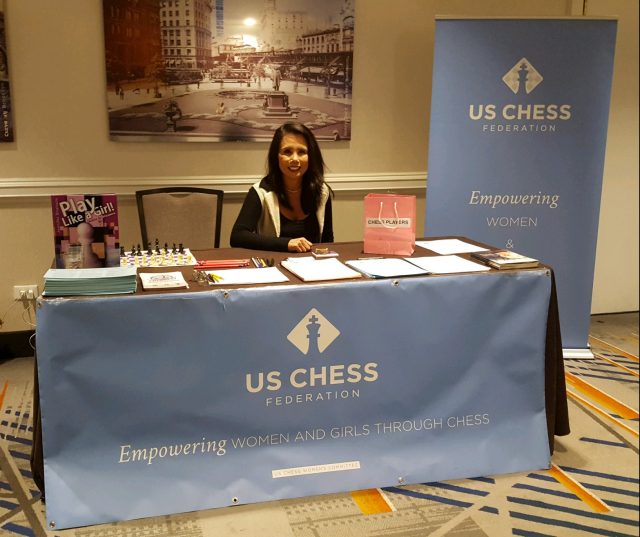 Kimberly Doo
Kimberly Doo McVay is an active member of the US Chess Women's committee, as well as an organizer of this year's Charity Chess Championships, set for New York City on Sunday, May 20th.  Kimberly chats with Jennifer Shahade about why ovarian cancer is such a personal cause to her, her work with girls and women, and tips for chess moms.
Jennifer Shahade (JS)-Tell us about your role in this year's Charity Chess Championships.
Kimberly Doo -(KD) 
My main role in the
2nd annual Charity Chess Championships
is to bring as much publicity to the event as possible and just help wherever help is needed.  Last year's event raised over $20,000 to aid in the research for Neuroblastoma, the most common form of cancer for children under two years of age.  This year, I am using whatever connections and resources I have to increase awareness to this event, which is to benefit ovarian cancer research. We hope to surpass last year's donation total. I am also working on getting more silent auction items.  We already have have 21 Grandmasters committed to this year's event, including Robert Hess, Maurice Ashley and Irina Krush.
(See a full list here.)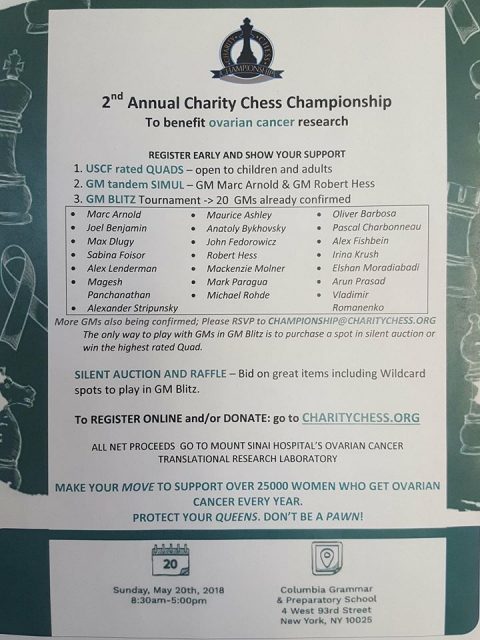 JS-What is your connection to this year's cause, ovarian cancer?
KD-
This year's cause is deeply personal to me.  My mom's only sister, my Aunt Dolores, died of ovarian cancer at the age of 49 in 2000.  Over 25,000 women are diagnosed with ovarian cancer every year and more than 14,000 of them will die.  Ovarian cancer is the 5th most common cancer in women.  My aunt was already in stage 4 when she was diagnosed and passed away less than 
two years later
.
I believe this year's cause is so important to donate to because so many women are affected by ovarian cancer, which is also known as the "silent killer."  It is one of the hardest cancers to diagnose because usually by the time the symptoms appear, the cancer has metastasized to the point where it is very difficult to treat.  The symptoms of ovarian cancer can be easily overlooked and attributed to other things.
JS

-
I think it is significant that we chose a cause this year that affects women, despite the fact that chess is still male dominated. It sends a strong positive message about the importance of females in our game.
KD-I think it is great that this year's Charity Chess Championship is focusing on a cause that is a women's health issue.  However, men are also deeply affected by ovarian cancer.  For every woman out there that is diagnosed with ovarian cancer, there are brothers, husbands, uncles, and sons whose lives will also be affected in some way by this horrible cancer.  It is great that there will be so many men attending this event. By participating, fundraising or volunteering their time, they are saying that they care about and want to help find a cure for this women's disease.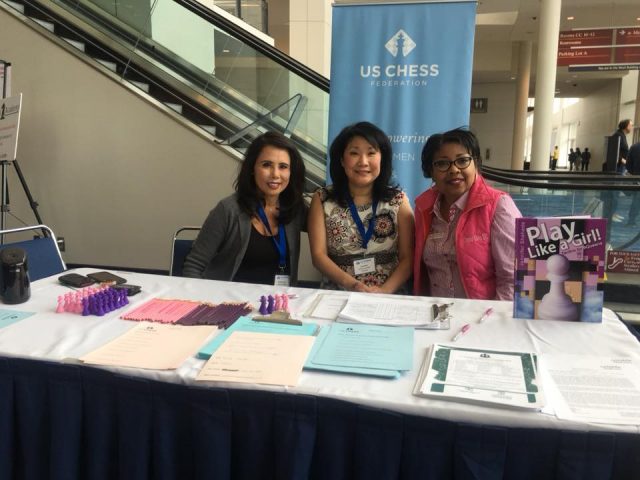 Kimberly, committee president Maureen Grimaud and Robin Ramson of Girls Chess DC at the recent All Girls Nationals in Chicago
JS-Can you tell us a little about your work on the Women's Committee?
KD
- I have been involved with the
Women's Committee
for roughly three years.  I am mainly in charge of "events" for the committee, which entails my setting up a table at as many chess tournaments as possible, although the emphasis is more on scholastic tournaments.  At my Women's Committee table, I set up a banner, which "advertises" our committee's presence.  I give out pencils which are personalized with "Empowering Women & Girls Through Chess" and queen erasers to the girls--in addition to holding drawings for both girl chess players and their parents to win chess books and other chess memorabilia.
We also get as many girl chess players and their parents to fill out survey forms so that they can tell us what they like and do not like about playing chess.  We plan to use the results of the surveys so that we can figure out how we can make the chess community more welcoming, inclusive and fun for girl chess players.  One of our main goals is to encourage and promote as many girls and women to continue playing chess as long as possible, despite the fact that chess is a male-dominated sport. Another goal of the Women's Committee is to bring increased awareness to women and girl chess players that they have a committee behind them that is looking out for their best interests.
JS-What was one of the most memorable experiences from your work on the women's committee and the girls' room?
KD
- It is always rewarding for me to see curious girl chess players and their parents approach my Women's Committee table and ask what the purpose of our table is.  After I explain to them what the purpose is of the Women's Committee, it is a wonderful feeling to get so much positive feedback.  It is a great to hear from parents especially that they appreciate the Women's Committee and all the work we are doing to promote women and girls playing chess.  One of my most memorable experiences with
the Women's Committee took place this past December at the Grade Nationals in Orlando
.  I acted as one of the facilitators along with IA Sophia Rohde,
at our Women's Committee Town Hall meeting
, which featured as special guests, WGM Sabina Foisor (2017 U.S. Women's Champion)  and IM Carolina Blanco.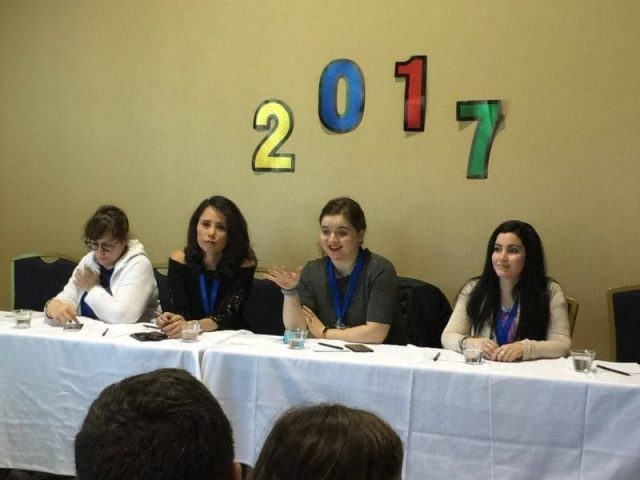 US Chess Women's committee members Columbia Grammar head coach Sophia Rohde, Kimberly Doo McVay, Sabina Foisor and Carolina Blanco
Both Sabina and Carolina spoke about how they got started playing chess and some of the "highs" and "lows" they had during their chess careers.  Both Sabina and Carolina spoke so eloquently from their hearts and encouraged the girls to not give up on playing chess. We had over 80 girl chess players, their parents and coaches in attendance. What was so heartening to me was to see all the interest in not only hearing Sabina and Carolina speak, but also that those who came to our meeting seemed to genuinely care about promoting girls and women playing chess. It was also wonderful for me to see so many young girls waiting in line to take get autographs from Sabina and Carolina and get their autographs after the Town Hall meeting ended.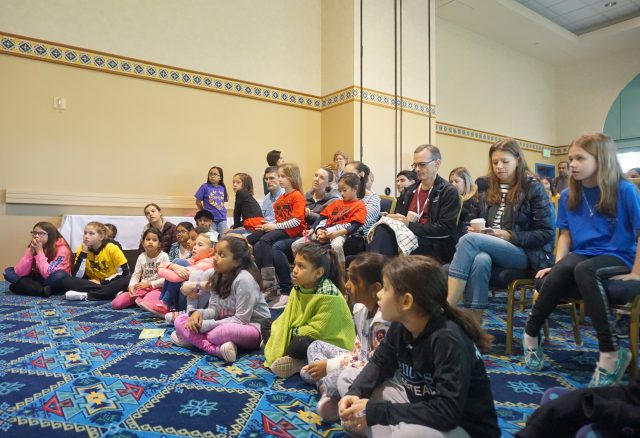 Girls crowd the Town Hall meeting, Photo Vanessa Sun
JS-You are a chess mom yourself! Any tips for parents on how to encourage their kids, especially their girls, in the game?
KD-I am a huge proponent of chess and even though I don't play myself, I know how beneficial chess is.  I have three kids and all  were chess players.  To be frank, once my two daughters got to middle school, it was harder for me to keep them interested in chess because they preferred being involved in activities that were more social and not known to be so "nerdy."  I would tell them repeatedly about the many benefits of playing chess and that they needed a "mind sport" that they could do for life and not just "physical sports." I told my kids that I didn't expect any of them to be Grandmasters, but I just wanted them to try their hardest and get as much as they could out of chess.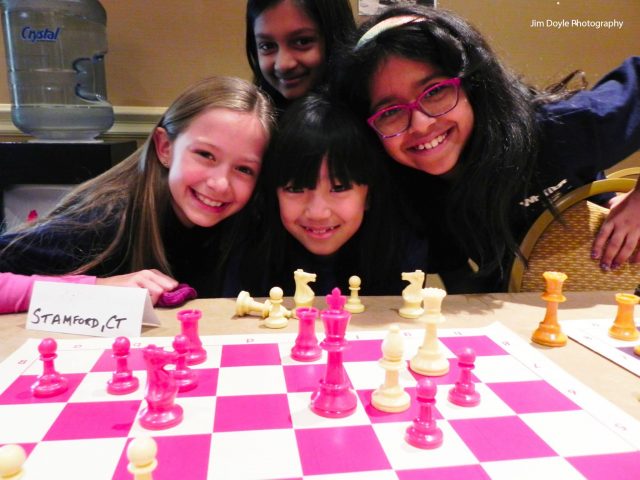 The Girls Club room as organized by US Chess's Women's Committee
My kids are basically grown up now and I think they would finally admit that they learned a lot from playing chess that goes far beyond learning better analytical skills.  Looking back, I think the best advice I would have for parents to encourage their kids to play chess is to try to make it a more fun and social experience--in addition to telling them that chess provides invaluable life lessons that they may not appreciate until they are older.  One of the ways the Women's Committee is making chess a more social activity that will keep more girls involved is by organizing Girls' Club Rooms at major scholastic tournaments.  We believe that the longer we can keep more girls involved, the greater the likelihood that they will appreciate and reap the benefits of playing chess!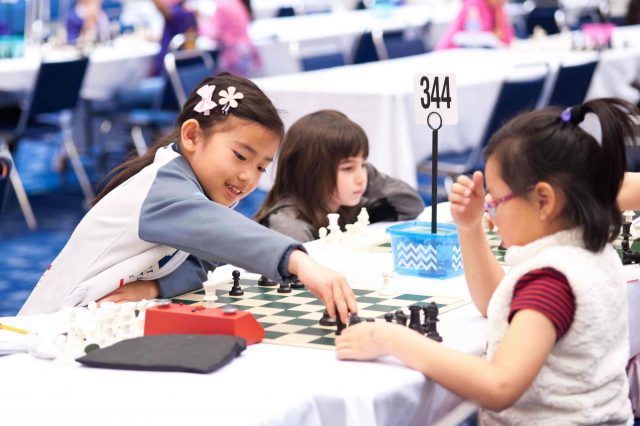 Jocelyn Chen makes a move at the recent All Girls Nationals, Photo Betsy Dynako-Zacate
JS-If someone is on the fence about attending the Charity Chess Championships, what would you say?
KD-Last year's Charity Chess Championship event was incredibly successful and everyone who attended had a fun time.  People can choose to come for just a little while or stay the whole day. It was wonderful to see so many people come together for a great cause and even non-chess players can have a good time observing the chess games, meeting friends and bidding on silent auction items.
JS-If someone reading this can't make the event itself, is there another way they can help?
KD
-We are still looking for more items to feature in our silent auction fundraiser.  We welcome anything that can be used at our silent auction--restaurant gift certificates, sporting events, autographed sports memorabilia, art, lessons or "experiences," etc.  We also would greatly appreciate any donations to  
charitychess.org
.  All net proceeds go to Mount Sinai Hospital's Ovarian Cancer Translational Research Laboratory.  Even non-chess players can have a good time observing the chess games, meeting friends and bidding on silent auction items.