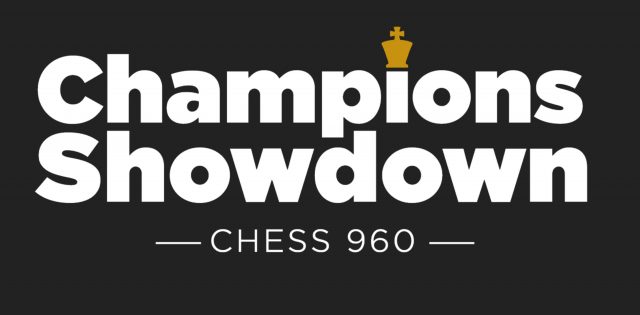 SAINT LOUIS (August 24, 2018) —
The Saint Louis Chess Club will bring ten of the top chess players in the world, including legendary world champion Garry Kasparov, to play in the Champions Showdown this September. The matches will be played in Chess 960 style, also known as Fischer Random, with a $250,000 prize purse. 
The competition will include six rapid games and fourteen blitz games over the five days of play.
"Bringing this amount of talent to an event is a tribute to Saint Louis, the chess capital of the world," said Garry Kasparov. "People will get to see chess champions battle it out in a nontraditional and exciting format that will challenge all competitors."
Fischer random is a variant of chess created by Bobby Fischer in the late 1990s in which the pieces on the home rank are randomized. The 960 represents the number of possible starting positions. Players will not know the order of the home rank pieces until they arrive before the start of the round and will have to rely on their creativity in rapid and blitz games. 
Player Matchups

Player

URS Rating

Player

URS Rating

Garry Kasparov

2734

vs.

Veselin Topalov

2722

Hikaru Nakamura

2812

vs.

Peter Svidler

2758

Wesley So

2794

vs.

Anish Giri

2763

Sam Shankland

2695

vs.

Maxime Vachier-Lagrave

2796

Levon Aronian

2794

vs.

Leinier Dominguez

2754
"This format of the unknown setup presents quite the challenge for even the top players in the world," said Tony Rich, executive director of the Saint Louis Chess Club. "We will see some of the most interesting games as this format puts these players in positions they may never have seen before."
Play will begin at 1 p.m. each day September 11-14 at the Saint Louis Chess Club  and be broadcast live on 
uschesschamps.com
.
About the Saint Louis Chess Club
The Saint Louis Chess Club is a non-profit, 501(c)(3) organization that is committed to making chess an important part of our community. In addition to providing a forum for the community to play tournaments and casual games, the club also offers chess improvement classes, beginner lessons and special lectures.
Recognizing the cognitive and behavioral benefits of chess, the Saint Louis Chess Club is committed to supporting those chess programs that already exist in area schools while encouraging the development of new in-school and after-school programs. For more information, visit saintlouischessclub.org.