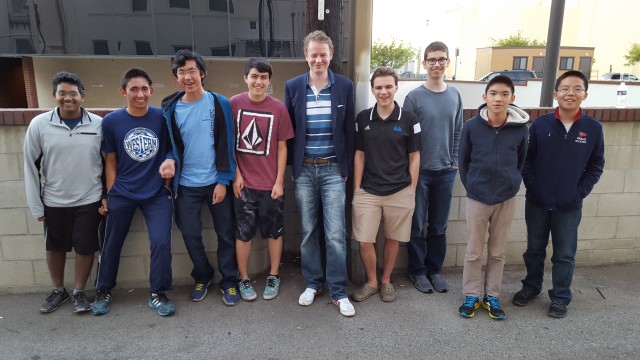 FM Vignesh Panchanatham, FM Craig Hilby, FM Joshua Sheng, FM Cameron Wheeler, GM Jan Gustaffsson, IM Luke Harmon-Vellotti, IM Daniel Gurevich, GM Jeffrey Xiong, IM Ruifeng Li
Shortly after Thanksgiving the longtime running
U.S. Chess School
held its 32
nd
session in Glendale, California, featuring eight of the strongest juniors in America. Organized by IM Greg Shahade (the Founder and President of the USCS), the camp consisted of GM Jeffrey Xiong, IM Luke Harmon-Vellotti, IM Daniel Gurevich, IM Ruifeng Li, FM Cameron Wheeler, FM Vignesh Panchanatham, FM Joshua Sheng, and Craig Hilby (2300+ FIDE) First off a special thanks should be given to the longtime sponsors of the U.S. Chess School, Dr. Jim Roberts, as well as the Scheinberg family. Thanks also to IM Armen Ambartsoumian, who not only helped with organizing the camp but provided a great location for the session to take place at
American Chess Academy
. This camp was the strongest ever held by the USCS, and unlike previous camps, which covered all aspects of the game, USCS 32 had a focus: opening preparation. Visiting from Germany was GM Jan Gustafsson, who lead the 4-day session. Jan is best known to American audiences as the main instructor/commentator for
Chess24.
 Jan has a longstanding reputation as a great theoretician, having worked as a second for top players such as Peter Leko, Loek van Wely, and Jan Smeets. This made Jan a fully qualified coach to help with each of the students' opening needs, and his instruction was centered around topics like: preparing for an individual opponent, repertoire design, opening move-orders, and working with computers. With eight students in attendance and a four-day camp, each player got about a half-day devoted to their specific repertoire, where Jan would go over every line they play and offer suggestions. Some students had a pretty solid repertoire, where Jan would only offer slight tweaks to lines they already had experience with. Others wanted to change their repertoire completely, for which Jan was extremely useful, pointing out the theoretically critical variations in any opening that was discussed. Mixed in with the opening reviews were training games, specifically tailored for students to try out new openings in practice. I really liked this exercise—each student was assigned a pairing and a starting position (usually between move 6-12), and was given 15 minutes to prepare (this assignment was also practical—the average U.S. Open tournament will rarely give you more than 15 minutes to prepare!). Then the students would play a rapid game and go over their preparation and subsequent play with Jan and the class afterwards. Also involved in the pairing process were the individual egos of the students, as Greg would often ask "Who feels confident they could win with White here?", or "Who'd be happy to hold this with Black?", and the pairings could be determined based on the students' conflicting answers alone! As far as general advice goes, Jan did not deviate too much from his normal words of wisdom: Play the main lines, don't play sidelines! But what he offered in terms of repertoire design and move-order tricks was invaluable. Jan also emphasized the importance of staying flexible with your openings and doing lots of preparation in-between tournaments, so that when the pairing becomes known one can simply look up their opponent in the database and choose the line they feel would be most uncomfortable for their opponent to face.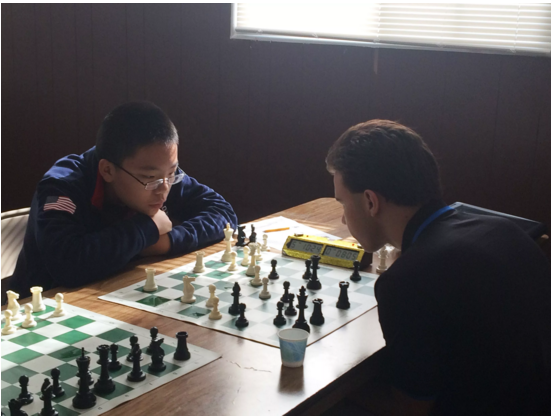 Ruifeng Lil vs Luke Harmon
The camp had a good balance of focus and fun. The students were all there to learn, but also socialize and enjoy themselves. They've all achieved great success so far, whether it be through scoring and medaling in the World Youth Championships, gaining norms and titles, or even Jeffrey Xiong's sensational win in the Chicago Open earlier this year (which secured him his GM title). But it didn't seem like anyone was satisfied or skating by on their previous accomplishments--each student expressed serious ambition to reach that next milestone, whatever it may be. What had really impressed me was the students' willingness to share their opening knowledge and thoughts. Although they will undoubtedly be facing each other in future tournaments, each player was more than happy to give their individual take on a specific line, rather than hide their opinion in order to gain a competitive edge later on. The students were open and genuinely wanted to help one another. This was in direct contrast to the intense attitude sometimes exhibited in youth tournaments (usually by parents) that keeping an opening repertoire secret is crucial to a child's success (hint: it's not). As has become tradition in recent years, Greg filmed a separate blitz and bullet tournament during the camp, both knockout style until a clear winner was determined. The champion of the blitz tournament even got to play a bonus game (on camera) against GM Gustafsson. The tournament was a lot of fun to watch, as the players heckled and trash-talked each other nonstop. Look for cameos by Ruifeng's
extremely
talented younger sister, Rachael: [youtube https://www.youtube.com/watch?v=n56gxeCIUho] [youtube https://www.youtube.com/watch?v=w4IdmahwV6c] The final day of the camp ended with some good old-fashioned solving of endgame studies, courtesy of the great composer Wotawa. A few of the campers, along with Jan, Greg, and myself even stayed late to continue solving problems. Here are a few of my favorites; they're quite difficult, but not impossible! The solutions are all quite aesthetic, of course:
[pgn]
[Site "?"]
[Round "?"]
[White "Wotawa"]
[Black ""]
[Result "1-0"]
[SetUp "1"]
[FEN "8/5P2/1pp2K2/k1N5/1b4r1/N7/2PP4/8 w - - 0 1"]
[PlyCount "15"]
[EventDate "1960.??.??"]

1. f8=Q Rf4+ 2. Ke5 $1 Rxf8 3. Nc4+ Kb5 4. Nd6+ Ka5 (4... Kxc5
5. d4#) 5. Ndb7+ Kb5 6. c4+ $1 Kxc4 7. Nd6+ Kxc5 8. d4# 1-0[/pgn]
[pgn]
[Site "?"]
[Round "?"]
[White "Wotawa 2"]
[Black " "]
[Result "1-0"]
[SetUp "1"]
[FEN "8/BR1K1pk1/1pR3p1/6p1/6P1/1Pp5/5p2/7b w - - 0 1"]
[PlyCount "9"]
[EventDate "1961.??.??"]

1. Rf6 $1 Kxf6 (1... Bc6+ 2. Ke7) (1... c2 2. Rc7
Kxf6 3. Bxb6) 2. Rxb6+ (2. Bxb6 $2 Ke5) 2... Kg7 (2... Ke5 3. Rb5+ (3. Rf6 $2
c2 4. Be3 Ke4 5. Rxf2 Kxe3 6. Rxc2 f5)) 3. Rf6 $1 c2 4. Be3 $1 Bc6+ (4... Bd5
5. Rxf2 Bxb3 6. Bxg5) 5. Ke7 1-0 [/pgn]
[pgn]
[Site "?"]
[Round "?"]
[White "Wotawa 3"]
[Black " "]
[Result "1-0"]
[SetUp "1"]
[FEN "3N4/8/R6p/1p3P1k/b6P/pp5K/1bP5/8 w - - 0 1"]
[PlyCount "9"]
[EventDate "1962.??.??"]

1. c3 (1. Ne6 $2 Be5) (1. Rg6 $2 bxc2 2. Ne6 c1=Q) 1... Bxc3 2. Rg6 b2 3. Ne6
Be5 4. Rf6 b1=Q 5. Ng7# 1-0[/pgn]
I'd like to thank Greg Shahade for allowing me to audit the camp, as I learned quite a bit myself! Make sure to visit the
U.S. Chess School website
for info on past/future camps, as well as
Greg's Youtube Channel
for past videos of USCS Blitz/Bullet tournaments.
Find Vanessa West of US Chess's update on the US Chess School here.