This year's U.S. Girls' Junior Championship has a myriad of new faces---half the players are brand new to the championship. 
Contrasting the high number of new players, Maggie Feng and Carissa Yip are the tournament's seasoned veterans, competing in the championship for the 5th time in a row---every single year that the event has been held.
In addition, with last year's champion, Akshita Gorti, missing from the field, it opens up the field for a new winner. Let's take a look at this interesting combination of competitors.
Top Seed
Jennifer Yu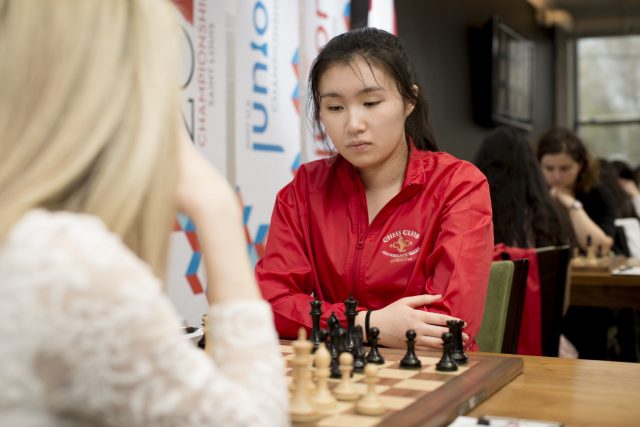 Jennifer Yu at the 2017 U.S. Women's Championship. Photo: Spectrum Studios
Jennifer Yu particularly excels at playing up, displaying this with her recent draws against GM Alexandr Lenderman at the Philadelphia International and against Jeffery Xiong at the World Open. However, playing down can prove to be a bit of a challenge for her, which actually makes it rather unfortunate that she's the tournament's top seed. It is Yu's 4th year competing, and she is due for a strong performance in the championship---will she be able to overcome her lower rated competitors?
Trailblazer
Maggie Feng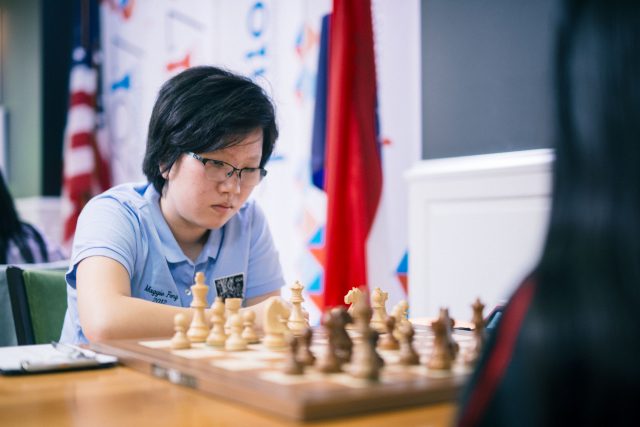 Maggie Feng at last year's U.S. Girls' Junior Championship. Photo: Austin Fuller
While Maggie Feng is most known for being the first female to win the National Junior High School Championship, she's also continually been a top competitor at the US Girls' Junior. She tied for 1st once in 2014, finished in clear 2nd twice, and her worst performance ever was only clear 3rd. With such consistently strong performances, Feng has excellent chances of taking home the title.
Record-Breaker
Carissa Yip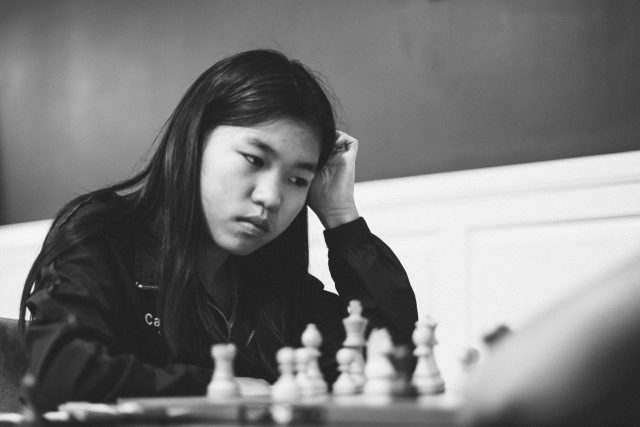 Carissa Yip at the 2017 US Girls' Junior Championship. Photo: Austin Fuller
Carissa Yip has broken record after record as she's risen through the ranks, resetting the records for youngest female expert, youngest female national master, and the youngest female to defeat a grandmaster. Like Yu, though, so far, Yip hasn't yet hit her stride at previous U.S. Girls' Junior Championships. Will 2018 be her year to shine?
2016 U.S. Girls' Junior Champion
Emily Nguyen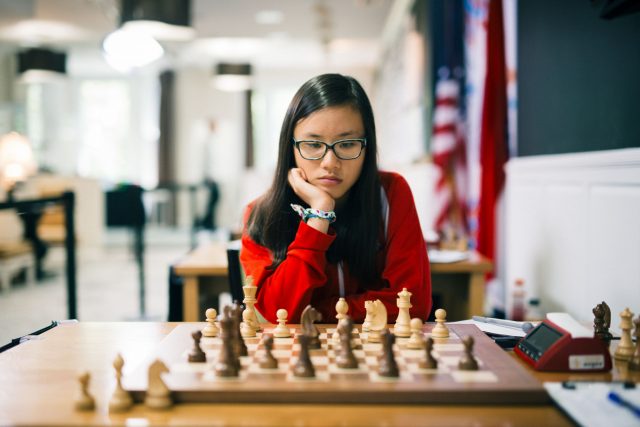 Emily Nguyen at the 2017 US Girls' Junior Championship. Photo: Austin Fuller
As a former champion, Emily Nguyen is also a key challenger. She won the championship in 2016, entering the event as an underdog as the 6th seed and finishing with three victories in a row.
2016 All-Girls National U-16 Champion
Thalia Cervantes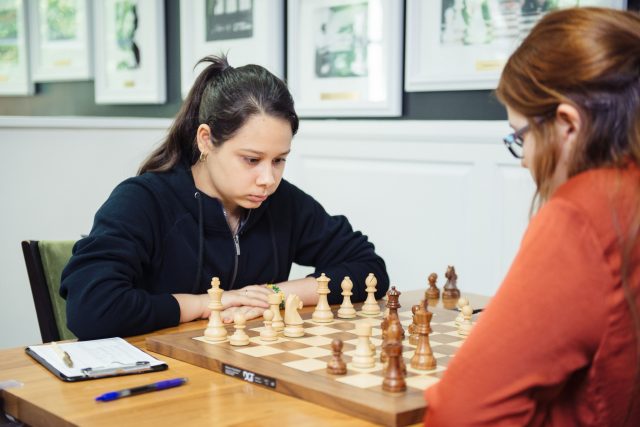 Thalia Cervantes at the 2017 U.S. Girls' Junior Championship. Photo: Austin Fuller
Thalia Cervantes is coming off a dominating victory at the Pan-American Junior Girls U-20, winning by a full point margin. Cervantes debuted in the championship last year as the bottom seed and finished with a solid tie for 3rd place. How will the Pan-American Junior Girls Champion fare with her second try? The rest of the field are all completely new to the championship, looking to make their first mark in the U.S. Girls' Junior sphere.
Youngster
Rochelle Wu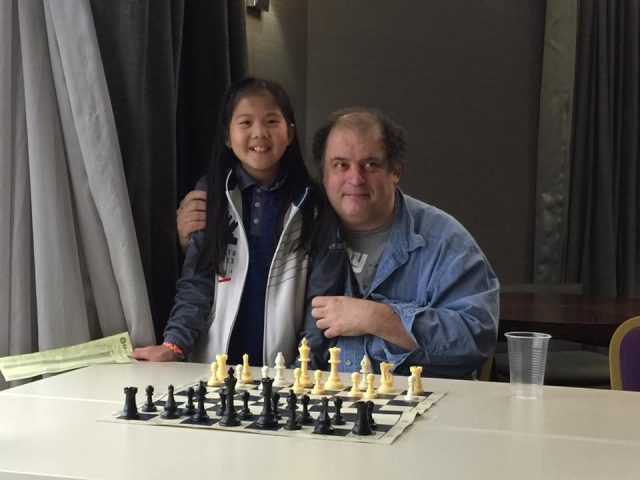 Rochelle Wu with GM John Fedorowicz after she won the gold medalist for Girls U-10 at the 2016 World Youth Championships. Photo: GM Finegold
Even though Rochelle Wu is the youngest competitor, she's already racked up a number of impressive achievements: She's a 2016 World Cadet Girls U-10 Gold Medalist. She's the reigning champion of the National Girls Tournament of Champions. And she's the Alabama Scholastic Champion for the K-12 section. Can Wu add U.S. Girls' Junior Champion to her list of accomplishments?
NY State Girls Champion
Martha Samadashvili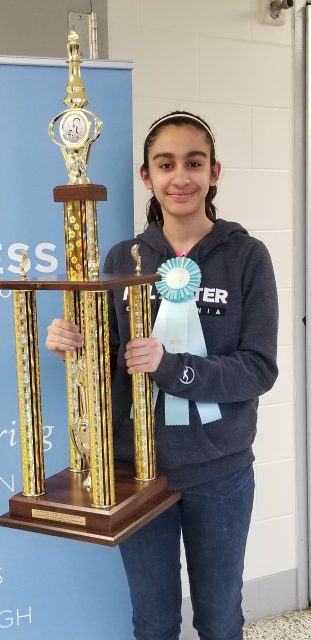 Martha Samadashvili after winning the NY State Girls Championship. Photo: Sophia Rohde
In 2014, Martha Samadashvili achieved the rare feat of a perfect 9-0 score to become the Pan American Youth Champion for Girls Under 10. How will the NY State Girls Champion fare at her championship debut?
World Youth Silver Medalist
Nastassja Matus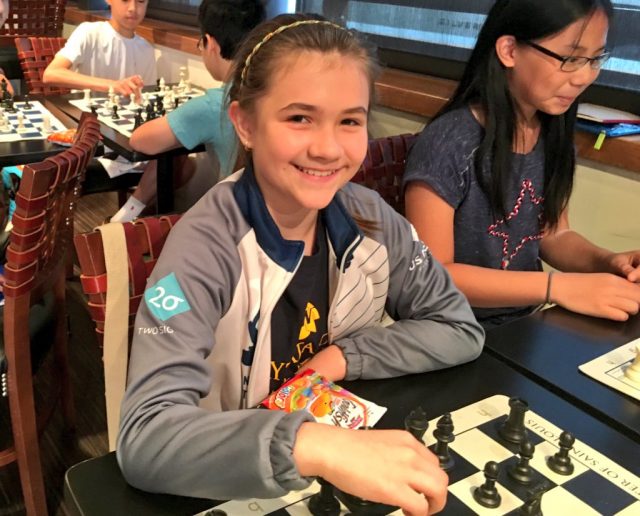 Nastassja Matus. Photo: U.S. Chess School
Nastassja Matus had a very productive 2017: She won silver at the World Youth Girls Under 12. She became the youngest player ever to win the Susan Polgar Girls Invitational. And, she earned her national master title. What does 2018 have in store for her?
Three-Time NJ Girls State Champion
Sanjana Vittal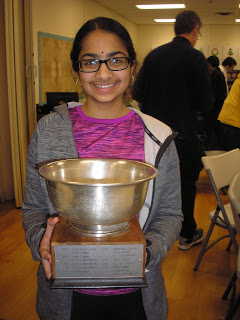 Sanjana Vittal after winning the 2016 Westfield Club Championship
Sanjana Vittal also joins the tournament with a number of accomplishments under her belt. She won silver at the 2017 North American Junior Championship. She won 1st at the 2017 Susan Polgar World Open for Girls. And she's been the New Jersey State Girls Champion for three consecutive years.
2017 All-Girls National Champion
Sophie Morris-Suzuki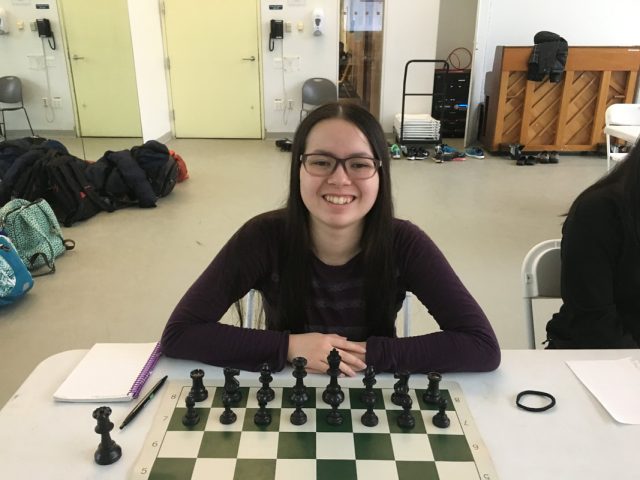 Sophie Morris-Suzuki at the 42nd U.S. Chess School. Photo: Greg Shahade
Sophie Morris Suzuki has both impressive individual and team-based achievements. Last year, she won the NY Girls State Championship and the All-girls National Championship U-18. She also led her high school team to 1st place in the 2016 K-12 Grade Level Championships and the 2017 All-Girls National Championship.
The U.S. Girls' Junior Championship runs from July 12-21 with rounds beginning everyday at 1 p.m. CDT, except for the rest day, July 17. Watch games and commentary by GM Robert Hess and Tatev Abrahamyan. In addition, follow the Saint Louis Chess Club Twitter account (@STLChessClub) for live updates by Vanessa West on-site from Saint Louis.
---
ABOUT THE AUTHOR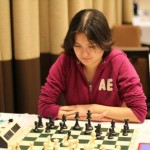 Vanessa West
 is a regular writer and digital assistant for US Chess News. She won the 
2017 Chess Journalist of the Year award
. You can follow her on Twitter: 
@Vanessa__West