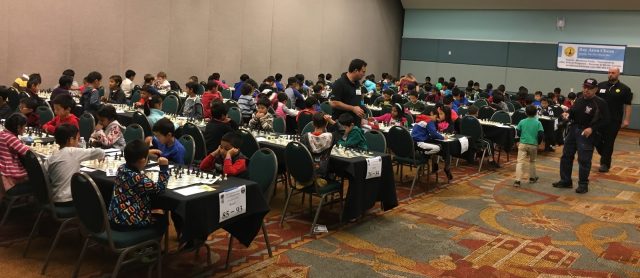 The CalChess Grade Level Championships earlier this month. Combined with the CalChess Scholastic State Championship, the two tournaments drew more than 1,700 players this year.
Underscoring the tremendous growth of scholastic chess in Northern California, the
CalChess Grade Level Championships
held Dec. 2-3 in Santa Clara, Calif. drew a strong, unprecedented field. Organized by USCF Gold affiliate
BayAreaChess
and state affiliate CalChess, the tournament attracted an even 500 entries from 487 players (some players competed in several one-day sections over the two-day weekend). That was up 26% over the prior year, and 12% higher than the prior record of 434 players set in 2012. Combined with the 1,106 players that competed in the
spring CalChess Scholastic State Championship
(also run by BayAreaChess), one can deduce that youth chess, especially at the club and elementary school level, has never been more popular in Northern California.
A LITTLE HISTORY
Similar in format to this weekend's
National K-12 Grade Championships
, the CalChess tournament decides the best player for each grade in Northern California (long a state-level region according to USCF due to its size.) This storied tournament has had several iterations. An annual Grade Level Championship existed prior to the 1990s, but this
took a major step forward in 1993
, when a pan-California Grade Level Championship covering both Northern and Southern California was
created, led by Dr. Alan Kirshner, the longtime head of the chess program at Weibel Elementary in Fremont.
This alternated Northern and Southern locations every year for a decade, drawing between 2-300 players every year, and rightfully crowning grade-level champions for the entire state.
In 2003, the tournament reverted back to a Northern California-only Championship. Many of the tournaments over the next decade were held in the Central Valley city of Stockton with the help of the North Stockton Rotary Club. After BayAreaChess began organizing the tournament in 2012, the location has largely reverted back to the Silicon Valley suburbs, with 400+ player attendance becoming the norm.
BIGGER AND BETTER
One reason for this year's strong attendance was the number of players making the leap from local after-school enrichment programs to tournament play. Forty percent of the players in the K-6 Junior Varsity section were drawn from BayAreaChess' 100+ after-school programs around the San Francisco Bay Area. They are encouraged and helped along by our
Rising Star tournament series
aimed at encouraging new competitors, no matter what their age.
This year's field was not only the largest ever, but powerful, featuring more than 20 nationally-age-ranked players, including a handful of expert players.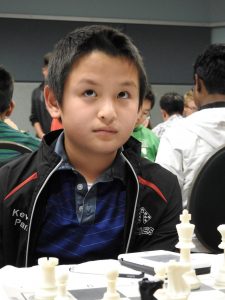 Kevin Pan, Grade 6 champion
In most cases, order reigned. Take Kevin Pan of Mission San Jose Elementary of Fremont. Pan, who is in the top 15 nationally among 11 year olds, went a perfect 6-0 to win the Grade 6 section a clear 1.5 points. Another expert, Vyom Vidyarthi of Harker School and BayAreaChess, is in the top 10 among 10-year olds. He went a perfect 6-0 to win the Grade 5 tournament by a clear point.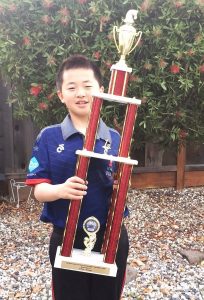 Eric Li, Grade 4 champion
A third expert, Eric Yuhan Li, number 4 among ten-year-olds, won the Grade 4 section by a full point playing for the BayAreaChess Elite team, while a 4th, Daniel Cheng, won the Grade 8 section while also representing BayAreaChess.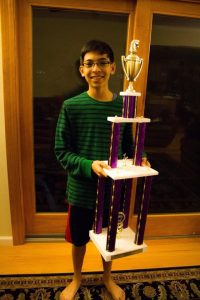 Matt Bhattacharya, Grade 7 champion
The biggest upset took place in Grade 7, where Matt Bhattacharya, another BayAreaChess' club team member, won first place on tie-break over nationally-ranked Oliver Wu, who Bhattacharya defeated during the tournament.
In the school team competition,
reigning national elementary champion Mission San Jose Elementary
of Fremont dominated the elementary school team standings, winning Grades 1, 2, 5, and 6. Cross-town rival Weibel won Kindergarten and Grade 4, while Meyerholz Elementary of Cupertino won Grade 3. Basis Fremont scored co-Championship title with Weibel in the Kindergarten section, Horner Junior High of Fremont won Grades 7 and 8, while Central Valley's Coalinga High School repeated as High School team champions.
The club competition was dominated by three teams. Liu Chess Club won Kindergarten, and Grades 2 and 4, Berkeley Chess School won Grades 3 and 6, while BayAreaChess won Grades 5, 7 and 9 and the combined HS (10-12). Norcal House of Chess and Shoreview Chess also won 1st-place honors in Grade 1 and Grade 6 and 8, respectively.
Organizers were pleased to see a new chess club from Fresno, the Central Valley Scholastic Chess Club, winning one of the Junior Varsity sections. Their dedication to prepare and attend the state championship is admirable and should serve as an example for everyone!
For such a massive tournament, things ran very smoothly. There were zero scoring errors, and only two unfortunate forfeits caused by rules infractions. Thanks to our Chief TDs, National TDs Tom Langland and John McCumiskey, and the rest of the TD crew: Jordan Langland, Wolfgang Behm, Andrew Mueckenberger, James Bethany, Matt LeForce, Arthur Liou, Ed Wong, Elena Kondakova, Michael D'Alfonsi, Dana Langland, Jasmine Kaur, Derek O'Connor, Arek Vartan, Adrian Kondakov, Rich Willis, Abel Talamantez, and many others.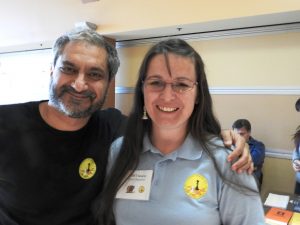 BayAreaChess founder and President to the Board, Dr. Salman Azhar, and Chief Organizer and BayAreaChess Executive Director, Dr. Judit Sztaray.
BayAreaChess and Chief Organizer, Dr. Judit Sztaray would like to thank all the volunteers, helpers and staff for their amazing hard work, and dedication that contributed to a smooth and well-run event.
The CalChess Scholastic State Championship is coming April 7-8, 2018 back to the Santa Clara Convention Center. Over 1300 players are expected. Watch this link
www.bayareachess.com/states
and register early for a spot in next spring's tournament!
Champions for Each Section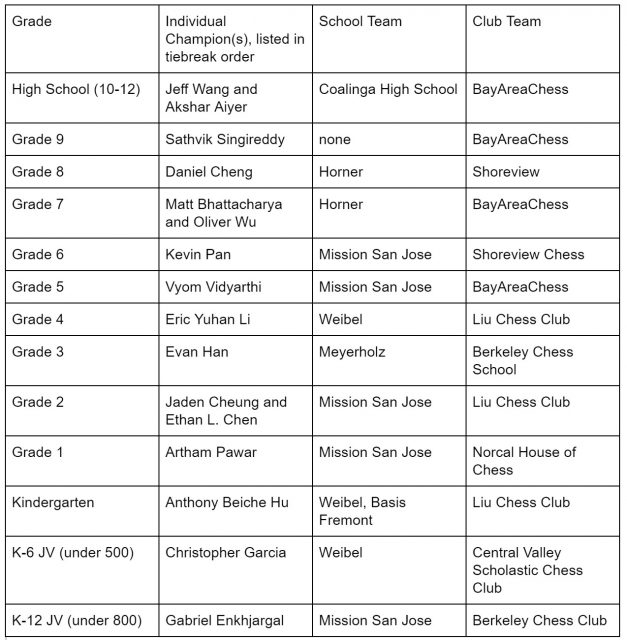 For more information on the CalChess Grade Level Championship, visit the
Results Page
.
---
ABOUT THE AUTHORS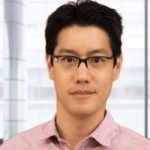 Eric Lai
 is a Bay Area-based journalist, tech marketing consultant, and head coach of the Fallon Middle School chess team.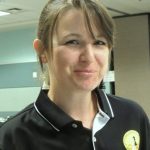 Judit Sztaray
, Ph.D., is the 
US Chess 2017 Organizer of the Year
.        
---
(Thanks to local chess historians Kerry Lawless of
ChessDryad.com
, Michael Aigner of
FPawn.com
, and CalChess President and National Tournament Director, Tom Langland. For more history about this tournament and others in Northern California, view
archives of the California Chess Journal
at CalChess.org and/or ChessDryad.com)