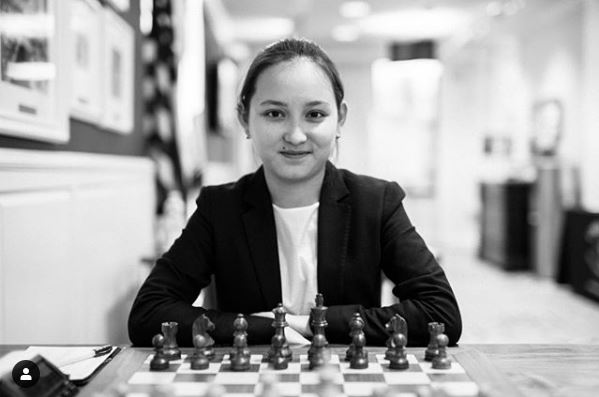 Zhansaya 

Abdumalik is among the participants in the first Cairns' Cup. Photo Austin Fuller
SAINT LOUIS (January 25, 2019

)
 – 
Women the world over will descend upon the Saint Louis Chess Club to compete in the inaugural Cairns Cup, an elite tournament for the top female players from around the world. The nine-round classical chess tournament, to take place from February 5-16, brings together one of the strongest international fields ever assembled in women's chess with one of the largest prize funds for an all-female tournament.
Inspired by its mission to further promote the game of chess to women and girls, the Saint Louis Chess Club created and named the Cairns Cup in honor of Chess Club co-founder Dr. Jeanne Sinquefield, whose maiden name is Cairns. The tournament format is similar in style to the prestigious Sinquefield Cup, with the 10 best female players from around the world earning invitations to compete at the Saint Louis Chess Club's renowned facility for the $150,000 prize fund. The top three finishers will receive $40,000, $30,000, and $20,000 respectively.

The inaugural tournament field features women from seven different countries and consists of legendary champions, including former Women's World Champion Alexandra Kosteniuk, former Women's World Blitz Champion Nana Dzagnidze, 4-time U.S. Women's Champion Anna Zatonskih, and 7-time U.S. Women's Champion Irina Krush. 
"We are really excited to introduce this new international chess tournament for women," said Dr. Jeanne Cairns Sinquefield, Co-founder of the Saint Louis Chess Club.  "We hope this will inspire more women to play chess on a competitive level. We look forward to hosting this tournament for years to come and for it to become one of the premier chess tournaments in the world."
Each round will be streamed live daily from Feb. 5-16 at 1 p.m. Central Time with the expert commentary team of WGM Jennifer Shahade, GM Yasser Seirawan, and GM Maurice Ashley, as well as a Russian language broadcast with 
IM Almira Skripchenko and WGM Anastasiya Karlovich on 
www.uschesschamps.com
. Fans are also welcome to purchase tickets to the historic event by visiting 
uschesschamps.com
 or on-site at the Saint Louis Chess Club. Ticket holders will have access to watch players live in-person and enjoy live commentary with WGM Tatev Abrahamyan and IM Tania Sachdev at Kingside Diner.
2019 Cairns Cup Field

Title

Name

FIDE Classical Rating

Age

Residence

GM

Alexandra Kosteniuk

2537

34

Russia

GM

Nana Dzagnidze

2513

32

Georgia

GM

Valentina Gunina

2501

29

Russia

GM

Bela Khotenashvili

2491

30

Georgia

IM

Elisabeth Paehtz

2477

34

Germany

GM

Marie Sebag

2476

24

France

GM

Harika Dronavalli

2471

28

India

IM

Zhansaya Abdumalik

2468

19
Kazakhstan

GM

Irina Krush

2436

35

USA

IM

Anna Zatonskih

2428

40

USA