om ]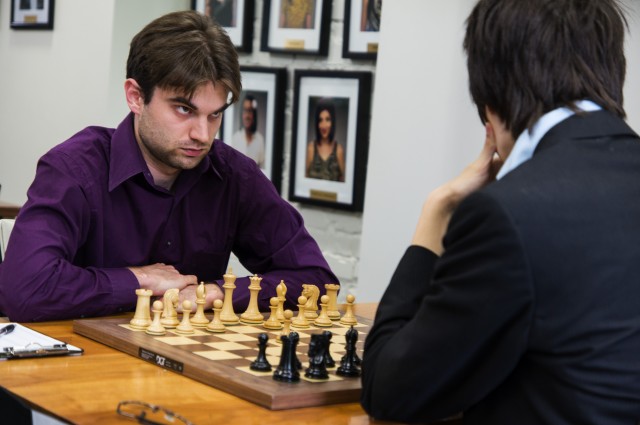 GM Sam Shankland at the Saint Louis Chess Club 
The #1 article in Best of US Chess 2015 is 
Shankland on His Rise from GM to Top Hundred 
(in 
two parts
) by GM Sam Shankland. Judges praised the emotional honesty and insightful self-critiques of the inspiring young American GM.
I am American born and raised, there is no chess culture in my family, I played my first tournament at an age when most top talents are already masters, I never had more than one hour of coaching per week, I went through the full American K-12 education system in the traditional timetable, and I completed a four year degree from a highly ranked university. Yet in spite of all this, I have been able to consistently improve my chess, and I have recently reached a new milestone- a spot comfortably within the top hundred players in the world at 2661 FIDE. All throughout my career, many players of all levels have asked me how I am able to keep improving, and this article will serve as an overview of one leg of the journey.
Shankland also won 
Best of CLO article #2 in 2014
, for his piece on the Continental Championships in Brazil. Find 
Sam on his official website
, his
facebook page
and
follow him on twitter
.
The Judges Sound Off
Sam really digs deep in this piece and holds absolutely nothing back. He combines his most memorable victories with his most painful slips in recent years to produce one of the most instructive articles on chess I've ever read. It's rare to see such specificity and self-criticism from a Top 100 player like Sam, who offers immensely honest insight and sets a high example for ambitious players everywhere.- Kostya Kavutskiy This piece has it all -- insight, instruction, and inspiration.  Shankland's best quality is his objectivity, which includes a willingness to self-criticize.  Of course, we expect this quality to continue bringing him rewards over the board, but it adds value to his writing as well.  I'm not really qualified to judge his analysis, but I still learned a good deal about the kinds of improvements GMs make as they approach 2700 FIDE.- Kele Perkins I enjoyed reading about Sam's reflections of his personal chess journey.  He makes some very relatable points and I think hearing from a GM that "improvement is highly non-linear" is valuable to those who find they are at a plateau.  He provides some very solid advice especially that someone is never too good to ask their opponent what mistakes were made in a game.  He provided varied games with highly instructive notes.-Jennifer Vallens GM Sam Shankland exposed the weaknesses in his own games and discussed how he overcame these hurdles. While most readers do not entertain serious chances to join the world's Top 100, the advice presented may benefit masters and strong amateurs alike. The principal value of this article (both Part I and II) lies in the annotated games, each chosen to illustrate a salient teaching point. Indeed, the author first explains the objective, and then goes to the chessboard to drive it home. At the end, the Grandmaster emphasizes that learning never stops, and submits a few examples from his own disappointments.- Michael Aigner An honest, open explanation of his efforts- Alex Dunne
Best of CLO 2015 Countdown 
#1-Shankland on His Rise from GM to Top Hundred (in two parts) by GM Sam Shankland
#2- 
How Blitz Helps me Heal: Chess and Parkinson's 
by Thierry Kauffmann (
Judging article
) #3-
10 Lessons Learned from the 2015 Sinquefield Cup
 by GM Ian Rogers (
Judging article
) #4- 
Four Medals in
Greece: "This is real chess
 by GM Alejandro Ramirez #5- 
"No Offense, but
GMs Aren't Good at Bughouse"
 By GM Irina Krush
(Judging article) 
#6-
Eric Rosen on his Final IM Norm
by IM Eric Rosen
(Judging article) 
#7 – 
Samir Sen on the US Chess School
 by Samir Sen
(Judging article)
#8-
Why is Carlsen Dominant? (A Theory)
 by Cristian Chirila
(Judging article) 
#9- 
Shabalov Completes Quest at U.S. Open
 by FM Mike Klein
(Judging article) 
#10- 
The View From the Other End of the Playing Hall
by Ben Silva
(Judging article)