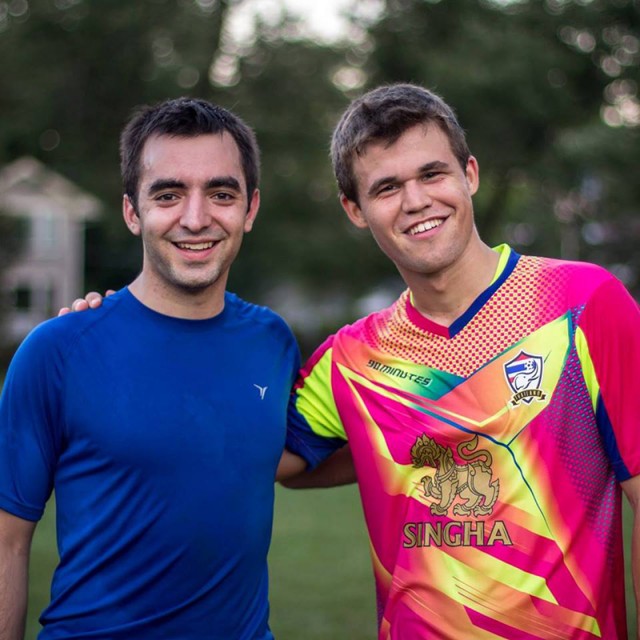 Eric Rosen with the World Champ
The #6 article in Best of US Chess 2015 is
Eric Rosen on Final IM Norm: Keys to Success
by IM Eric Rosen
.
Judges praised Eric's writing style as well as his generous and sincere advice to readers. You can find out more
about Eric on his website
, where he blogs about various intriguing topics such as
"Meeting Magnus Carlsen
" and
"My Dog Went Viral."
Eric Rosen is also a photographer and took a
memorable photograph at the event of 5-year-old Rachael Li, who won $450 in the Under 1100 section.
Eric is currently at Webster University, where he studies interactive digital media and computer science. Follow him on
instagram for his photos
, one of which appeared in another Best of US Chess 2015 winner's story,
"The View from the Other End of the Playing Hall."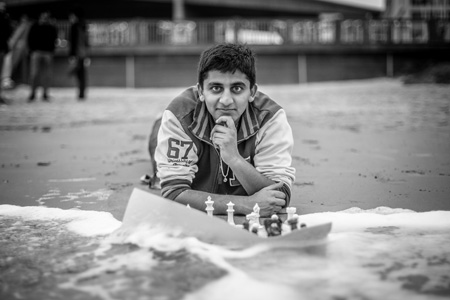 Sagaar Gupta, Photo by Eric Rosen
Judges Sound Off
Perhaps unknowingly, perhaps intuitively, Eric borrows from Eastern philosophy when it comes to giving advice, and it couldn't be more helpful. Yes, focus on the journey, not the result! In the end you'll never know how something will play out, so you shouldn't be attached to any one outcome…but you can take steps to put yourself in the position to succeed. Eric's article is unpretentious and generous; he genuinely wants to share with the reader what worked for him and that is always very welcome.—Kostya Kavutskiy Eric offers practical advice, my favorite being not listening to music or TV before a tourney. I can only imagine what it would be like to be playing a game for a norm and having Taylor Swift's "Shake It Off" pop in my head. The other interesting key piece of advice was his suggestion to listen to the commentary from the US Championships. It makes sense to me that listening to Jen, Maurice and Yasser's enthusiastic commentary would help keep a player's momentum up, in addition to providing valuable critique and game analysis.- Jennifer Vallens In his first assignment as America's newest IM-elect, Eric Rosen shared his approach to breaking out of an extended slump. In short, he prepared a plan, and stuck to it! Many readers should take note of his extended list of specific goals, incidentally none of which involved a chess rating.-Michael Aigner I personally related with this article because as chess players we simply focus on ratings instead of placing our attention on the bigger picture – our state of mind and willingness to reach our goals. I really enjoyed the writing style of this article)- Claudia Munoz  
Best of CLO 2015 Countdown 
#6-
Eric Rosen on his Final IM Norm
by IM Eric Rosen #7 – 
Samir Sen on the US Chess School
 by Samir Sen
(Judging article)
#8-
Why is Carlsen Dominant? (A Theory)
 by Cristian Chirila
(Judging article) 
#9- 
Shabalov Completes Quest at U.S. Open
 by FM Mike Klein
(Judging article) 
#10- 
The View From the Other End of the Playing Hall
by Ben Silva
(Judging article) 
Rachael Li, Photo Eric Rosen