Santa Clara, California April 4, 2018 - Whether you call it the sport of kings or the supreme sport of the mind, chess has become one of the most popular youth pursuits in the brainy Bay Area. Take this weekend's (April 7-8) Scholastic State Chess Championships. Organized by San Jose-based non-profit
BayAreaChess
, the tournament, known among players and parents as "SuperStates," drew a record-breaking 1,169 players last year. This year's championship, which crowns the best K-12 players, schools and club teams in Northern California, has already surpassed 2017's total, with nearly 1,200 pre-registered players. They include some of the best teams and schools in the country:
Harker School of San Jose, the 2016 National High School Champions led by 17-year-old International Master and individual National HS co-champion, Vignesh Panchanatham;
Mission San Jose Elementary of Fremont, the defending National Elementary Champions and last year's K-6 NorCal State Champions;
Monta Vista High School of Cupertino, defending National High School Champions;
More than a dozen nationally-ranked youth players who regularly compete and represent the U.S. in international tournaments.
Befitting the Bay Area's technical workforce, many of the best players are sons and daughters of Indian and Chinese immigrants working in the Silicon Valley. They see chess as not just a way to
train their childrens' minds
, but also help develop lifelong skills such as resilience, sportsmanship, team camaraderie, and more. By design, the tournament is divided into multiple sections by age and ability (as determined by one's US Chess rating). For instance, most K-3 players will play on Saturday, while older, stronger players play both days or Sunday only. This allows
players and teams of all experience levels
to have a fighting chance at winning individual or team trophies. For example, Grant Elementary School in San Jose is one of 10 lower-income Title I schools where BayAreaChess provides a free weekly lunchtime chess class, often funded by local chess families or BayAreaChess itself. Aided by heavily-discounted entry fees from BAC, Grant is one of several underprivileged schools sending chess teams
for the very first time
to SuperStates,
(see a fuller list of schools below)
.
Transforming Lives Through Chess
These are examples of how BayAreaChess takes its mission statement, "Transforming Lives Through Chess!" seriously. BAC is the largest provider of chess instruction and tournaments in Northern California, and the largest in the western United States for the last ten years in a row. Its coaches, which include a number of world-ranked Grandmasters, teach more than
2,000 children in 100+ local schools
. Besides the State Scholastic Championships, BayAreaChess also holds more than 200 chess tournaments open to youth and adults every year, from local tournaments to international-level competitions. Its Executive Director,
Dr. Judit Sztaray,
was honored by the United States Chess Federation as
organizer of the year in 2017
for her work. BayAreaChess is 501(c3) non-profit organization. Follow us on
Facebook
.
Potential Interview Subjects
The Vidyarthi family - father Arvind, and his children, Vyom and Omya, a brother-sister combo who are both ranked among the top 10 players in the country aged 10 and under. They can speak about what it takes from players and their parents to succeed at chess;
IM Vignesh Panchanatham, a senior at Harker School, who has won a number of individual and team national championships. He can share his experience balancing high school academics, activities (Vignesh was a starter on Harker's football team), college applications and chess.
Judit Sztaray, BayAreaChess Executive Director, who can speak about the growth of youth chess locally and BAC's role driving that;
Abel Talamantez, BayAreaChess Director of Enrichment, who oversees all of BAC's chess classes, including the ones serving local Title I schools;
First-time state tournament players from aforementioned Title I schools, including Grant Elementary in San Jose, LeyVa/BullDog Academy in San Jose, King Elementary in Stockton, KIPP Prize Academy in San Jose, Washington Union High School in Fresno, and more.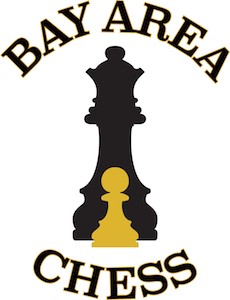 Transforming Lives Through Chess!
Media Contacts:
Dr. Judit Sztaray, Executive Director
(919) 265-7560
Eric Lai
(510) 459-7507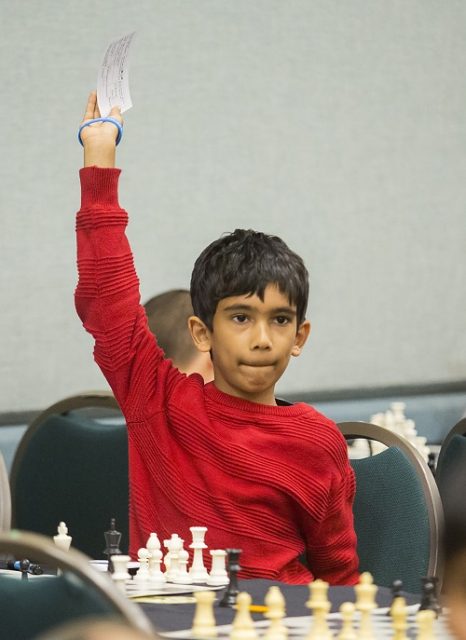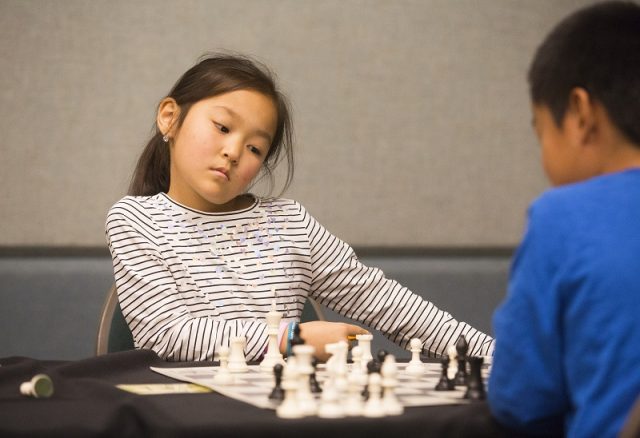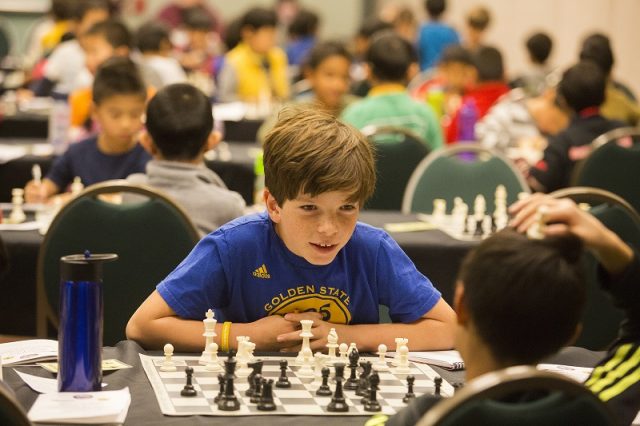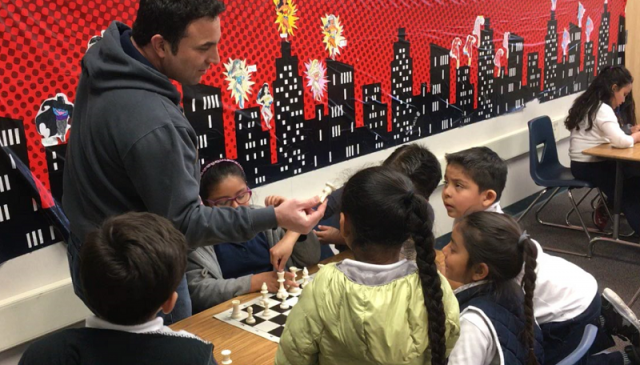 (See more photos of
players in action
and from
trophy ceremony
in our last scholastic tournament in Dec 2017.)