To honor the publication of CLO columnist Alex Dunne's newest book,
Fred Reinfeld: The Man Who Taught America Chess, with 282 Games
, this week's Wednesday Workout consists of ten tricky mate puzzles drawn from Reinfeld's games.
Last week
we looked at mate-in-one and mate-in-twos, but this week we're going to really test you with checkmates ranging from three-movers to
eight-movers
!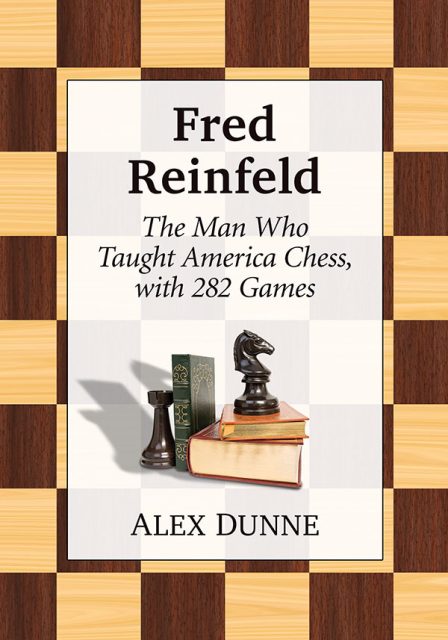 Fred Reinfeld by Alex Dunne (photo courtesy McFarland)
As always, Workouts consist of diagrams to solve with answers given below. (No fair peeking!) The colored dot on the right side of the board signifies the side to move.
Mate in threes
Mates in fours
Mate in five
Mate in seven
Mate in eight!
---
Answers:
[pgn]

[Event "New York Marshall CC mt"]
[Site "?"]
[Date "1931.??.??"]
[Round "7"]
[White "Reinfeld, Fred"]
[Black "Bernstein, Sidney"]
[Result "0-1"]
[ECO "A08"]
[Annotator "Hartmann,John"]
[SetUp "1"]
[FEN "7Q/3rkpp1/pN6/2p2P1p/3n2b1/1P1Nq2P/PBPb1R2/R5K1 b - - 0 30"]
[PlyCount "5"]
[EventDate "1931.??.??"]

30... Ne2+ 31. Kf1 (31. Kh1 Qxh3+ 32. Rh2 Bf3#) 31... Bxh3+ (31... Bxh3+
{Reinfeld resigned here}) 32. Rg2 Ng3# 0-1

[/pgn]
[pgn]

[Event "Inter-Scholastic League"]
[Site "?"]
[Date "1924.??.??"]
[Round "?"]
[White "Reinfeld, Fred"]
[Black "Rudick, M."]
[Result "0-1"]
[ECO "D61"]
[Annotator "Hartmann,John"]
[SetUp "1"]
[FEN "2r4k/6pp/pq6/3P4/4Q3/1B5P/P4rP1/K2R4 b - - 0 32"]
[PlyCount "5"]
[EventDate "1924.??.??"]

32... Qf6+ ({Rudick resigned after} 32... Qf6+) 33. Qd4 Qxd4+ 34.
Rxd4 (34. Kb1 Qb2#) 34... Rc1# 0-1

[/pgn]
[pgn]

[Event "Metropolitan League"]
[Site "?"]
[Date "1926.??.??"]
[Round "?"]
[White "Reinfeld, Fred"]
[Black "Dornbach"]
[Result "1-0"]
[ECO "D35"]
[Annotator "Hartmann,John"]
[SetUp "1"]
[FEN "3r4/3P4/5N1k/5Kp1/7p/1p6/4R3/8 w - - 0 48"]
[PlyCount "5"]

48. Re7 (48. Re7 {Dornbach resigned here}) 48... Rh8 (48... Rxd7 49. Rxd7
b2 50. Rh7#) 49. d8=Q Rxd8 50. Rh7# 1-0

[/pgn]
[pgn]

[Event "Ventnor City"]
[Site "Ventnor City"]
[Date "1939.??.??"]
[Round "5"]
[White "Reinfeld, Fred"]
[Black "Leary, J."]
[Result "1-0"]
[ECO "A09"]
[Annotator "Hartmann,John"]
[SetUp "1"]
[FEN "r6k/p5qp/2P1R2n/6p1/3b1p2/1Q6/PB4PP/4R2K w - - 0 32"]
[PlyCount "7"]
[EventDate "1939.??.??"]
[EventType "simul"]
[EventRounds "11"]
[EventCountry "USA"]

32. Re8+ (32. Re8+ {Leary resigned here.}) 32... Rxe8 (32... Ng8 33.
Qxg8+ Qxg8 34. Bxd4#) 33. Rxe8+ Ng8 (33... Qg8 34. Bxd4#) 34. Bxd4 Qxd4 (34...
f3 35. Qxg8#) 35. Qxg8# 1-0

[/pgn]
[pgn]

[Event "Marsh.CC Round"]
[Site "?"]
[Date "1937.??.??"]
[Round "?"]
[White "Santasiere, Anthony"]
[Black "Reinfeld, Fred"]
[Result "1-0"]
[ECO "E61"]
[Annotator "Hartmann,John"]
[SetUp "1"]
[FEN "7k/6b1/p2pQRRp/3P1n2/P1P2p2/5P2/1r1q1B1P/5K2 w - - 0 38"]
[PlyCount "7"]
[EventDate "1937.??.??"]

38. Rf8+ (38. Rf8+ {Reinfeld resigned here.}) 38... Kh7 (38... Bxf8 39.
Qg8#) 39. Qg8+ Kxg6 40. Qf7+ Kg5 (40... Kh7 41. Qxf5#) 41. Qxf5# 1-0

[/pgn]
[pgn]

[Event "Match"]
[Site "?"]
[Date "1928.??.??"]
[Round "?"]
[White "Reinfeld, Fred"]
[Black "Leise, A."]
[Result "0-1"]
[ECO "B12"]
[Annotator "Hartmann,John"]
[SetUp "1"]
[FEN "rn6/pp1k4/4pnQb/2ppP3/3P4/N1K5/PPP2PP1/R1B4q b - - 0 17"]
[PlyCount "7"]
[EventDate "1928.??.??"]

17... Qe1+ (17... Qe1+ {Reinfeld resigned here}) 18. Kd3 (18. Bd2 Qxd2+
19. Kb3 Qb4#) 18... c4+ 19. Nxc4 Qf1+ 20. Kc3 Qxc4# 0-1

[/pgn]
[pgn]

[Event "Manhattan CC"]
[Site "?"]
[Date "1924.??.??"]
[Round "?"]
[White "Kass, S."]
[Black "Reinfeld, Fred"]
[Result "0-1"]
[ECO "A09"]
[Annotator "Hartmann,John"]
[SetUp "1"]
[FEN "rn3r1k/pbp4P/1p2pq2/3n4/3P4/4P3/PPQN2P1/R3KB1R b KQ - 0 17"]
[PlyCount "7"]
[EventDate "1924.??.??"]

17... Qf2+ (17... Qf2+ {Kass resigned here}) 18. Kd1 Nxe3+ 19. Kc1
Qe1+ 20. Qd1 Qxd1# 0-1

[/pgn]
[pgn]

[Event "Lunchroom"]
[Site "?"]
[Date "1924.??.??"]
[Round "?"]
[White "Reinfeld, Fred"]
[Black "Fried, J."]
[Result "1-0"]
[ECO "E24"]
[Annotator "Hartmann,John"]
[SetUp "1"]
[FEN "r1bq1rk1/ppp2ppn/2n1p3/3p2P1/2PP4/P1PBP3/5PP1/R2QK1NR w KQ - 0 11"]
[PlyCount "9"]
[EventDate "1924.??.??"]

11. Bxh7+ Kh8 ({Fried resigned after} 11... Kh8) 12. Be4+ Kg8 13.
Rh8+ Kxh8 14. Qh5+ Kg8 15. Qh7# 1-0

[/pgn]
[pgn]

[Event "CR N American Ch"]
[Site "?"]
[Date "1928.??.??"]
[Round "?"]
[White "Reinfeld, Fred"]
[Black "DuBerger, R."]
[Result "1-0"]
[ECO "C56"]
[Annotator "Hartmann,John"]
[SetUp "1"]
[FEN "2k1r2r/p1p2qpp/2pbp3/6B1/2Q5/2p5/P1P2PPP/R2R2K1 w - - 0 17"]
[PlyCount "13"]
[EventDate "1928.??.??"]

17. Qa6+ Kd7 18. Rxd6+ Kxd6 19. Rd1+ Ke5 (19... Kc5 20. Be3+ Kb4 21.
a3# (21. Rb1#)) 20. Qa5+ Ke4 (20... c5 21. Qxc5+ Ke4 22. Re1# (22. Rd4#)) 21.
Re1+ Kd4 22. Qe5+ Kc4 23. Re4# 1-0

[/pgn]
[pgn]

[Event "Dimock Trnmt B Marsh.CC"]
[Site "?"]
[Date "1926.??.??"]
[Round "?"]
[White "Bigelow, Horace"]
[Black "Reinfeld, Fred"]
[Result "0-1"]
[ECO "C51"]
[Annotator "Hartmann,John"]
[SetUp "1"]
[FEN "r4rk1/p1n1b1p1/4q2p/1ppbP2Q/3p3N/1N1B1p1P/PBP4P/R5K1 b - - 0 28"]
[PlyCount "15"]
[EventDate "1926.??.??"]

28... f2+ 29. Kf1 Qxh3+ 30. Ke2 (30. Ng2 Qxg2+ 31. Ke2 f1=Q#) 30...
f1=Q+ 31. Rxf1 Qxf1+ 32. Kd2 Bg5+ (32... Rf2+ {also works} 33. Be2 Bg5+ 34. Kd3
(34. Qxg5 Qxe2+ 35. Kc1 Qxc2#) 34... Bc4+ 35. Ke4 Rf4#) 33. Qxg5 Rf2+ 34. Be2
Qxe2+ 35. Kc1 Rf1# (35... Qxc2#) 0-1

[/pgn]