Note: Due to a technical issue, the host's voice is poorly recorded. Our guest Emily Allred's recording is good.
Welcome to the April 2019 edition of "One Move at a Time," the US Chess podcast in which we talk to people who are advancing the US Chess mission statement to "Empower people, enrich lives, and enhance communities through chess." In a first for the show, we recorded live on site with our guest!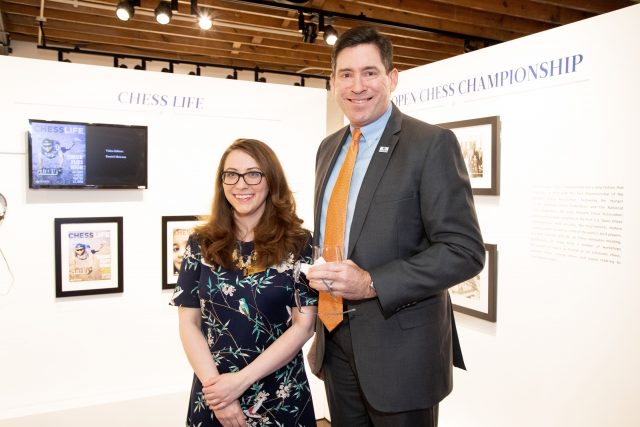 Emily Allred of the World Chess Hall of Fame with Dan Lucas at the opening reception for US Chess: 80 Years—Promoting the Royal Game in America. Photo by Carmody Creative, courtesy of the Saint Louis Chess Campus
This month host Dan Lucas, the Senior Director of Strategic Communication at US Chess, talks to Emily Allred, the Associate Curator at the World Chess Hall of Fame. She has worked at the museum since 2013 and has curated or co-curated 14 exhibitions, including 
Jacqueline Piatigorsky: Patron, Player, Pioneer
 (2013);  
Living Like Kings: The Unexpected Collision of Chess and Hip Hop 
(2014); 
Battle on the Board: Chess during World War II
 (2015); 
Her Turn: Revolutionary Women of Chess
 (2016); and 
Global Moves: Americans in Chess Olympiads.  
This episode focuses on the current exhibition she curated that celebrates our 80th anniversary year: 
US Chess: 80 Years
—
Promoting the Royal Game in America
. To enhance your listening of this podcast in which we discuss and describe a number of the exhibition's artifacts, please see the following:
https://worldchesshof.org/exhibit/us-chess-80-years
https://www.flickr.com/photos/worldchesshof/albums/72157707416808724
Download the exhibition brochure here: 
http://worldchesshof.org/sites/default/files/USChess80BrochureFinalWeb.pdf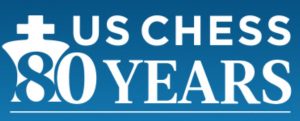 Our theme music "So Don't I" was composed by Alex King, a National Master who lives in Memphis, Tennessee. Comments and questions are appreciated; please write to 
podcast@uschess.org
. For more US Chess podcasts, see "Cover Stories with Chess Life" and "Ladies Knight" in 
our podcast category.
 And coming on April 23, our final addition to our podcast lineup, "Chess Underground" hosted by Assistant National Events Director Pete Karagianis!