The Final Four of College chess is venerable, going back in an uninterrupted annual series to 1946. But again this year, combat for the US College Team Championship is being conducted in a venue even more historic, the legendary Marshall Chess Club. Watch the games live, with commentary by GM Max Dlugy at
uschessfinalfour.org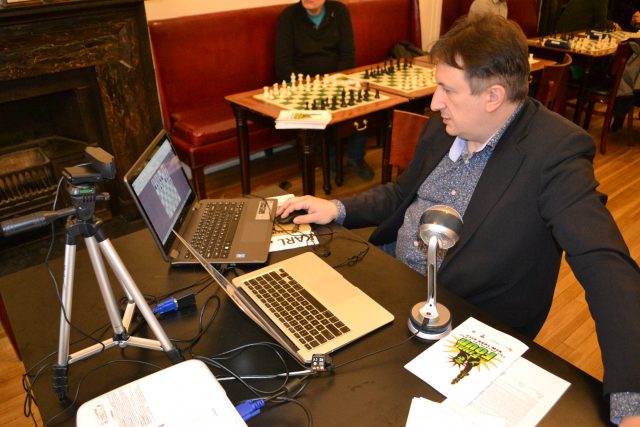 GM Max Dlugy
All four teams traveled to the Big Apple. Webster University, University of Texas-Dallas, Saint Louis University, Texas Tech University—all arrived on Thursday to be organized and tucked into their hotels before the elegant reception hosted by co-sponsors Two Sigma and Booz Allen Hamilton in Two Sigma's corporate headquarters in Manhattan. The US Chess Trust provides also provides its services to the event.
Laptop gambit
Most travel went well, with the exception of Texas Tech University's Head Coach and former US Champion GM Alex Onischuk's initial boarding.  Hurrying through security in Lubbock, he missed retrieving his laptop. Onischuk is now safely at the Marshall Club with his team. But his computer remains in Texas. Onischuk is an unflappable pro, a veteran of the many vicissitudes of chess commuting worldwide. "It's okay. Other people have computers," he said. "I consider it a laptop sacrifice." Other mishaps have been worse. "Once when I was playing in the World Cup, I thought I had White, but it turned out that when I got to the board, I had Black. I kept my game face on. At least I knew who I was playing."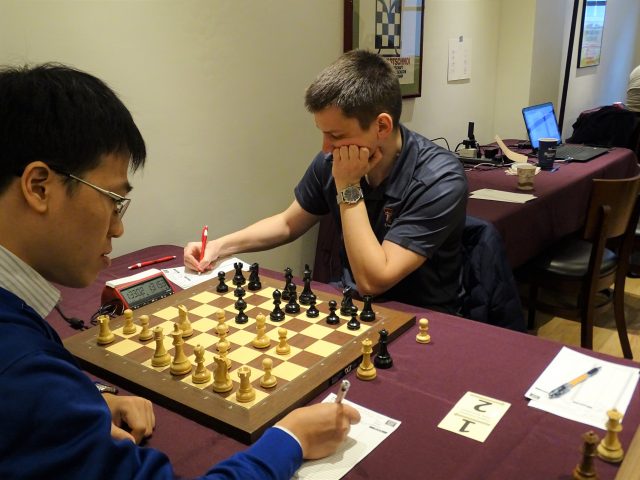 GM Liem Le of Webster v. GM Andrey Baryshpolets of Texas Tech, Photo Claudia Munoz
The second round today begins at 5 p.m., and the third and final, nail-biting round starts at 9 a.m. Sunday.  By 2 p.m. or so at the closing ceremony in the Marshall CC, we'll know who takes home the trophy and the bragging rights of 2017 US College Chess Champion.
Who do you think's going to win the event? Vote on the US Chess twitter and browse the 2017 Final Four of College Chess program for line-up details. 
Look for Al Lawrence's wrap-up upon the event's conclusion, and follow all the games live at  uschessfinalfour.org