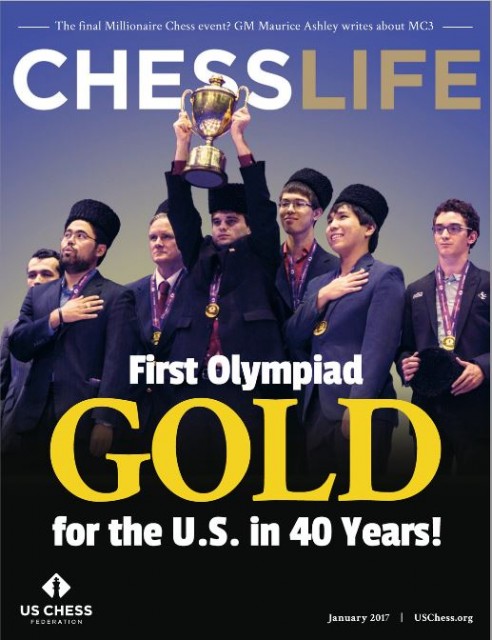 The 2018 US Olympic teams are set, with a formidable Open squad featuring three of the top ten players in the World, including World Championship Challenger Fabiano Caruana.  Two years ago, the team captured gold medals in Baku, for the first time since 1976. Team captain IM John Donaldson told US Chess:
I like the U.S. team's chances of being only the second country besides Armenia to repeat as champions in the post-Kasparov era. It won't be easy as Russia and China will also field teams with similar average ratings to the U.S. and India (with Anand), Azerbaijan and Ukraine will be over 2700 average rating per board. It's really great Fabiano is back again heading the team. The Olympiad should be the perfect final tune-up before the World Championship. It also helps our chances that we have the entire team back from 2016 and Sam Shankland has recently made a huge leap forward.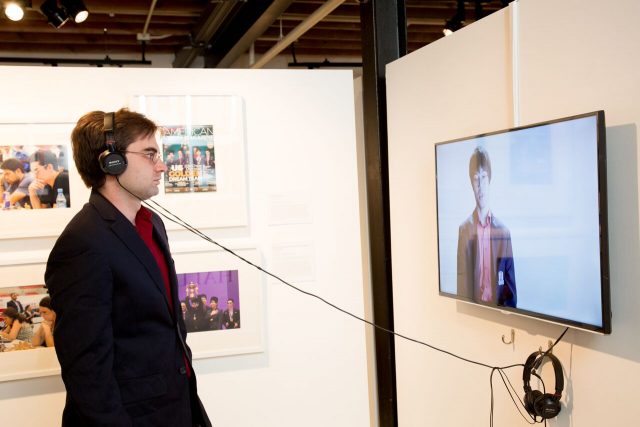 GM Sam Shankland watching "Path to Gold", which chronicles the US team's victory in the 2016 Olympiad
The 2018 Olympiad will take place in Batumi, Georgia from September 23-October 6. Donaldson pointed out that the, "The U.S. has done well in team tournaments in the Caucasus of late finishing equal fourth (without our big three) in the 2015 World Team Championship in Armenia and winning the Olympiad two years ago in Baku." Find more details on
the Olympiad schedule on the official website. 
Open Squad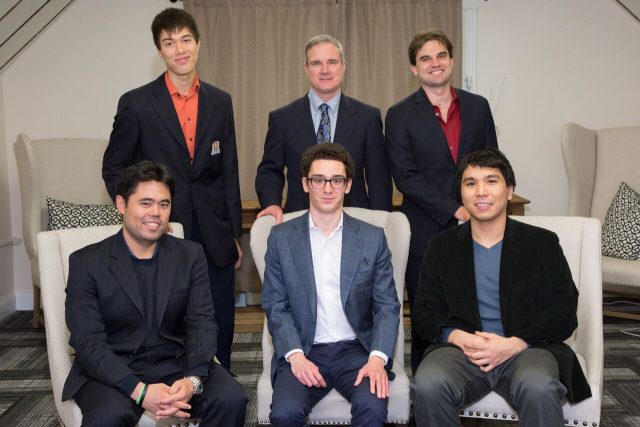 The Golden 2016 team: Robson, Donaldson, Shankland, Nakamura, Caruana and So. Not pictured: Coach Aleksander Lenderman 
GM Fabiano Caruana GM Wesley So GM Hikaru Nakamura GM Sam Shankland GM Ray Robson Coach: GM Aleksander Lenderman Captain: IM John Donaldson
Zatonskih at the 2016 Olympiad
Melikset Khachiyan will captain the Women's team, and he told US Chess that he is thrilled and optimistic about our chances, even though US Women's Champion Nazi Paikidze will not play. He had glowing things to say about all team-members. "Anna and Irina have tremendous experience. The most difficult job will be on their shoulders, to hold the top boards. Tatev is an important striker- she needs to be in good form and Sabina is a natural born leader and fighter." As for youngster Jennifer Yu, Melik called her "an amazing talent with no fear."
Women's Squad
GM Irina Krush IM Anna Zatonskih WGM Tatev Abrahamyan FM Jennifer Yu WGM Sabina Foisor Coach: GM Robert Hess Captain: GM Melikset Khachiyan https://www.youtube.com/watch?v=DRsZJF1NDEQ
Find out how you can become a part of history and support the Olympic team training here.