The 20th Maccabiah Games, an international Jewish multi-sport event, featured 10,000 athletes from over 80 countries. In the summer of 2017, over 1000 athletes from the USA traveled to Israel to compete in the third-largest sporting event in the world. Six juniors played chess in Haifa, along with three open competitors in Jerusalem.
In the junior section, Joseph Zeltsan led wire-to-wire to win the first Maccabiah chess gold medal in United States history. Zeltsan won his first three games, including a slugfest with silver medalist Ezra Paul
Chambers
of Burundi. Zeltsan ceded only one draw, in a fourth-round match with bronze medalist Daniel Savchenko of Germany.
"I was lost, then he blundered and I could've won, but I missed the win and found a draw instead, which is probably fair," said Zeltsan, a top-ranked junior from the Bronx.
The entire USA team performed well. Simona Nayberg of California was the top female finisher in the event. She and Eitan Genger of Florida scored 4.5 points to tie for 3rd-5th place, both narrowly missing out on a bronze medal due to tiebreaks.
Kevin Ordet, also of Florida, braved a tough schedule in his first FIDE rated tournament, finishing with 3.5 points. Max Weinstein of New Jersey, participating in his second Maccabi Games, finished strong after a tough start to end with 3.5 points as well.
Rose Dreizen of Manhattan got off to a great start in her first international tournament. She was tied for second after four rounds, and finished with 3 points due to challenging late-round matchups.
Left to right: Joseph Zeltsan, Max Weinstein Kevin Ordet, Coach David Lazarus,  Eitan Genger, Simona Nayberg, Rose Dreizen
The team was coached by David "Bob" Lazarus, a chess teacher from New Jersey, who admitted that the kids deserve most of the credit. "They're an amazing group of smart young people, who were accomplished players before we ever met. My task was to stay out of their way, give them the best possible Israel experience and organize some team events to try and get them the best result possible."
The USA also sent a trio to the open chess tournament in Jerusalem. Ninety-eight players competed in a 9-round event, held at the Dan Jerusalem hotel.
David Wyde of Texas went into the last game in a two-way tie for first, but lost to finish tied 2nd-5th. "Sometimes you're the windshield, today I was the bug," he mused after missing out on a bronze medal by a 0.5 tiebreak margin.
Iris Kokish of Los Angeles also had a good tournament, scoring 5 points. She gained 60 Elo rating points for her success against higher-rated players.
Jeremy Glassman of New Jersey was in contention for a medal through six games, highlighted by a four-game win streak. He finished in 21st place with 5.5 points.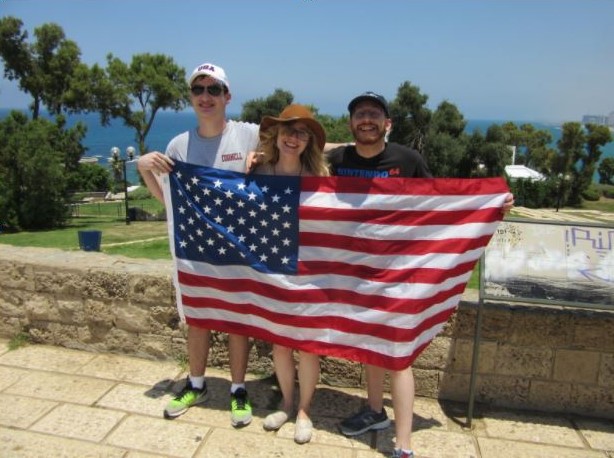 Left to right: Jeremy Glassman, Iris Kokish, David Wyde
The Maccabiah Games also featured camaraderie both within and across teams. Should any of us hapPawn to find ourselves beQueen a Rook and a hard place, asKing our fellow athletes for support, they will show up by day or by Knight.
For more information, please contact David Wyde at
david.wyde@gmail.com
.