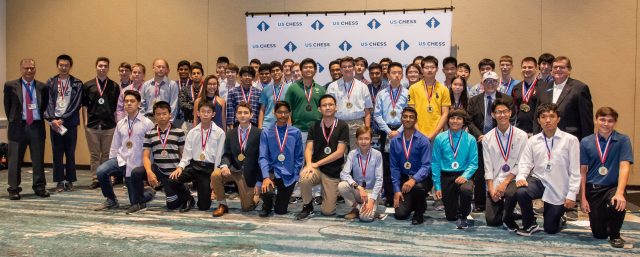 2019 Denker field. Photo by Ana Vivas.
Each year, US Chess hosts five premier invitational events (the Rockefeller event begins in 2020):
To date, these events had their own websites maintained by dedicated volunteers. As these are US Chess events, we decided to move them under the
uschess.org
umbrella. The links are all above in the event names. The information and rules for the 2020 events can all be found under the "Information" button at the bottom of the above pages. If you have any questions, please contact the chair of the National State Invitationals Committee,
Jon Haskel
. Especially noteworthy is the first edition of the Rockefeller event. From the website: "At the U.S. Open in August 2019, the Executive Board and Delegates of US Chess voted to create a new scholastic National Invitational: the John D. Rockefeller III National Tournament of Elementary School State Champions. Consequently, the Dewain Barber Tournament of K-8 Champions will be renamed the Dewain Barber National Tournament of Middle School State Champions. The Barber will be for players in grades 6-8, and the Rockefeller will be for players in grades K-5. Players in grades K-5 will no longer be eligible for the Barber. State Affiliates should make any necessary changes to their state qualifiers. The Rockefeller will follow the same playing format as the Denker, Barber, Haring, and Senior."
Make sure to read here
to see why John D. Rockefeller V wanted to honor his grandfather John D. Rockefeller III by sponsoring this event. More information, including photos and additional historical information, will be added to these pages in the next months. Please report any errors or concerns
by clicking here
.