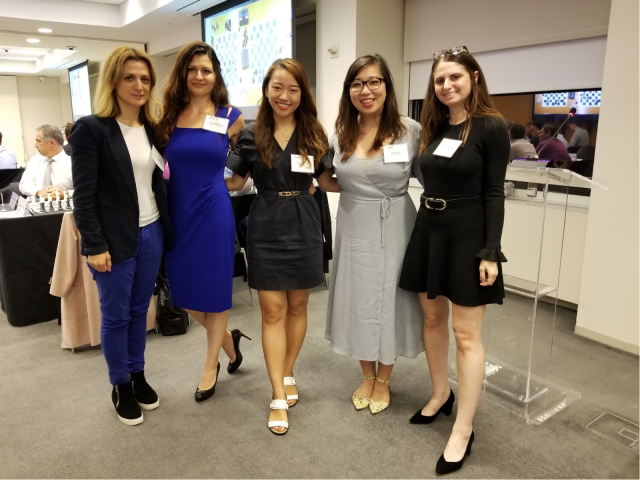 Rusa Goletiani, Alisa Melekhina, Yuanling Yuan, Anita Wu and Alexandra Wiener
Hosted at the offices of Debevoise & Plimpton LLP, the first season of the NYC Corporate Chess League ("NYCCL") features an all-star line-up of three-player teams from
Blackstone, Goldman Sachs, JPMorgan Chase, Deutsche Bank, Bank of America Merrill Lynch, Jefferies, RBC Capital Markets, AlixPartners, Google, Two Sigma (sponsors of the US Chess World Youth & Cadet Teams), Bloomberg,
and
Debevoise
. "We are delighted to welcome the teams and to support this friendly battle of the game of kings to determine the city's corporate chess leader," says
Debevoise
partner Matthew Biben, co-leader of the law firm's Banking Industry Group and member of the firm's White Collar & Regulatory Defense Group. The first match took place on September 13, which also featured a Grandmaster blindfold simultaneous exhibition ("simul") conducted by local chess Grandmaster Robert Hess.  Hess won his games against both volunteers. 
Simul challenger Gideon Berger, co-CIO of Alternative Asset Management at Blackstone
, remarked after coming close to a victory, "It was an incredible experience to play against a Grandmaster who not only couldn't see the board, but also had to multitask between two games at once. The NYCCL has done a terrific job of making this intense game casually accessible to the busy corporate world."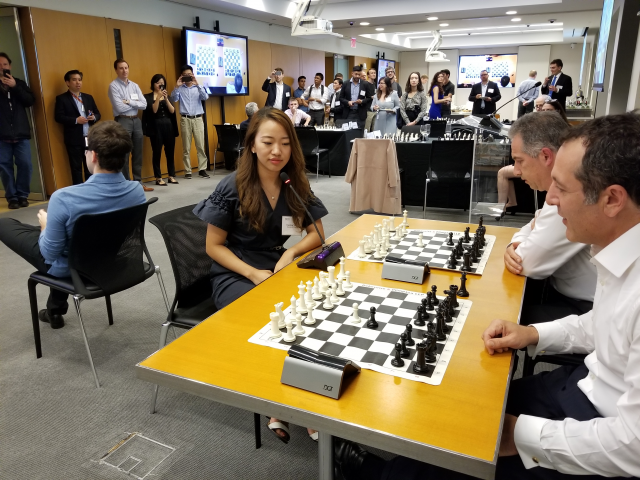 A Blindfold chess simul by Grandmaster Robert Hess kicked off the NYC Corporate League
"Thank you to the organizers for an excellent idea and outstanding execution," adds Georgiy Zhikharev, Director of Investments and Research at
JPM Wealth Management
: "Chess is a great unifying force, promoting fair competition and intellectual pursuits. It is simply great to see this collection of diverse, talented minds of all ages showcasing their extra-curricular skills." Out of the twelve teams, six of the NYCCL team captains are women.  The NYCCL is the result of a collaboration between the three team captains at
Debevoise
(FIDE & Woman International Master Alisa Melekhina),
Blackstone
(Woman International Master Yuanling Yuan), and
Goldman Sachs
(Alexandra Wiener), all of whom are accomplished female chess players.  Melekhina and Yuan are both playing as the first board for their respective teams.
Anna Ginzburg, Alisa Melekhina, Alexandra Wiener, Rusadan Goletiani, Yuanling Yuan and Elina Groberman
The NYCCL is attractive for top chess players—male and female—as an outlet to combine their chess experience with their new work environment," notes Melekhina, who is currently a fifth-year litigation associate attorney at
Debevoise
and a former U.S. Women's Championship contender and World Team Championship gold medalist.  "The inherent 'chess skills' of critical thinking, decision-making, and problem-solving go hand-in-hand with the skills we all use on the job — there is an instant bond among members of the NYCCL," adds Yuan, an Investment Analyst at
Blackstone
and Canada's first ranked female player and Women's World Championship contender. "The NYCCL is a fantastic opportunity to bring chess enthusiasts from various firms together regardless of skill level or title," says, Wiener, an Analyst at
Goldman Sachs
and former expert-titled chess player and U18 U.S. Girls Open Champion. Zhikharev agrees, "It feels so important to balance the demands of our jobs with having good —if quite intense— fun, banter and may be an enthusiastic piece of position analysis with a fellow chess mind. We are all better for it!" Five additional matches will continue on a bi-weekly Thursday schedule, culminating with the finale and closing ceremony on
November 15
.  The matches are played in a rapid (Game/10 mins. + 3 s delay) time control, with each of the team's three boards playing white and black against their respective opponent. The players with the strongest chess titles in the league are International Masters Rusudan Goletiani (
Deutsche Bank
) and Victor Shen (
Bank of American Merrill Lynch
). The pre-tournament favorites were
RBC Capital Markets
and
Google
. 
RBC Capital Markets
is stacked with masters on the top two boards (FIDE Masters Kyron Griffith, Andrey Krasnov), while the players from
Google
are a solid line-up of expert-level players on all three boards.  The two teams are paired against each other on board one for the third match taking place on October 11.
About the New York City Corporate Chess League
The NYCCL brings together chess players employed at various firms and corporations with offices in New York City.  The league is comprised of three-player teams.  Games are not rated, although players' reported USCF and/or FIDE ratings are used for pairing purposes. All players participate in their personal capacity, and must all be employed by the same private entity to form a team. Membership is currently by invitation only. The 2018 season is hosted at the law offices of Debevoise & Plimpton LLP.
For more information, contact amelekhina@debevoise.com, yuanling.yuan@blackstone.com, and alexandra.wiener@gs.com.