From the moment we landed in Saint Louis we were greeted with signs of chess culture in the chess capital.  A banner welcoming guests for the Chess Championship was hung on the escalator down to our shuttle ride.  We headed over to the club to check out
the World Chess Hall of Fame
before the round started.  We were greeted by the world's largest chess piece and an extremely helpful staff.
In a room adjacent to the Kingside's dining room was a wonderful commentary room.  Young and talented Canadian Champion GM Eric Hansen and ever entertaining GM Ben Finegold followed the games and maintained a connection with the crowd of excited fans.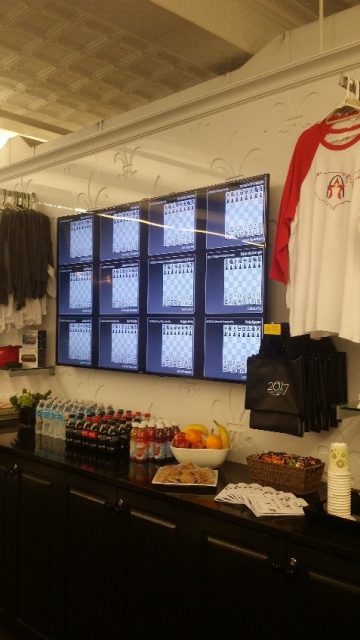 The Sinquefields and the Chess Club spared no expense in creating a professional broadcast of all their events.  One concern for some fans including Class-A player Arthur Glassman from New Mexico was the navigation of the Chess Center's many websites.  However, the site USChessChamps.com offers all the information necessary. There was a true sense of chess culture in the area.  The Sinquefields and the staff at the chess club and the Hall of Fame have put time and financial resources into College Chess, Scholastics, Local Youth Programs like boy scouts, and Top Level events for the best players in the world.  It really says something about the atmosphere that three of the highest ranked players in the world (Nakamura, Caruana, and So) all just walk in the front door. Before the intervention of Rex and the amazing Chess Club and Scholastic Center, there was much uncertainty on holding the US Championship each year. There is now some stability for top players in the US due to the impact of the Saint Louis Chess Club. We hope this will continue for many years to come and encourage readers to make the trip to the chess capital for a future event, whether it's next year's
US Championship
, or
the upcoming Sinquefield Cup.