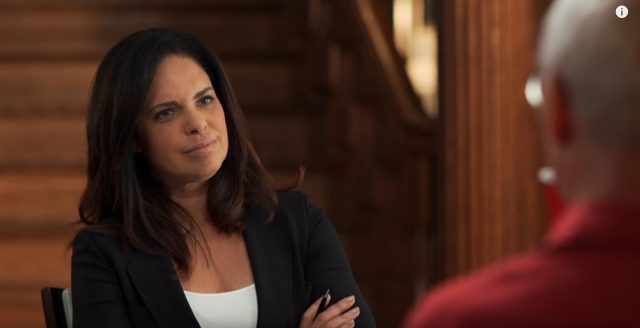 Soledad O' Brien interviewed Rex Sinquefield on Real Sports with Bryant Gumbel about his childhood, financial success and the vision which created the Saint Louis Chess Campus. Rex is best known to US Chess members as the confident and jovial founder of the Saint Louis Chess Club with his wife Dr. Jeanne Sinquefield. The HBO segment showed a more vulnerable side of Rex.  
Award winning interviewer Soledad O' Brien succeeded in going deeper, both in getting Rex to pinpoint an approximate number of millions devoted to chess so far, and on his childhood. She told US Chess
I think the hardest thing about interviewing Rex was to get him to talk about his childhood. He had a very dramatic childhood from having 15 surgeries for his cleft palate to living in an orphanage. I talked to him about being dropped off by his mother with his little brother. It's a very Oliver-Twisty type childhood and yet as we would walk around Saint Vincent's, he really loved being raised in the orphanage, he loved the other kids, he loved the nuns. And also he didn't see it as such a dramatic part of his life, He thinks of it in a very matter of fact way. I didn't see it as matter of fact of all. And that was the most surprising to me about him: he came from humble beginnings but doesn't feel phased by it at all. 
Rex himself enjoyed popcorn over the segment, which he viewed alongside friends and Saint Louis Chess Club employees on the HBO premiere on Tuesday, October 23rd.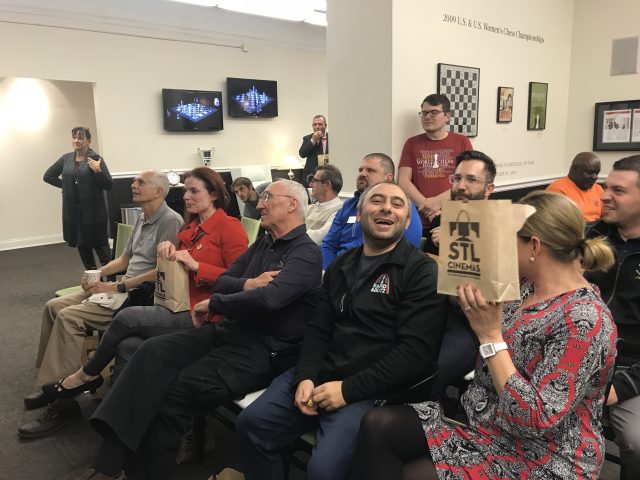 Spot the Grandmaster!, always a fun game in Saint Louis
I was also there, as the timing conveniently coincided with a Saint Louis Chess Club and World Chess Hall of Fame board meeting. As Rex's chess coach, it was fun to watch the piece in the chess capital as we witness a greater National chess awareness and gear up for the Caruana-Carlsen match starting on November 9th. 
World Championship candidate Fabiano Caruana was also interviewed in his Saint Louis home for the piece. O' Brien described Caruana as a "nice young man who is doing something extraordinary." Soledad told me that she is definitely on #TeamFabi and will be cheering him on fervently in November.
I don't know who's going to win but I know who I'm rooting for. I love to root for the home team. I root for the Giants, sometimes we struggle, I root for the Knicks and sometimes we *really* struggle, and I root for Team USA all the time. At the end of the day, you get to the core question: can it happen, will Caruana be able to overtake the #1 player? I think it can.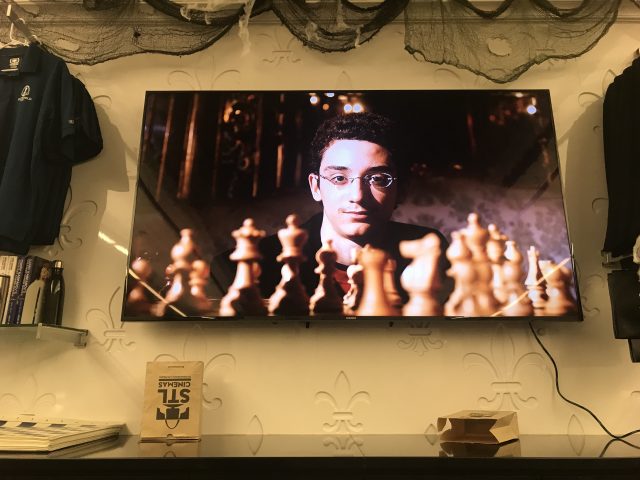 O' Brien was also blown away by the chess culture that the Sinquefields have built in Saint Louis. "I wouldn't have thought of Saint Louis as the Ground Zero of chess in America. All the effort Rex has put into it and how popular it is among the school children is really getting people to love the game of chess."
Soledad's first exposure to chess was years before this segment, when she supported chess expert, Stanford grad and Brooklyn Castle star Rochelle Ballantyne, via her PoweHERful foundation. Through her work with Rochelle, Soledad also met Grandmaster Maurice Ashley, who was also featured in the HBO segment.  
In an interview on uschess.org earlier this year, Ballantyne talked about how inspiring Soledad is to her.  
I was able to play in other (major) tournaments and afford coaching because of the support of Soledad O'Brien, Brad Raymond, and their foundation, the Starfish (now PoweHERful) Foundation

. 

(I thank) Soledad O'Brien for not only her financial support but her emotional support as well. She goes above and beyond for all her mentees and I'm truly grateful for all that she does and will continue to do to further support low-income women.
From her experiences with Rochelle and the Saint Louis Chess Club, it seems that O' Brien is firmly convinced. She spoke powerfully about how chess can offer an equal playing field regardless of background or access to expensive equipment.
The cost of entry is not high. I carry around a little chess now (that I bought at Q Boutique) and play with my (four) kids. Anybody can play, anybody can pick up a chess set and start. Chess should be everywhere. A lot of sports you have to be very tall, or have a lot of gear or equipment, or have access to a golf course. It's an amazing opportunity to just carry a chess set and find someone to play with.
For more details on the show, see the press release posted earlier this week and the ">YouTube preview here.