Alex Velikanov, Photo Charlotte Chess Center
When the average chess player thinks of the areas in the US most likely to produce high level chess players, Wisconsin most likely doesn't spring to mind.  While we can certainly lay claim to one of the most recognizable names of all time due to Arpad Elo (yes, THAT Elo) having made his home here after immigrating to the US, we haven't been known as a state which produces titled players. However all that is changing these days.  A couple of years ago Erik Santarius earned his final IM norm, then recently Awonder Liang became the
youngest American IM of all time
, and now Wisconsin can lay claim to another soon to be IM (pending rating)  in Alex Velikanov. During his career Alex has already notched some sizeable victories, including winning the North American Youth, the Denker Tournament of High School Champions, along with competing in the World Youth in Vietnam. I had a chance to visit with Alex recently, first at the long-running Hales Corners' Challenge tournament where he tied for first, and then by phone the next day as well, to discuss his career and his most recent achievement.
Chris Wainscott
: Congratulations on earning your final IM norm at the Charlotte Chess Center Norm Invitationals!
Alex Velikanov
: Thank you!
CW
: Can you tell us where your first two norms were earned?
AV
: The first one I scored was in the North American Youth in Toronto in 2013 in the Under 16 section.  I believe that I was the top seed.  The winner received the FM title as well as an IM norm. My second norm was in the North American Open this past December.  I had a really good start and actually clichéd the norm after only seven rounds.  It's funny though since my policy seems to be that after clinching the norm I lose a bit of focus.  I lost my last two round games.  I believe that had I won them I could have earned a GM norm as well.
CW
: Did you clinch your final norm with a round to spare by chance?
AV
: Yeah, again I lost the last round.  I knew I had the norm, but I realized that had I won the last round I would have had the rating for the title as well.  So I chose a more ambitious opening and I got the positon I wanted, but things happen and it got complicated and I wound up losing.
CW
: You do have an event coming up soon where you'll have the chance to pick up the rating, correct?
AV
: Yes, I'll be playing in Michigan starting April 29
th
at the Great Lakes Chess Open in Battle Creek.
CW
: How old were you when you first started playing in tournaments?
AV
: I was five years old.
CW
: How long after you had learned to play was that?
AV
: There was a bit of a gap.  I learned how to play when I was three.  There was a game on my computer and I was fascinated by that.  Also, my dad was teaching my older brother, so he started teaching me as well.
CW
: When was it that you realized that you were getting good?
AV
: When I was five I tied for first at the Kindergarten Nationals.  That story is kind of funny.  I won the first six rounds, and then if you'll bear with me for a moment, in the seventh round I still remember the opening.  It was 1.e4 e5 2.Nf3 Nf6 3.Nxe5 Nxe4 4.Qe2 Nd6 so I played 5.Nc6+ winning his queen on move five.  A draw would have given me clear first, but being a kid I didn't want to draw up a queen, so I kept playing and managed to lose.  So I wound up tied for first instead of getting clear first!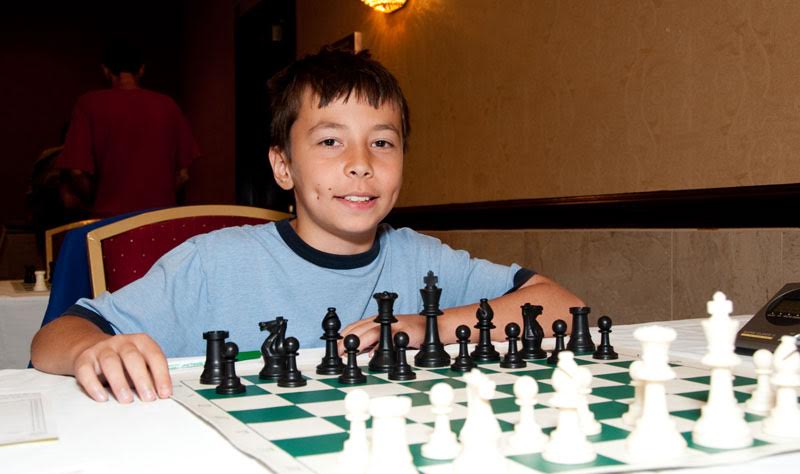 Sasha back in 2009, Photo Betsy Dynako
CW
: For all of us, when we are first starting out the primary method of improving is just to play as much as we can.  However, when you reached a point where just playing wasn't enough, how did you work on continuing to grow stronger?  Did you work a lot with coaches?  Did you read books?  Work with the computer?
AV
: I was practicing a lot, but I also want to give credit to one of my most influential coaches, Ashish Vaja.  I started working with him when I was 1100.  I had been 1100 for a couple of years, but when I started working with him I started to improve again.  I worked with him up until I was around 2000.  He definitely helped my game a lot. I contacted Ashish and this is what he had to say about Alex.
Ashish Vaja
: Some people are curious by nature.  Always seeking out knowledge and never afraid to ask questions.  When you combine this with  an iron will to succeed you get Sasha.  He is a very determined young man who is capable of accomplishing whatever he sets his mind to. I remember after a lesson one day his father and brother were playing hide and seek.  Sasha was probably not even 10 at that time, and it was his turn to hide.  He climbed up a coat pole and I placed a coat over him so you couldn't see him.  His father and brother gave up looking for him after a few minutes. When he came out they were shocked that he managed to hold himself up that long without dropping his feet.  His arms and hands were so gassed towards the end that you could see the coat shaking a little bit, but he never gave up. During our lessons, whether it was going over technical endings, complex studies, or spending an entire two hour lesson without setting up a board and forcing him to visualize everything in his head, no matter what you throw at him his iron will always surface.
AV
: In addition to working with Ashish my dad would also make his own tactics for me to do.  Even now I have these little booklets for pattern recognition that my dad gave me.  So for example I would work on pins one day and then double attacks the next day.
CW
: Were there any books that made an impression on you when you were younger?  Say for example when you were trying to break 2000?
AV
:  I just did a ton of tactics and then was on ICC since I was around 1400-1500.
CW
: What about now?  How do you focus on improving now?
AV
: Now there are a few books that I like. 
I like Aagaard's GM Prep books.
  My favorite is
Positional Play
which I think is the best books from that series. I also like
Endgame Challenge
by John Nunn.  It's the best studies that Nunn has found.  They're just really insane calculation exercises. I've also read a bit of Dvoretsky, but
Positional Play
and
Endgame Challenge
are the two biggest influences.
CW
: Do you still work with a coach or coaches?
AV
: At this point I have not for a couple of years.  One coach that I did work with when I was going from 2000-2300 or so was [Serbian GM] Predrag Trajkovic.  I worked with him on ICC.  Mesgen [Amanov] also helped me during that period. I contacted GM Mesgen Amanov who has made his home in Chicago, IL since coming to the US.  Here is what he had to say.
Mesgen Amanov
: Sasha was my first ever student when I moved to the USA in 2008.  I played against him in round five at the Tim Just Winter Open. I won the game, and afterwards analyzed it with Sasha for 20 minutes.  After our analysis Sasha's dad asked if I gave lessons and that is how we started working together.  I was his coach for three or fours years and after that he started attending my chess camps in Glenview. He would take a train every other Sunday from Milwaukee and I would meet him at the Glenview station.  This determination speaks for itself.  I don't know who else you can name who would take a train on a regular basis to spend a whole day studying chess. Sasha is a hard worker and I think he will become a Grandmaster in a few years.
CW
: What are some goals you still have as far as chess goes, and how much of a role do you expect it to be during the future?
AV
: My primary goal right now is to get the last step [rating] for IM.  Beyond that I will probably be attending UTD in September, and of course I want to work on getting to GM.
CW
: Anything else you'd like to say?
AV
: My recent rise when I've gone up in rating for around 10 tournaments in a row began around the same time I started dating my girlfriend.  She plays chess too, and I met her at the Denker tournament.  So shout out to Lauren from Miami! I would also like to thank my parents for supporting me as well.