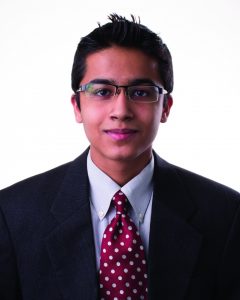 Akshat Chandra, Photo STL Chess Club
Congrats to 17-year-old
Akshat Chandra of Quest to GM, who recently earned his final GM norm
at the
Autumn Invitational at the Saint Louis Chess Club (Nov 17-22).
 He finished the event with 6.5/9, joint first with GM Priyadharshan Kannappan. Chandra wrote an in-depth piece on his blog, now re-named "
akshatchandra.com
" with annotated games on his victory. His victims in the 10-player round robin included GM Ben Finegold, IM Aman Hambleton and WGM Tatev Abrahamyan.
[pgn]

[Event "CCSCSL Autumn Invitational"]
[Site "?"]
[Date "2016.11.18"]
[White "Chandra, Akshat"]
[Black "Finegold, Ben"]
[Result "1-0"]
[ECO "A56"]
[WhiteElo "2509"]
[BlackElo "2493"]
[PlyCount "65"]
[EventDate "2016.??.??"]
[WhiteClock "0:10:13"]
[BlackClock "0:08:20"]

1. d4 Nf6 2. c4 c5 3. Nf3 cxd4 4. Nxd4 Nc6 5. Nc3 g6 6. e4 d6 7. f3 Bg7 8. Be3
O-O 9. Be2 Nxd4 10. Bxd4 Nd7 11. Bxg7 Kxg7 12. Qd2 a5 13. O-O Nc5 14. b3 Be6
15. Kh1 f6 16. Rab1 Rc8 17. Nd5 Bxd5 18. exd5 e5 19. dxe6 Re8 20. f4 Rxe6 21.
Bf3 Qb6 22. Bg4 f5 23. Qd4+ Kh6 24. Bf3 Rce8 25. Bd5 Re3 26. g4 fxg4 27. f5 Nd7
28. Qxg4 Nf6 29. Qh4+ Nh5 30. f6 Rf8 31. Rf5 Re1+ 32. Rxe1 gxf5 33. Bf3 1-0[/pgn]
Chandra is also active on twitter
and wrote after his victory.
Pardon the pun, but IM (I am) an IM no more ?IM ➡️ GM

— Akshat Chandra (@AkshChandra) November 22, 2016
He also contributed a piece for the
Saint Louis Public Radio on his feat.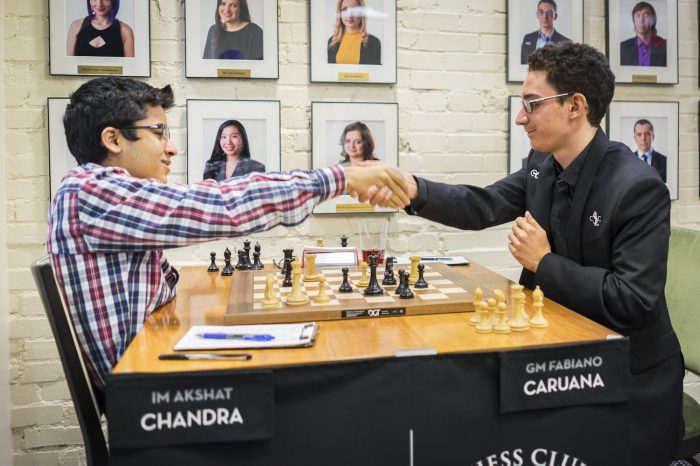 Akshat Chandra, now a Saint Louis resident, here facing US Champ Fabiano Caruana. Photo Saint Louis Chess Club at the 2016 US Championships.
Find more games and details on the event at uschesschamps.com.