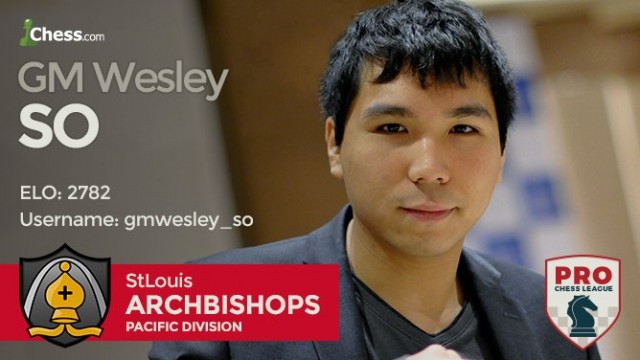 Last season's MVP, Wesley So.
Where can you see Magnus Carlsen at his best one week, scoring a perfect 4-0 against a team of mostly grandmasters, and at his worst another, blundering his queen to a one-move knight fork?
Where can you watch elite GMs and amateur competitors compete side by side?
Where can you experience the highly anticipated head-to-head battle between World #1 Carlsen and World #2 (at the time) Wesley So, as their teams duke it out for the championship title? Where else can you witness a sub-2200 (FIDE) player like Nicholas Rosenthal trounce a world class grandmaster like Maxime Vachier-Lagrave?
Only in the PRO Chess League. This exciting worldwide team competition returns tomorrow---with a brand new format!
Due to the popularity of the league, the league will be structured differently. Twenty-four teams have been automatically invited into the league based on their performance last year, 
including teams like the returning champions, the St. Louis Archbishops (led by Wesley So) and the 2017 runner-up, the Norway Gnomes (led by Magnus Carlsen). 
Eight more teams will be chosen from two regional qualification tournaments, taking place on Saturday, October 28. One qualification tournament will feature teams from the Atlantic & Pacific Divisions while the other will feature the Central & Eastern teams. While this year the format is changing, the main draws of the league remain the same:
Numerous elite grandmasters will lead their teams into battle
International participation from 6 continents
Entertaining blitz & rapid time controls
An entire regular and playoff season of action-packed chess, tentatively starting on January 17, 2018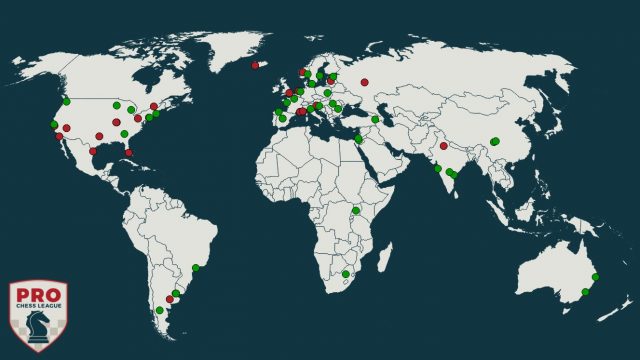 PRO Chess Teams from all over the globe! Red = 24 teams seeded into the regular season. Green = 40 teams competing for 8 qualification spots on Saturday
Who's trying to qualify?
Atlantic & Pacific Divisions
Although the Atlantic/Pacific Qualifier has less teams playing, the ones that are competing are particularly strong. The top seed is the
Seattle Sluggers
, led by World #10 Hikaru Nakamura, and the only team that enters the tournament with an average rating above 2500. World #16, Yu Yangyi, will be competing with the Chengdu Pandas. GM Ben Finegold, who competed on the winning St. Louis Arch Bishops last year, will now be playing for the
Atlanta Kings
. Here in California, I'll be rooting for the
San Francisco Mechanics
, who are based in my favorite U.S. city and led by GM Daniel Naroditsky, author of two excellent books,
Mastering Positional Chess
and
Mastering Complex Endgames
. Another well-known chess author, GM David Smerdon, who wrote
Smerdon's Scandinavian
and is currently working on a book about chess swindles, will be competing for one of the two Australian teams, the Australia Blitzkrieg.
Team List
Saturday, October 28 at 1 p.m. pacific time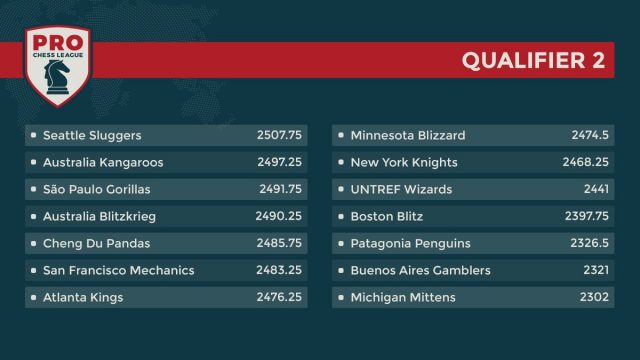 Central & Eastern Divisions
In the Central and Eastern Divisions, I'm most excited about the two particular teams, both of which have strong line-ups and have been very active on social media in anticipation of the PRO Chess kickoff:
3rd seed, the Mumbai Movers, featuring 23-year-old GM Vidit Gujrathi, who recently broke 2700
https://twitter.com/Hyd_Hawks_Chess/status/921659940023959552
Team List
Saturday, October 28 at 8 a.m. pacific time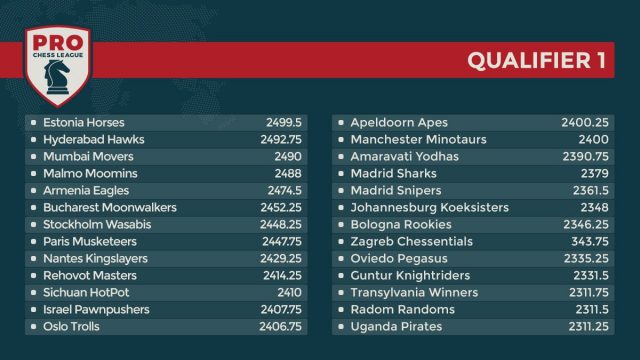 How do teams qualify?
The qualification tournaments will have team members compete as individuals (Yes, team members may end up playing against each other), and then the team's total scores will be tallied at the end. 
Six teams will earn qualification spots by reaching the top 3 of each tournament.
The final two qualification seats will be decided by 
one of the most fascinating aspects of the new format: Fans will get to choose!
"How about the final two teams? They will get in with a little help from their friends... A fan vote will take place (full details at the rules page here) within a few days after the event. Teams will have time to submit pleas to fans on social media, create videos and interact with the Chess.com community in any way they can to drum up support! A poll will then be placed on the Chess.com homepage for 72 hours and the magic will begin!" -Mike Klein, 

"

PRO League Qualifier: 40 Teams Vie For 8 Spots"
Viewers may have mixed feelings on choosing the final two teams based on fan appeal, but consider this:
Competitive merit will still play a role: Only the teams that placed in 4th-6th in the qualifier tournament will be considered in the vote.
It encourages teams to engage with fans on social media and by creating interesting content, such as blogs or videos about the team members and their best games.
It allows viewers to interact directly with the event.
Follow all of the excitement tomorrow, featuring live games and commentary starting at 8 a.m. PST on
Chess.com/TV
:
The Central & Eastern Qualifier will be hosted by David Pruess and Anna Rudolf at 8 a.m. PST
The Atlantic & Pacific Qualifier will be hosted by Danny Rensch and Jennifer Shahade at 1 p.m. PST
For more information, visit:
---
About the Author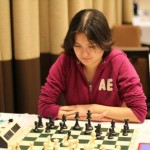 Vanessa West
is a regular writer and digital assistant for US Chess News. She won the
2017 Chess Journalist of the Year award
. You can follow her on Twitter:
@Vanessa__West