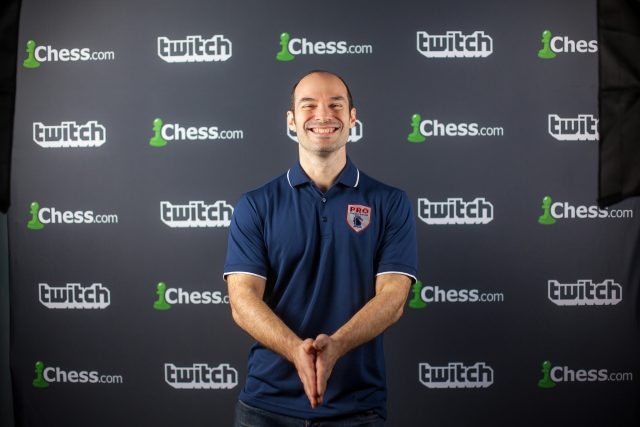 IM Greg Shahade, Photo Eric Rosen at 2018 PRO Chess League finals
The
PRO Chess League
begins January 8th on
chess.com
, and this year
will again feature most of the very best players in the World,
including all five members of the U.S. Olympic team, that earned gold in 2016 and silver in 2018. World Championship challenger Fabiano Caruana and Olympic team-mate Wesley So will both play for 2016 PRO Chess League champions, the Saint Louis Archbishops. 2018 Grand Chess Tour Champion Hikaru Nakamura will play on the Seattle Sluggers. Ray Robson plays for the Webster Windmills and US Champion Sam Shankland is a member of the San Francisco Mechanics. Greg Shahade told US Chess,
Maybe what I'm most excited about is that this year's PRO Chess League action will be happening TWICE every week instead of once. Watching 14 hours of action in one day was a bit overwhelming, and I think it's going to be great to see it spread out. (See the schedule here)  We have most of the top players in the world competing again. In addition to the aforementioned U.S. Olympic team, we'll have GM Shakhriyar Mamedyarov, GM Maxime Vachier Lagrave, GM Anish Giri, GM Yan Nepomniatchtchi and GM Ding Liren. It's an absolutely insane lineup of top players I'm also excited to see two of the most historic chess clubs in the United States joined the league through our qualifier event. The New York Marshalls and San Francisco Mechanics will be representing the Marshall Chess Club and the Mechanics Institute. It's so great to see that these clubs are not only still providing a great place for chess lovers to play, but that they are fighting to compete in the biggest chess league in the world. And from talking to their management, I can promise that both teams are taking the league very seriously. Every team in the league has learned from watching and competing in the past two seasons. They have improved their strategies and know what it takes to win.
Commissioner IM Greg Shahade appeared on
the Perpetual Podcast,
hosted by NM Ben Johnson, to talk about some of the most exciting changes this season, as well as other thoughts on chess formats and various innovations to make chess more popular. Listen to the podcast below and follow the action starting on January 8th at
chess.com
or
twitch.tv/chess
https://twitter.com/Bennyficial1/status/1081319348638269440