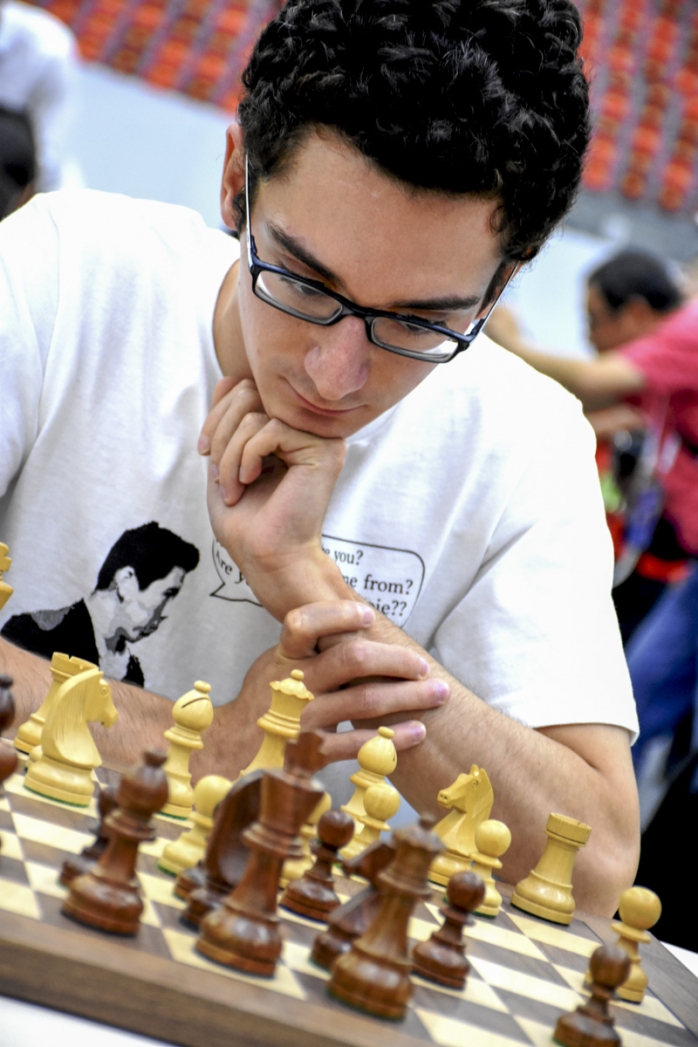 US Board one GM Fabiano Caruana © Lana Afandiyeva
The United States made history with its victory in the 2016 Chess Olympiad held in Baku, Azerbaijan from September 2-13. This result marked the first time an American team has taken first place in an Olympiad in which Russia or the Soviet Union competed. The team of Fabiano Caruana, Hikaru Nakamura, Wesley So, Sam Shankland and Ray Robson, with Alex Lenderman serving as team coach, led nearly the entire event winning nine matches and drawing two. The team's final score of 20 points (two for a win and one for a draw) was the most points scored since FIDE switched from game to match point scoring in 2008, and yet it was almost not enough as Ukraine also had 20 points. The United States won on tiebreak with its round six head to head win over Ukraine the key factor. Top-seed Russia also had an excellent tournament losing only to Ukraine and drawing with the United States and India, to finish third. This marks the seventh consecutive Olympiad the Russians have failed to win since Garry Kasparov retired from Olympiad play after Bled 2002, but it should be noted the team, with an average rating of 2768 FIDE, performed above expectation collectively gained 12 FIDE rating points. The United States started off fast and played consistently throughout, not losing a single match.
United States performance round by round 
Round One – Andorra 4-0 Round Two – Scotland 3.5-.5 Round Three – Argentina 3-1 Round Four – Czech Republic 2-2 Round Five – Serbia 3-1 Round Six ­­– Ukraine 2.5-1.5 Round Seven – Russia 2-2 Round Eight – India 3.5-.5 Round Nine – Norway 3-1 Round Ten – Georgia 2.5-1.5 Round Eleven – Canada 2.5-1.5 This was our sixth win in the history of the Chess Olympiads which dates back to the late 1920s, and the first since 1976. We were never in serious danger of losing any of our 11 matches. Unless someone was watching the tournament closely with a strong engine running in the background, they will have a hard time guessing from the final scores which match caused us the most trouble. Count yourself a hardcore fan if you know the answer was round eight. There were several matches where the US had slightly worse but drawable positions on one or two boards, but only one where we were in danger of losing two games - round eight against India. The final score of the match (3.5-.5) masks the fact Fabiano was in real trouble against Harikrishna, a piece down in a tricky ending after facing a strong opening novelty in the Open Ruy Lopez, while Sam was completely lost against Sethuraman. In the end Fabiano drew and Sam won in what proved to be an important victory for the team. India, playing as usual without Anand, showed their bronze medals from 2014 were no fluke as they had another great tournament finishing 4
th
. The last round against Canada was also close. Seeded 25
th,
with an average rating of 2597, our neighbors to the north had a sensational result gaining 62 rating points as a team. They were led by new arrival Evgeny Bareev (once rated number four in the world) who anchored board one, but its stars were 24-year-olds Anton Kovalyov and Eric Hansen. The former won the silver medal on board two for his undefeated score of 8 from 10 (2852 performance) while Hansen more than justified his team's strategy of feeding him Whites (9 times) had 9 from 11 (2738 performance). His only loss was from a winning position against the Ukrainian star Andrei Volokitin who won the gold medal on board four. Had Hansen won that game Canada would have defeated Ukraine.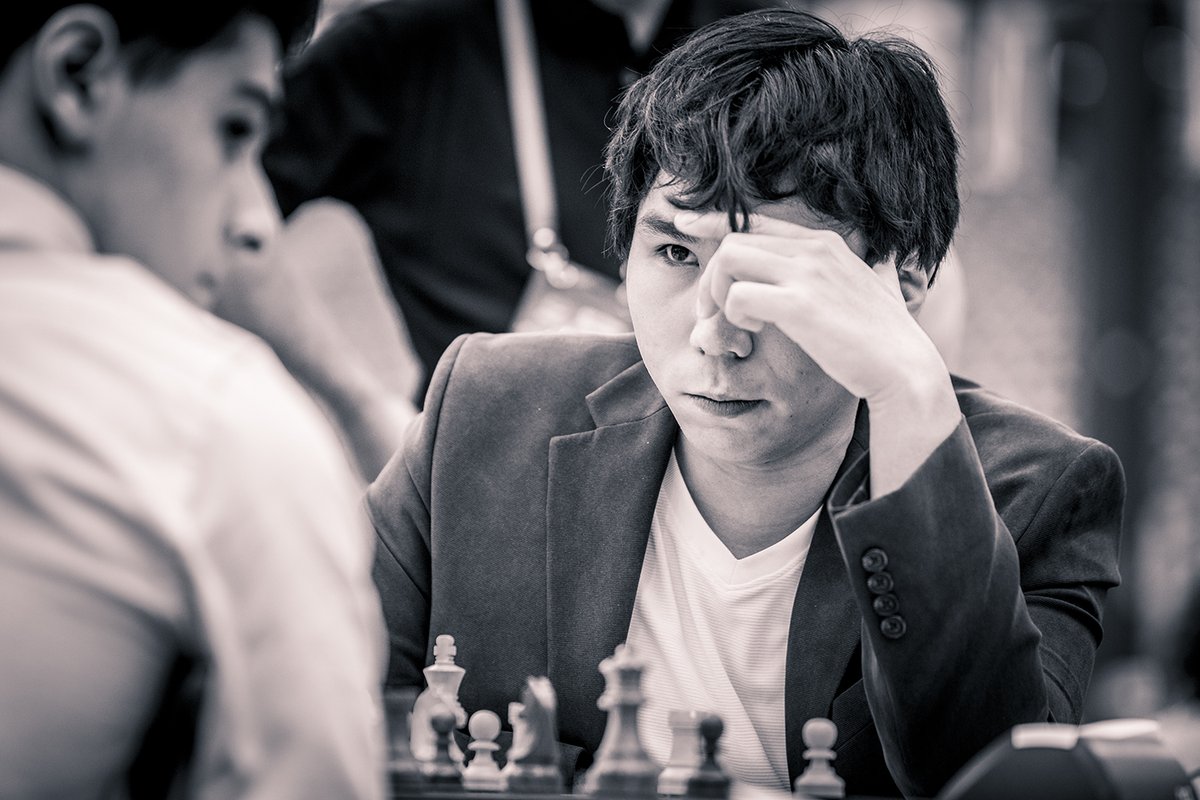 Wesley So, Photo David Llada
The last round match against Canada saw Fabiano and Wesley win and Hikaru draw to clinch the match. The game between Wesley and Alexandre Lesiege looked to be a one-sided crush but computer analysis later revealed Black missed some serious chances around move thirty. It should be noted by that point in the game Lesiege had been in serious time trouble for some time and was playing with only the 30 second increment. Wesley and Hikaru were nursing bad colds the last two rounds but insisted on playing. Between them and Fabiano they played 31 of the teams 44 games with Hikaru playing all the rounds. Fabiano won the bronze medal on board one (2838 performance) while Wesley took home the gold on board three (2896 performance).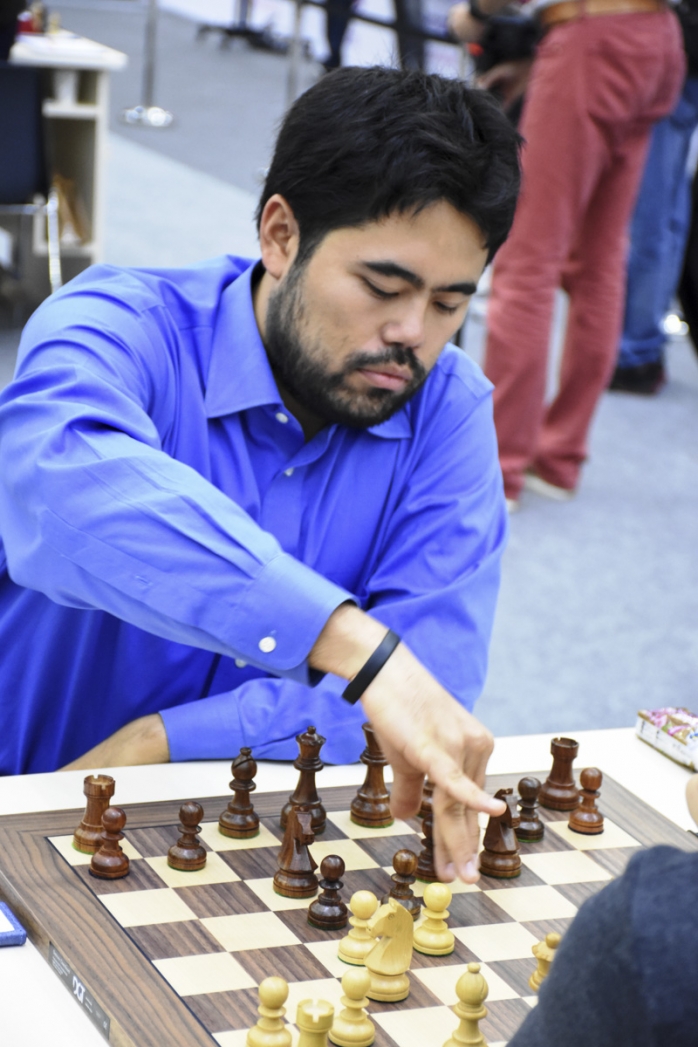 Hikaru Nakamura, Photo © Lana Afandiyeva
Sam Shankland and Ray Robson contributed more to the team than their individual results would indicate. The depth of the US team can be seen by the fact Sam, an individual gold medalist in the 2014 Olympiad where he played the most games for the team, was sharing board four with Ray. It was undoubtedly hard for them to get into a rhythm when they were not playing every day, but neither complained and were always ready to assist team coach Alex Lenderman in helping other players prepare for their games. The final standings (in tiebreak order) had mostly familiar names at the top but also a few surprises. Note the United States was ahead of Ukraine on all three tiebreakers: 1. Bucholz (413.5 to 404.5), 2. Game points (31.5 to 31) and 3. Head to Head (2.5-1.5).
USA 20
Ukraine 20
Russia 18
India 16
Norway 16
Turkey 16
Poland 16
France 16
England 16
Peru 16
Canada 15 (along with 12 other teams)
The performance of the top four finishing teams has already been commented on as has Canada, but other teams who finished in the top 11 are worth saying a few words about. Norway, captained by American-Norwegian Grandmaster Jonathan Tisdall, with World Champion Magnus Carlsen and 17-year-old Grandmaster Aryan Tari, achieved its highest ever finish as did Turkey. Poland didn't match its glory days of the 1930s, but with 18-year-old Jan Duda soon to break 2700 FIDE and join countryman Radoslaw Wojtaszek among the world elite, its future looks bright. France, which was missing its number two Etienne Bacrot (more about him later), started slowly and after a round five loss to a surprisingly strong team from Paraguay (two 2600s and two 2500s) never was in the medal hunt, but any team with Maxime Vachier-Lagrave on board one is always going to have chances in the future. England was a powerhouse in the 1980s, winning silver medals in 1984, 1986, 1988 and bronze in 1990 but has been quiet the past two decades. That changed in Baku. A horrible loss to Netherlands in round four (.5-3.5) looked like the Brits were heading for a disaster but then they won three consecutive matches by 3-1 scores including a convincing win over China in round 7 which marked the end of the defending Olympiad champions chances of repeating. England also defeated the fourth seeded Azerbaijan A team and had its boards two and three performed better it might have medaled. The real surprise among the top ten finishers has to be Peru. Seeded 34
th
(2566 average rating), and without its top rated player, the legendary Julio Granda Zuniga, the team was carried by 21-year-old Jorge Cori whose 8 from 10 score (2810 performance) earned him the bronze medal on board two. The two great disappointments of the 2016 Baku Olympiad were China and Azerbaijan. The defending Olympiad and World Team Champions dropped six match points by round eight and were never medal contenders. Only Ding Liren on board two was in form. Azerbaijan was red hot at the start of the event, winning its first four matches, but a round five loss to India in which both Shakriyar Mamedyarov and Akadij Naiditsch (who had each started 4-0) were beaten slowed it down and a defeat by Russia in round 9 ended their medal hopes. Like Russia and China, the Azerbaijani chess federation took this event seriously with multiple training camps and a team of coaches assisting in preparation. The Azeri captain was Aleksey Dreev with Etienne Bacrot the chief coach, lured away from playing for France by a reputed $300,000 (!) per player, coach and captain bonus for winning gold. In case you're curious Joseph Schooling of Singapore won more (around $750,000) for winning the 100 meter butterfly in Rio, but no other athlete in the 2016 Summer Games would have received a bigger bonus than the Azeri team members if they had taken first place.
Anna Zatonskih
The U.S. Women's team of Irina Krush, Nazi Paikadze, Anna Zatonskih, Katerina Nemcova and Sabina Foisor had an outstanding tournament and could easily have finished second instead of their eventual tie for 4
th
place (sixth on tiebreak). They beat perennial champions Russia and lost to China and Ukraine by the narrowest of margins. Captain Yasser Seirawan and Coach Robert Hess did a fantastic job and can be proud of their team's performance which saw them collectively gain 21 rating points. The US finished second behind Ukraine (but ahead of Russia and China) in the competition for the Gaprindashvili Cup which combines the results of the Open and Women's tournaments. Baku will be remembered as one of the best organized of all the Olympiads, right up there with Havana 1966 and Dubai 1986. Many factors make for a great Olympiad but the most important is a large, well-lit site with good air flow. This is not an easy combination to find with the number of teams constantly increasing - my first Olympiad in Dubai had 108 teams while Baku had close to 180. This Olympiad had wonderful playing conditions, perhaps rivaled only by Turin 2006. The accommodations offered by the organizers - four and five star hotels for all teams - made the Olympic village lodgings in Rio look like youth hostels in comparison. Food was plentiful and while the three times a day buffet soon got tiring, there was always the option of eating out as Baku was not expensive. While Dresden 2008 continues to be my favorite Olympiad (our hotel was 30 seconds from the playing site, the food was tremendous and both teams medaled), the Baku organizers can be proud of the event they put on. While the organizers did a first rate job the same cannot be said for FIDE which insisted on implementing a series of ill-conceived rules in heavy handed fashion. Drug testing, aka Anti-Doping testing, was anticipated. FIDE has observer status in the Olympic Sports movement and as such is required to test the players. FIDE President Kirsan Ilyumzhinov has long hoped to make chess an Olympic sport, and while that appears to have close to zero chances of happening, it does have one concrete benefit – many national chess federations (not the United States) receive financial assistance from their national sports committees. This being the case, chess players deign to submit to a farcical test which no one has failed to date. If you are curious here is a list of the most relevant banned substances for chess:
Amphetamines – e.g. Adderall, Ritalin
Ephedrine and Methylephedrine – Prohibited by WADA when its concentration in urine is greater than 10 micrograms per milliliter
Pseudoephedrine is prohibited when its concentration in urine is greater than 150 micrograms per milliliter
Substances not present on the Prohibited List but represented in the Monitoring Program:
Caffeine – Included in WADA 2013 Monitoring Program and relevant for in-competition testing only. Any test reading of less than 400 milligrams poses no problem.
Codeine – A common ingredient in, for example, preparations used to treat coughs and stomach upsets. Any dosage is highly unlikely to be significant when taken in normal therapeutic quantities.
Caffeine is by far the drug which might cause most concern. 400 milligrams is the equivalent of four cups of brewed coffee, 10 cans of cola or two "energy shot" drinks, but keeping in mind the well-known diuretic effect of caffeine, it's hard to imagine a player going over the limit. While drug testing is endured (it would end instantly if federations stopped receiving money from their national Olympic Sporting Committees) the need for anti-cheating measures is widely understood and approved. There have been numerous instances of computer assisted cheating the past decade, perhaps most famously involving French GMs Sebastien Feller, Arnaud Hauchard and IM Cyril Marzolo in the 2010 Khanty Mansiysk Olympiad. All chess players competing in Baku anticipated being scanned before entering the playing hall and a prohibition against any kind of electronic devices (computers, cell phones, etc.) being taken into the venue was both logical and expected. Not so having to ask the arbiter for permission to go to the bathroom or being scanned by the arbiter while in time pressure (as one tried to do to Nigel Short in the match England-China). A prohibition on paperback books also didn't make much sense. All of these decrees were issued by FIDE's Chief Executive Officer Geoffrey Borg at the Captains Meeting the night before the first round. He announced these measures "had been widely requested and enjoyed considerable support." When such respected figures as Grandmasters Judit Polgar (captain of the Hungarian Open team) and Yasser Seirawan politely asked for one example of such support Borg brushed away their question the way a school teacher might in dealing with kindergartners. Captains soon realized "resistance was futile" – a play on Borg's last name and the cybernetic organisms in the Star Trek series. Fortunately common sense eventually prevailed through the efforts of Chief Arbiter Takis Nikolopoulis. Thanks to him the rule requesting permission to go to the bathroom was lifted. This saved the dignity of the players and arbiters who wanted no part of enforcing such a stupid and demeaning rule. Baku marks a turning point for American chess. The team which brought home the gold medals are all under 30 – most under 25 – with the "big three" of Fabiano, Hikaru and Wesley currently rated in the top seven players in the world. Sam and Ray are nearing 2700 FIDE. If that were not enough the two top rated players in the world under 16 – Jeffrey Xiong and Samuel Sevian – are both Americans. Most of the infrastructure to support this level of excellence is already established. The base of the pyramid, the tens of thousands of kids playing chess in the United States, is constantly increasing and has access to many strong weekend tournaments and excellent coaching. The most promising youngsters receive support through Greg Shahade's U.S. Chess School, the Young Stars – Team USA program run by the Kasparov Chess Foundation in partnership with The Chess Club and Scholastic Center of Saint Louis (CCSCSL) and the Samford Fellowship which has given over two million dollars to top American talents the past thirty years. The role of strong chess programs at Webster University, Texas Tech, the University of Texas at Dallas and Brownsville and the University of Baltimore at Maryland County has also played a key role. The foreign students in these programs have raised the level of competition in weekend tournaments throughout the country enabling up and coming teenagers to become better players. Many of these colleges also hold important competitions themselves. Arguably, no single event has done more to raise the bar of American chess than the transformation of the U.S. Championship into one of the World's premier chess events. For that we owe Jeanne and Rex Sinquefield a big debt. Not only young stars like Jeffrey Xiong but even more established talents like Sam Shankland, Ray Robson and Daniel Naroditsky have been given a unique opportunity to play against 2800 rated giants – something non-elite (below 2770) players almost never get. Such an experience is invaluable for their development.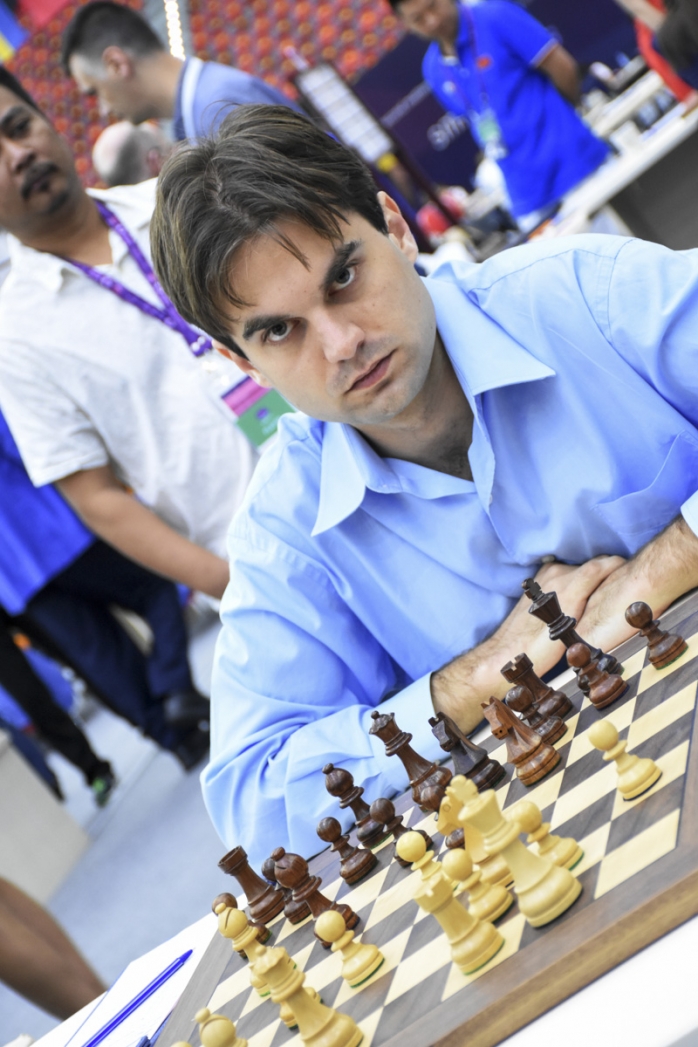 GM Sam Shankland, Photo © Lana Afandiyeva
However one tournament is not enough. Our large open tournaments are an excellent training ground to produce players up to about 2625 but not more. The skills required to reach world class (top 50 = 2700) require one game a day competitions against players rated over 2600 and ideally higher. Such competition is seldom found in open tournaments be they in the United States or elsewhere. A few closed tournaments in the U.S., with an average rating of 2650-2725, would pay big dividends. If the United States is going to consistently compete for first in Olympiads and World Team Championships it requires a deeper bench. The other necessary piece of the puzzle is increased support for elite level chess. This will enable the United States to build a strong pyramid in which every youngster learning the game has the opportunity to go as far as their talent and work ethic will take them. Chess is not a game that attracts a lot of corporate sponsorship, despite the many efforts of US Chess and other organizations. What it does attract is philanthropy from people who love the game, have been financially successful and want to give something back. Jeanne and Rex Sinquefield are a well-known example. Jacqueline and Gregor Piatigorsky, Erik Anderson and the late Frank Berry are others. Many Americans, to give three prominent examples: Bill Gates and Paul Allen (rated chess players in their high school days in Seattle) and Peter Thiel (over 2330 USCF at one time) have had chess play a significant role in their lives. Imagine if one of these three were to step forward. All this said chess in the United States has never been healthier. The players, coaches and captains of the 2016 United States Olympiad teams would like to thank US Chess, The Chess Club and Scholastic Center of Saint Louis and the Kasparov Chess Foundation for their support which was critical to the teams' success.
Also see GM Alejandro Ramirez's final piece in his Baku reporting, as well as Vanessa West's Tactics Quiz from our Gold medal Olympic team.