US Chess is delighted to announce the creation of a new scholarship for the winners of the US Junior Championship, the US Cadet Championship, and the US Junior Girls Championship beginning in 2019 and running through 2023. The scholarship is generously funded by Susan and Dewain Barber, the Dean of Scholastic Chess, and supported with matching funds by US Chess.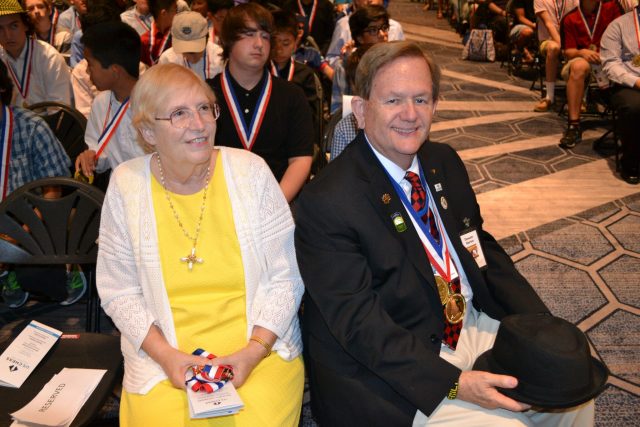 Susan and Dewain Barber (photo Al Lawrence)
Each of the winners of the three tournaments listed above will take home a $10,000 college scholarship for use at any accredited institution of higher learning. Tournament tiebreaks will be used in the event of a tie to determine the scholarship recipient. US Chess Executive Director Carol Meyer told CLO that:
The scholarship fund established by Dewain and Sue Barber is the culmination of a vision that the Barbers have for scholastic age chess players. As two former teachers, they want to make it possible for young people to continue their education at the institution of their choice. Their generosity in setting up these scholarships is part of their legacy as long-time educators and chess community leaders.
Geoff Isaak, who serves as Director of Development for US Chess, said:
This gift from Dewain and Sue Barber is tremendous on several levels. Not only does it significantly strengthen our scholastic program, it also inspires others to think big and consider giving back in ways that are not just good for chess, but also good for its young players. These scholarships are transformational – their impact will be felt far beyond the game board and well into the academic careers and professional lives of recipients. I cannot think of a better way to advance the educational charge entrusted to US Chess.
US Chess thanks the Barbers for their continued commitment to scholastic chess, and to US Chess.
Questions
: Please contact Geoff Issak, Director of Development,
geoff.issak@uschess.org
or Dan Lucas, Senior Director of Strategic Communications,
dlucas@uschess.org
.