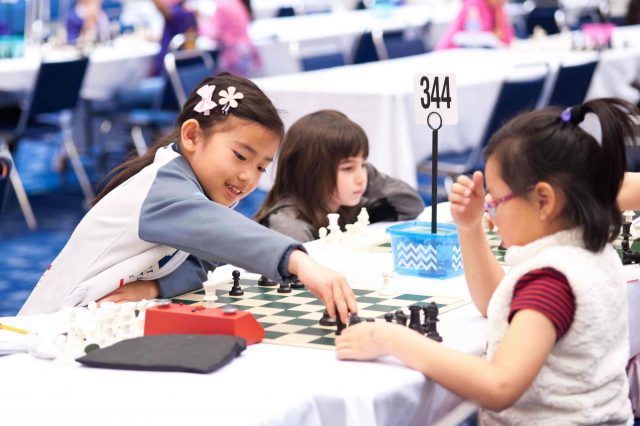 Jocelyn Chen makes a move at the All-Girls Nationals, Photo Betsy Dynako-Zacate
The annual Kasparov Chess Foundation All Girls National Tournament set a new attendance record this year, at 487 players.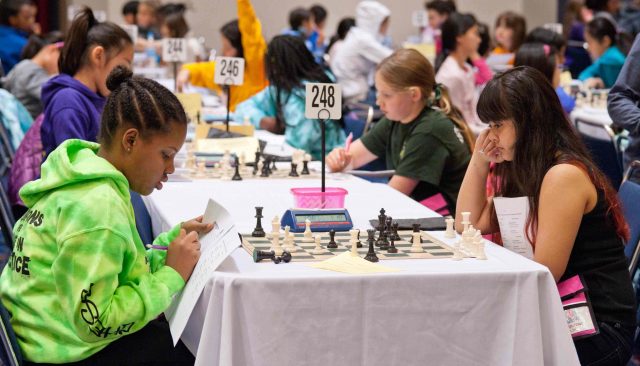 The 2018 KCF All Girls Nationals set a new record, Photo Betsy Dynako-Zacate
The event had to be split into two rooms. https://twitter.com/USChess/status/987423938736218113
Photo Betsy Dynako-Zacate
While this spread out the chess action it did not dampen the enthusiasm or competitive spirit of the players.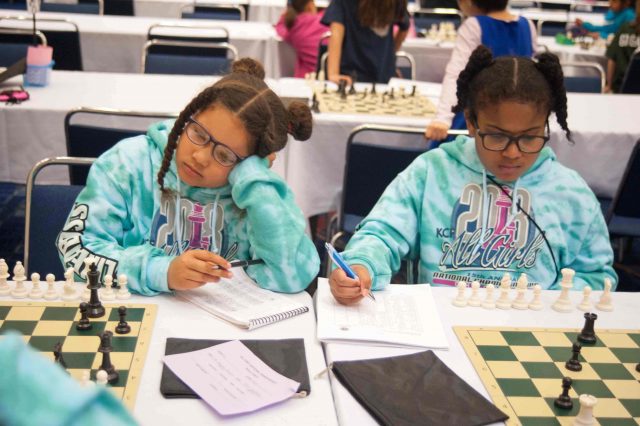 Photo Betsy Dynako-Zacate
I asked coach Liam Murphy of Washington Heights Elementary School, a Success Academy school from New York, if any girls played great games they'd like to show me. Before he could answer me, the three students surrounding him screamed, " yes!"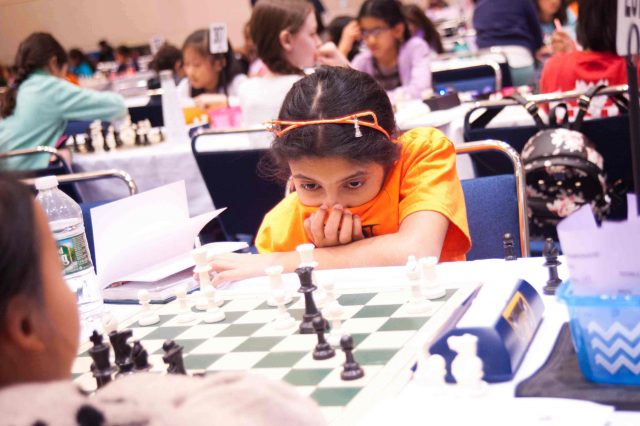 Photo Betsy Dynako-Zacate
Even after three days of competition Under 10 teammates Milana Ward, Almes Ahmia and Subi Bencosme-Lee were all smiles and excited about chess. Two young ladies managed to successfully fight off all other opponents to win their sections with perfect scores.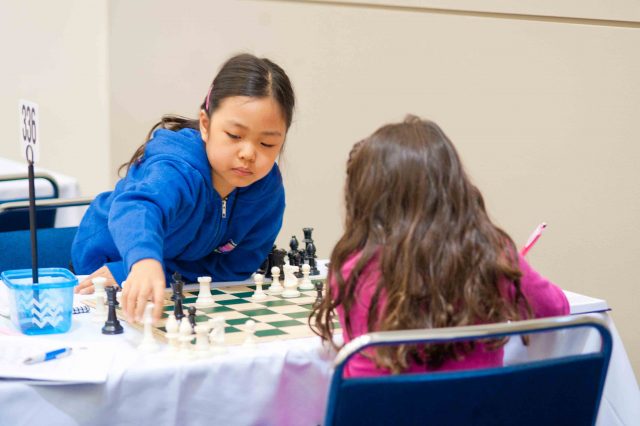 The youngest perfect 6-0 was earned by Aliana Fausto of NY, Under 8 champion. https://twitter.com/USChess/status/988134940473810944 Iris Mou, also of NY swept the U10 section.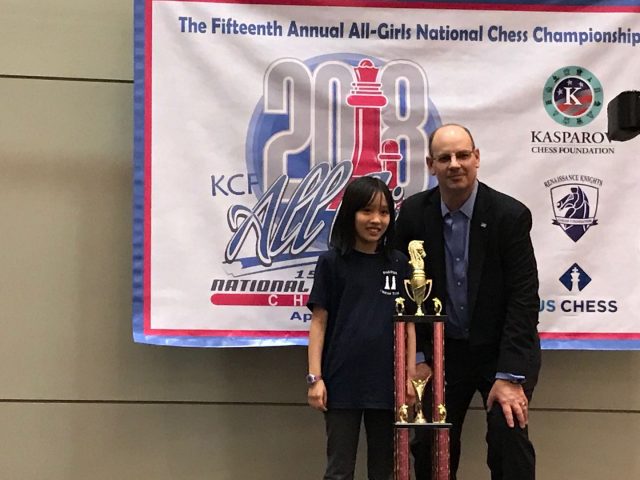 Iris Mou with David Heiser of Renaissance Knights Chess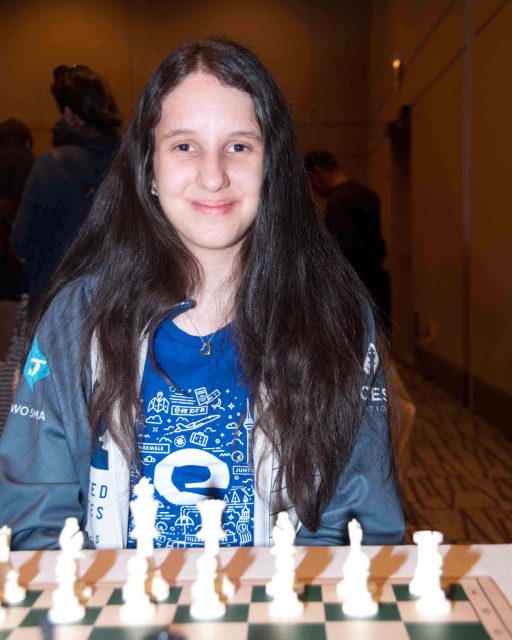 Ann Marie Velea (corrected name) 
Nura Balla (NY) U12, Sheena Zeng (KS) U14, Joanna Liu (AZ) U16, and Nastassja Matus (MN) in the U18 all won their championship titles with 5.5 points. https://twitter.com/USChess/status/987716374255620097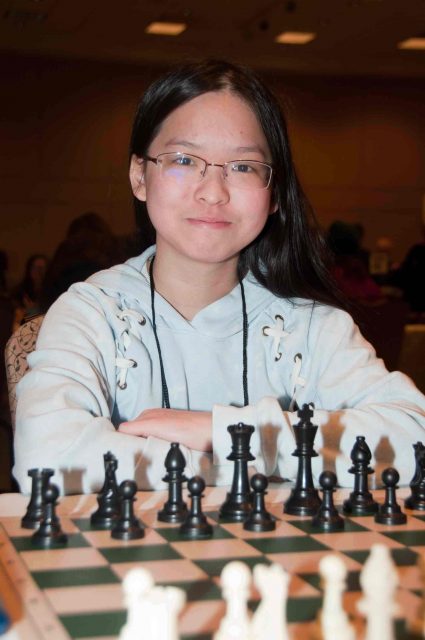 Sheena Zeng, the Under 14 Champion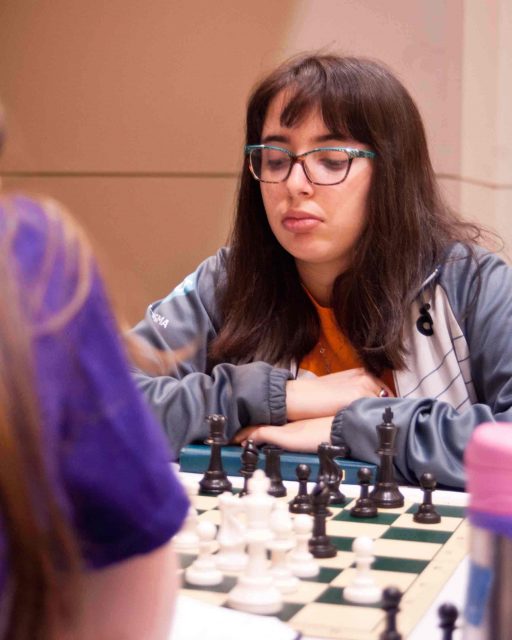 Under 12 All Girls Champ Nura Baalla, Photo Betsy Dynako-Zacate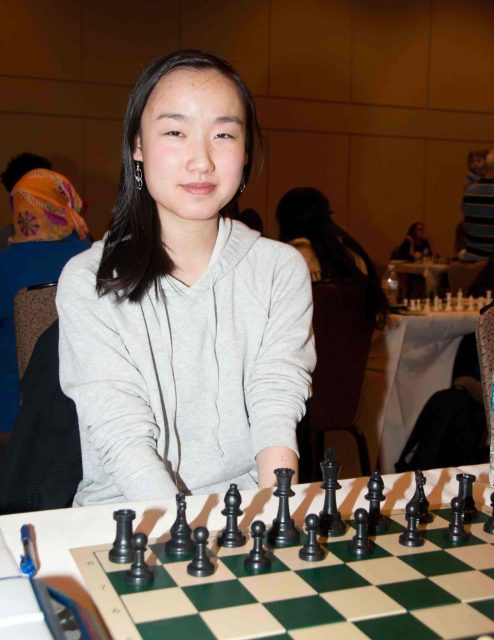 Joanne Liu, Under 16 Champion, Photo Betsy Dynako-Zacate
Nastassja Matus, playing in the KCF All Girls Nationals for the fifth time, told US Chess that she loves playing in the event to spend time with old and new friends, while having a chance to compete for a prestigious title. https://twitter.com/USChess/status/987429411048878088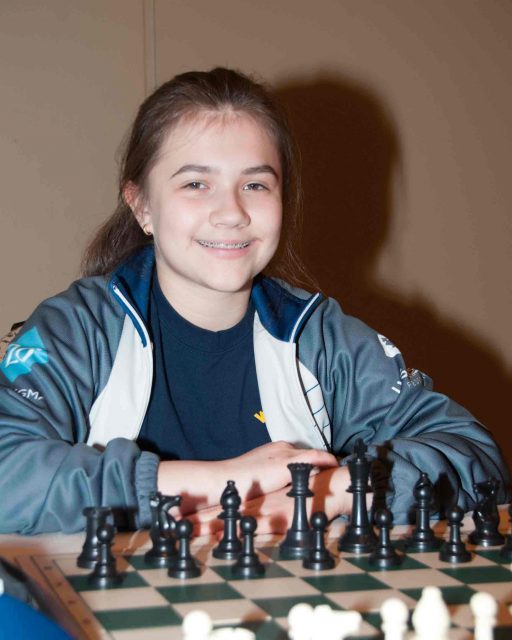 Under 18 Champion Natassja Matus, Photo Betsy Dynako-Zacate
"I am very delighted with my performance at the tournament. Yes, I believed I could win it, but it always comes down to the final round." Matus entered the final round with a perfect 5-0, and earned the title with a draw. She challenged US Chess readers to find the best idea in this position.
Ehsani,Yassiman (1952) - Matus,Nastassja (2168)
What is Black's plan?
Black should play ...Qa5 to later transfer the Queen to the kingside and start attacking White.
And how did Matus win here?
Matus,Nastassja (2168) - Cao-Dao,Vivian (1856)
White to Move 
1.Qxb3 Rxb3 2.Rd8 Kg8 3.Bxc5 winning the Bishop on f8.
Matus's final words of wisdom were to young girls aspiring to a Championship title.
Make at least one improvement every day. When you improve little-by-little each day, you can accomplish goals that seem unattainable at first.
The special opportunity to bond and the competitive fervor ensures participants return year after year. In an interview on the US Chess Championship broadcast,
">

KCF President Michael Khodarkovsky said that he expects the event to break 500 players in 2019. 
The US Chess Women's committee
 had a strong presence at the event once again, making female players feel more welcome throughout the Spring Scholastics season. https://twitter.com/USChess/status/988120976637464588
Fully relive Vanessa Sun's twitter takeover with the hashtag #AllGirlsChess
. https://twitter.com/USChess/status/988115159167262720
The Kasparov Chess Foundation All Girls Nationals is presented by the Renaissance Knights Chess Foundation and KCF in association with US Chess. Browse final standings here. 
Betsy Dynako Zacate is a photographer, frequent contributor to US Chess, and the sixth woman ever to become an NTD. 
https://twitter.com/betsy_carina/status/988592649824342016