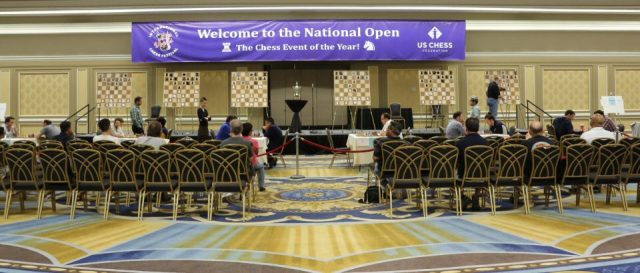 Going into day three of the National Open in Las Vegas, the Main Event of the Las Vegas Chess Festival,
three players are tied for the lead. GMs Illia Nyzknyk, Tigran Petrosian (who also won the blitz tournament) and IM Dmitry Gordievsky all have 3.5/4. Follow
live action of the key final two rounds
on the official website. You can also find detailed newsletters,
the National Open News
with annotated games, interviews and photography by Tim Hanks. The
first issue includes an interview with US Women's Open Champ Nazi Paikdize
. The
second has a win by IM Gordievsky and a draw by Maggie Feng
against defending National Open Champ GM Ruifeng Li.
The third edition annotates a beautiful attacking victory by Ruifeng Li
.
Follow live games here and look for post tournament reports on US Chess from Vanessa West and Pete Karagianis.