Champions Showdown
, Chess 960, a series of head to head matches held at the Saint Louis Chess Club from September 11-14. Olympic team spirit was very much in the air, as Nakamura, So and Sam Shankland analyzed a new chess 960 position (aka FischerRandom) each day in the hour break between the position announcement and the start of the first game. Wesley So started off brilliantly, with a 9-3 lead, which wasn't enough for Anish Giri to overcome, even as he found better form in the second half. https://twitter.com/STLChessClub/status/1039636150594560000 Nakamura's match against fellow 960 Champion, Peter Svidler was by far the closest of the five contests, with the Saint Louis Rapid and Blitz champ clinching in the penultimate round of a marathon match. https://twitter.com/STLChessClub/status/1040712854444355584 The event was headlined by Garry Kasparov's match against Veselin Topalov. Kasparov came out of retirement in 2017 to play the Saint Louis Rapid & Blitz, and promised that if he did play again, it would be in Saint Louis. A little over a year later, he held true to his word and returned for an innovative format that he devised. The 13th World Champion finished with wins in the last two blitz games, but that was not enough as Veselin Topalov had already clinched the match. One memorable chance was this position, with Garry Kasparov to move.
30. Bh5! with the threat of Bxg6!, a winning breakthrough
Instead Garry played
30.Kc1?
Ke7 31. Bc4!
(now White has to stop ...e5 to avoid losing!)
Bd5 32. Bxd5 cxd5 33.c4!
and the game was drawn. Despite such near-misses, Kasparov seemed pleased with the finish and the experiment. https://twitter.com/Kasparov63/status/1040739794702221312 Many other Grandmasters (of all ages!) loved the event, while others suggested improvements. https://twitter.com/NihalSarin/status/1040871180633235457 https://twitter.com/AndreyDeviatkin/status/1040706905461555200 https://twitter.com/fins0905/status/1040748282727809024 Grand Chess Tour semi-finalists Levon Aronian and Maxime Vachier-Lagrave both won their matches by huge margins, against Leinier Dominguez (Cuba) and Sam Shankland respectively. Shankland started off well in the first two days but faltered to the blitz phenom and World #5 in the second half of the event.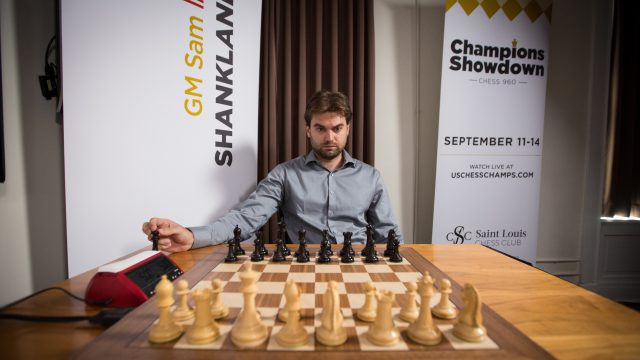 GM Sam Shankland, Photo Spectrum Studios
But as the
Olympiad begins in just a week
, rest assured that the U.S. team is in the mood to work, and play hard. https://www.instagram.com/p/Bntx-g_HXGN/?taken-by=us_chess
Find out more about the Champions Showdown on the official site. 
US Olympic team members Hikaru Nakamura and Wesley So stood among five victors at the