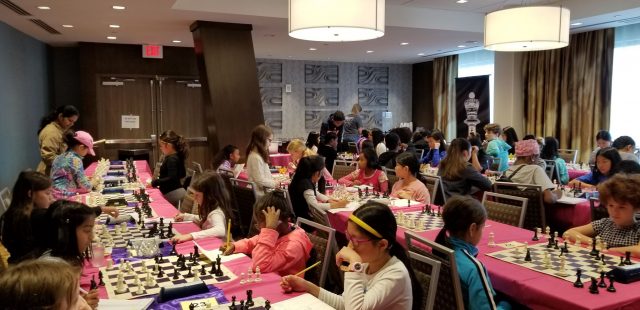 The 2nd Mid-Atlantic All-Girls Regional was hosted by
Chess Girls DC on October 20 in Washington, DC
. Robin Ramson, founder of
Chess Girls DC
told CLO that she was thrilled with the event, which attracted 68 girls in four sections. Carissa Zheng and Skylar Hsu, both of Maryland, tied for first place in the Under 18 section with 4.5/5 points each. In the Under 14 section, Meghana Kancharla, Ritvika Palani and Cindy Rong Lu all scored 4 points for joint first. Ananya Ananth won the Under 10 clear with 4.5/5 while Reese Romolo and Audrey Keyan Li tied for first in the Under 8 with 4/5. Ramson was happy to see a big group of girls turn up from Philly, two hours away from DC. Chess coach Gabrielle Moshier of the
Philadelphia Chess Society
 told CLO that the experience was particularly meaningful for her girls from Esperanza High School and Middle School in Philly, pictured above. The top finisher from her program,
Daiana Espindola
, placed fourth in the Under 18 and most of her students gained rating points.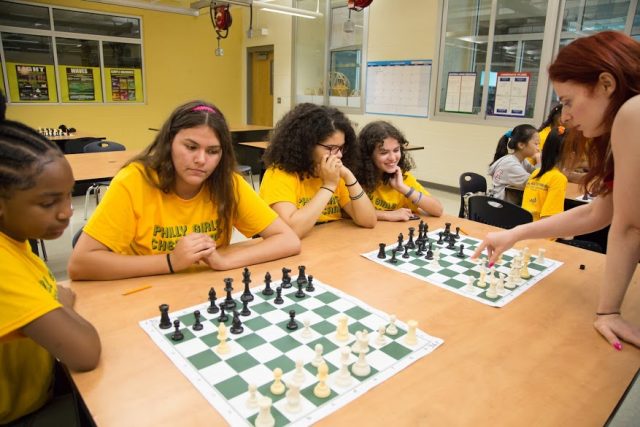 Daiana, sharply focused in simul game vs. Jen Shahade at a girls chess camp this summer, Photo Rachel Utain-Evans
Her students even got to do a little sight seeing between rounds. She wrote:
Half the young ladies on our team are in, or just coming out of sheltered English as a Second Language (ESL) classes, and insisted on taking the time to read everything written in Lincoln Memorial. They are so brilliant and motivated. The girls spoke about studying for exams, going to college, life, love, and the growing bond between them. It was encouraging to me as a coach to have my newer middle school students playing chess and listening to the high school girls speak about studying for exams and going to college. The vibe at an all-girls tournament is so different than the typical chess tournament. The girls are serious and studious, but the tone is one of camaraderie....I kept hearing my girls say that they lost, but it was such a good game, or that they won, but wanted to talk to their opponent about the game and help them. Hearing those words makes my heart swell! I'm so proud of the progress made this weekend in all players' games. I only wish there were more all-girls tournaments! This sentiment was echoed by our youngest player - Paola Feliciano-Soto (11), younger sister of teammate Angelie and still in sheltered ESL instruction. Her only question all weekend came at 11:30 at night when we dropped them home in North Philadelphia and she excitedly asked: "When is the next chess tournament?"
Other Philly girls came from Jason Bui's team, S. Weir Mitchell school's Minor Threats. Jason
was recently featured on the Today Show, where he was awarded a $10,000 check to recognize his efforts for the Philly chess community. 
 Jason also passed on some photos of the girls'trip to DC. Adding to the atmosphere, Robin Ramson set up a photo station with props at the tournament, named after the New Yorker's title for our
Girls in Chess video
, the
Girls Who Slay at Chess. 
https://youtu.be/9iOJ6QHHwmQ
Find the full crosstable on our MSA and more information about Chess Girls DC on their official website, facebook and twitter. Find out more about Robin Ramson, the director of Chess Girls DC in an upcoming podcast episode for US Chess.