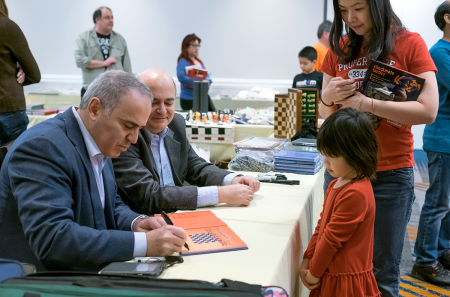 Garry Kasparov signing books at
the 2016 NY Greater Scholastic Championships
The Kasparov Chess Foundation
is celebrating its 15th anniversary with scholastic tournaments around the US. Thousands of K-12 kids in Brooklyn, Chicago and Baltimore are expected to participate on the big weekend, February 4th and 5th . Players from all levels will be participating, from beginners to FIDE Masters. Some of the top seeds in the New York edition, the Greater New York Scholastic Championships, include FM Hans Niemann and NMs Wesley Wang, Justin Chen and Herny Qi. Rising star Sophie Morris-Suzuki will also be participating. Garry Kasparov will also make an appearance in the New York tournament, to encourage the young players. See full entry list here and find the
official press release below.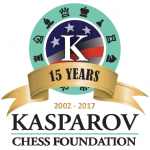 New York, NY, Jan. 23, 2017 —
Kasparov Chess Foundation is celebrating its 15
th
anniversary with a slate of 15 major events scheduled around the world, the first of which are the Greater New York, Greater Chicago, and Greater Mid-Atlantic Scholastic Chess Championships, in Brooklyn, NY, Chicago, IL, and Baltimore, MD, respectively. The events are all commencing on Feb. 4
th
, 2017, and welcome students from K – 12 grades. The Foundation is sponsoring these tournaments in association with local chess organizations in each region, including Maryland State Chess Association in the Mid-Atlantic, and Renaissance Knights Foundation in Chicago.  Additionally, Garry Kasparov will be offering encouragement to players and their families at the Greater New York competition. The tournament schedules are as follows:
Feb. 4 - 5,
Greater New York Scholastic Chess Championships
at the
The New York Marriott Hotel
at the Brooklyn Bridge, 333 Adams Street (near Borough Hall), Brooklyn, NY 11201; eMail:
director@gnyscc.com
; visit:
http://www.gnyscc.com/
for more information.
Feb. 4,
Greater Mid-Atlantic Scholastic Chess Championships
at the Baltimore Polytechnic Institute & Western High School, 1400 W. Cold Spring Lane, Baltimore, MD; eMail:
tournaments@mdchess.com
; visit:
http://www.mdchess.com
for more information.
Feb. 4, Greater Chicago Scholastic Chess Championships
at the McCormick Place – West Building, 2301 South Drive, Martin Luther King Jr. Drive, Chicago, IL. For further information, contact Renaissance Knights at
david.heiser@renaissanceknights.org
; visit:
www.rknights.org/greaterchicago
; via phone at (773) 844-0701. To register online, visit:
http://rknights.org/registration/tournaments/greater-chicago-championships/
. According to Kasparov Chess Foundation President, Michael Khodarkovsky, the tournaments are convenient to the largest population areas within each region, and underscore the Foundation's philanthropic mission of making chess accessible, fun, and competitive to all children.  Let the games begin!
About Kasparov Chess Foundation
Founded by World Chess Champion Garry Kasparov, KCF's mission is to bring the many educational benefits of chess to children worldwide by providing a complete chess curriculum and enrichment programs. The Foundation promotes the study of chess as a cognitive learning tool in curricular classes and after-school programs for elementary, middle and high schools, both in the public and private school sectors. The not-for-profit educational organization also organizes tournaments and competitions on a local and national basis. For more information, please visit
http://www.kasparovchessfoundation.org
.