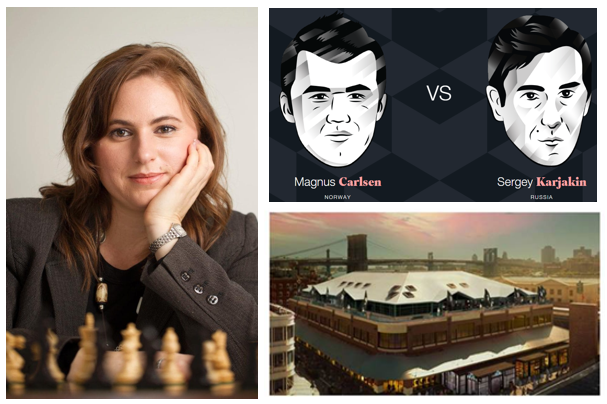 Judit Polgar, arguably the strongest female chess player of all time,
will be the official commentator for
the 2016 FIDE World Chess Championship broadcast. Taking place from November 11-30, 25-year-old reigning champion Magnus Carlsen of Norway will compete against 26-year-old Sergey Karjakin of Russia in the Seaport District's Fulton Market Building for the title of World Chess Champion. Judit was crowned a
Chess Grandmaster when she was only 15,
making her the youngest woman to ever receive such title. Moving into her chess career, she made huge strides by being the only woman to have won against a reigning world number one player – defeating current and former world chess champions including
Magnus Carlsen, Garry Kasparov, Vladimir Kramnik, Boris Spassky
and many more. The online broadcast will include commentary in multiple languages, with guest appearances from celebrity chess fans, a chess analysis engine so viewers can gain an insight into the players' strategic decisions, as well as a host of other features. Find more information on 
worldchess.com
, including
details on the commentary team here.