The first Women's California Chess Championship took place in Berkeley, California on April 2 and 3, 2016. The two-day event was sponsored by Cal Chess, NM James Eade, and The Berkeley Chess School, who hosted the tournament at the local historic landmark Hillside Elementary School. The tournament was well attended by players rated from WIM and NM to unrated. Super GM Sam Shankland, BCS alumnus and chess instructor, held a seminar in the building on Saturday, which some of the women attended.
'Thanks so much for a great tournament.  Thanks also to Doyle, TD, and to anybody else who helped. I met some great players and renewed some old friendships as well.  It was a lot of fun, and I will be back for more. It was especially nice to have some drinks and snacks in the "skittles" room. And to top it all off, we all got a nice T-shirt too." — Kitty
"It was amazing!!!" — Brenda Munoz
"I had a wonderful time at the tournament. I'm looking forward to next year!" — Iris Kokish
Uyanga Byambaa celebrated her 1st place win via Facebook: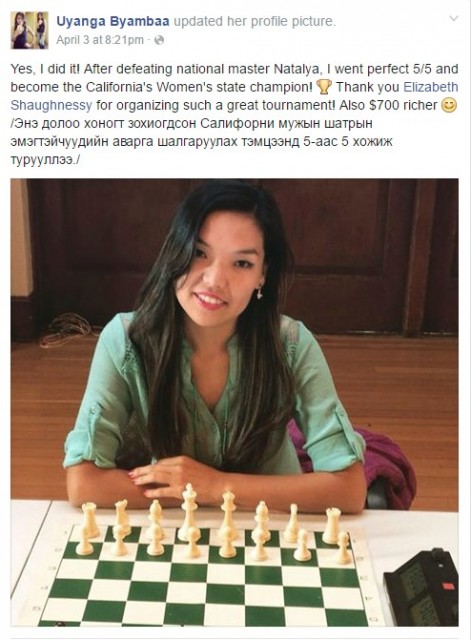 The Girls' State Championship for 7
th
-12
th
grades was held concurrently with the Women's championship, giving the girls a glimpse into the world of women's chess and giving the women a glimpse into the competition coming up!
st
place, with Divija winning the first place trophy on tie breaks, which earned her the opportunity to become the official NGIT representative for Northern California. Aria Lakhmani (1617, grade 7) won third place.
th
grade trophy, Simona Nayberg (1891) the 8
th
, Lindsay Kornguth (1188) the 9
th
, Ronna Min (1453) the 10
th
, and Jahnavi Rati (1175) the 11
th
. There was no entrant from the 12
th
grade.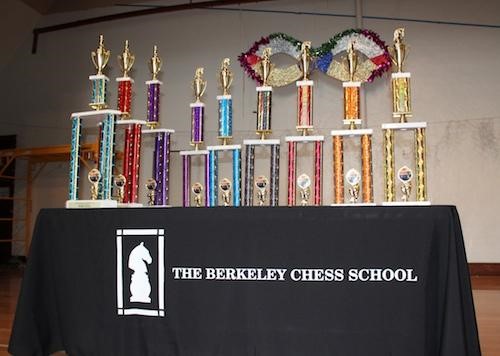 Congratulations to all the winners, and special congratulations to all participants who helped to make history in the first ever Women's Championship for California State! Thank you to everyone for supporting women's chess by showing up and competing. Hopefully, this was the first of many successful efforts to encourage girls to play into adulthood, and for women to continue to compete in tournaments.