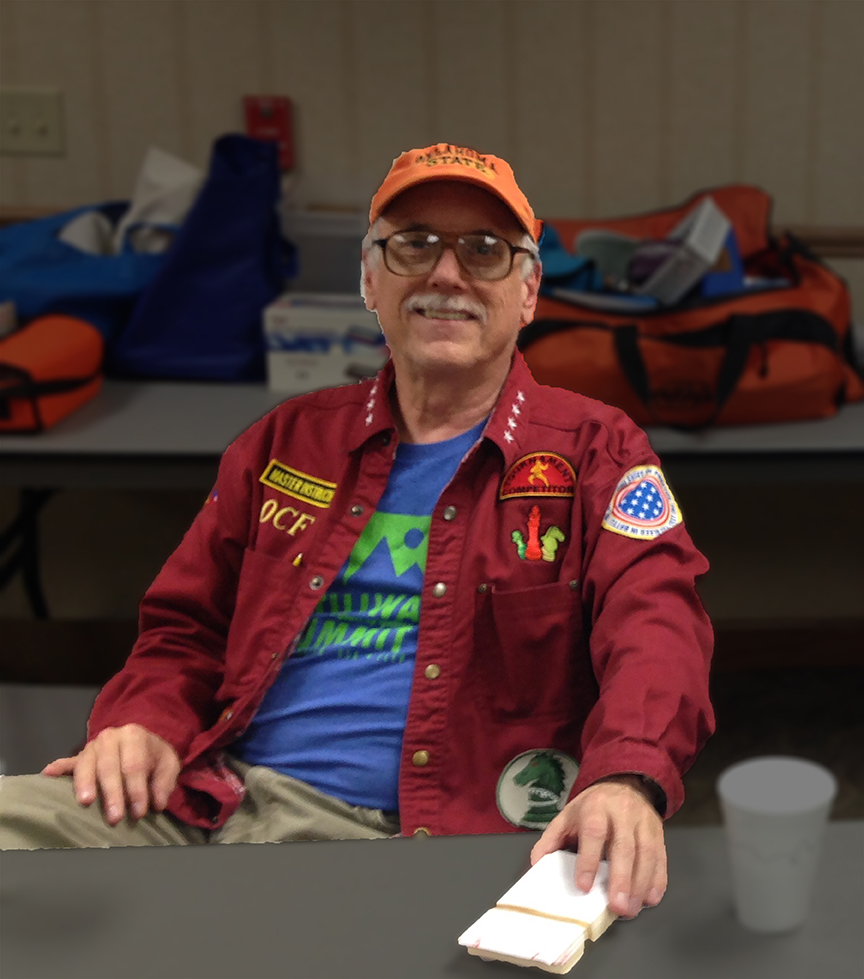 Frank Berry
Frank Kim Berry passed away on June 6th of a heart attack, in his home in Oklahoma. Best known nationally as sponsor of two recent U.S. Championships (2007-8) and as one of few American FIDE International Arbiters, Frank was one of those unique chess characters who have kept tournament chess alive in the heartland, organizing and directing events of all sizes for more than 50 years. His kind is a vanishing breed, but one that U.S. Chess would do well to remember. Frank's life was diverse and complex. He had careers in the army (a paratrooper with the 101
st
Airborne) and in banking (a major stockholder in Southwest Bancorp, a large regional bank that began in his native Stillwater). Magic was one of his many occupations and he performed regularly at the Magic Castle when he lived in Los Angeles. He was also a historian with a specialized interest in the Old West, and editor for the county historical society.
A Chess Conservationist
But chess was his most beloved avocation, and, to try to describe it in one phrase, I would like to suggest he could be called a "chess conservationist." I'm sure he would ridicule such a pretentious term, but his actions align with the literal definition — one who endeavors to preserve and protect things of value — chess in this case — conserving its past, present, and future in the heartland of the country. He believed traditional tournament chess was a legitimate and worthy amateur sport, but not one that would ever be commercially viable in the U.S. (He scoffed at that idea as a dream.) Therefore it always would require grass-roots organization by devoted volunteers to thrive, and among these he proved to be one of our most prolific examples. He played this conservationist role three ways: Past memories of chess in the Oklahoma region he preserved by researching historical sources for long-forgotten info. He spent much time in local libraries combing through old newspapers to piece together the history of tournament and club chess, living memory of which had been lost prior to the 1950s but which is more extensive than one might think. He was able to construct a nearly complete list of state champions going back over 100 years, for instance. Along the way he dug up some interesting stories and published them in the prolific
Oklahoma Chess Quarterly
, which he edited with admirable regularity for many years. He carefully archived a lot of this research in large binders for others to use. Preserving regional chess games in a dedicated state database was another of his projects that I think each state would do well to emulate. His
Okie Database
(a ChessBase file) contains over 16,000 games played in this state (or by Okie players out of state) dating back to 1914 – including little-known games by Reshevsky, Fine, Steiner, Horowitz, and even the young Bobby Fischer (who played in the 1956 U.S. Open in OKC). New additions included many annotations by masters and even GMs from his Quarterly. He was fanatical about collecting all new game scores from current tournaments. If I held a tournament he would hound me unmercifully if I didn't send him all the game scores within a few days. He would often pay young players to enter them into this database, updating it every year and making it freely available. Of course current chess activity he also conserved by organizing and directing events, of all kinds, large or small, local or national or international. He was the most active organizer in this part of the country. Some of his notable events include the original North American Open, several U.S. Women's Championships (and the first U.S. Girls Invitational Championship in 2015), a U.S. Senior Open, a U.S. Junior Invitational Championship, Two U.S. Championships, the "Dream Team Challenge" (in financial support of the successful U.S. Women's Olympiad team in 2004), several international norm events, even an 8-game match between GMs Yury Shulman and Alex Wojtkiewicz in 2005, etc.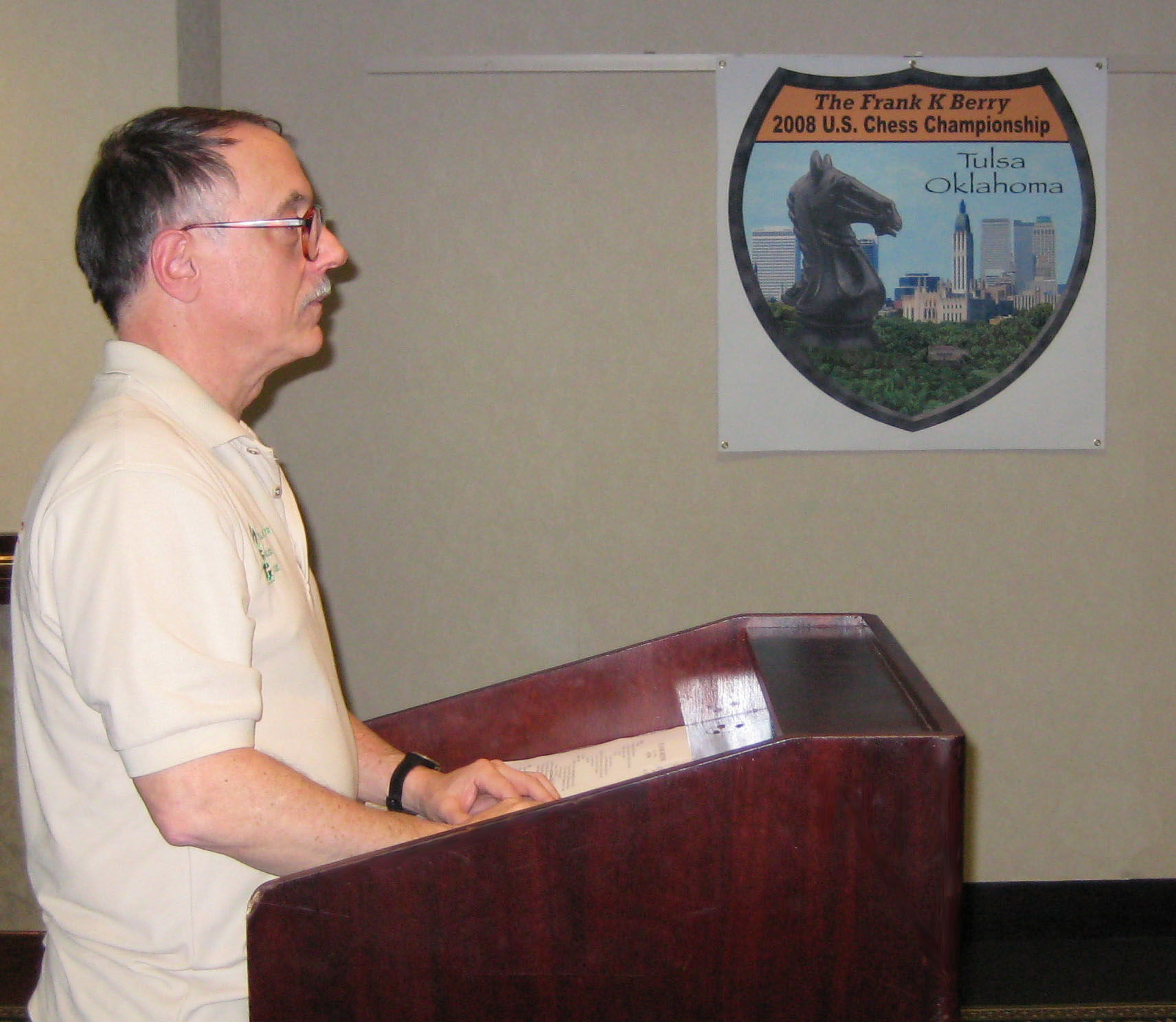 Future chess tournaments he tried to conserve by encouraging and mentoring new volunteerism from players, in particular recruiting new directors. He believed chess needed all avid players to find ways to "give back" by directing or organizing events of their own, in whatever ways they could. Those who would take but never give back in chess are like the guy who is always going to other people's parties but never hosting one himself — what Frank would sometimes call, if he was in a surly mood, a "freeloader." Anyone interested in trying to organize an event would find tons of support from Frank, who often drove far and wide to direct or assist. A small town with a new little six-member chess club wants to try a tournament? FKB would be there – but always with his main goal to teach them how to do it themselves. If they were still reliant on him after a couple of events he would simply say, "Do it yourselves", since he had shown them how. Frank was often demanding of directors he was mentoring or collaborating with, which sometimes could cause hurt feelings. His approach to the technical and practical aspects of directing/organizing was rather professional, and his experience was deep. If he felt a director was doing things poorly, he would say so, and he didn't have a diplomatic bone in his body. Similarly, just getting to know Frank was a bit of a minefield for people because of his odd sense of humor. He had an army-style, trash-talking panache. He liked to prod people, sometimes literally, in order to "get a rise" out of them. "He rolled you up like a burrito!" he might blurt out to someone who had just lost a game, for example. He took some joy in deliberately saying things that were not politically correct, or that he knew would rile somebody up, even his friends. Once you understood this aspect of his personality, it was easy enough to roll with it, and he was a great friend. But some people never understood it. Generosity was another way Frank supported the future of chess. He put a lot of money into the game, in large and small ways, sometimes under-the-table to help support many talented players who were in need. On a larger scale, when US Chess suddenly lost its corporate sponsorship for the annual U.S. Invitational Championship in late 2006, Frank stepped up and helped save this tradition with money out of his own pocket for two years, to the tune of six-figure payouts each year. Frank was wealthy, but not really a rich man and this was a considerable outlay for him. I was saddened when some of the top U.S. players turned up their noses at these events, since the prize money was a step down from the previous years, and since Frank's no-frills approach was different from the luxury venues of the corporate years that they had become used to. I understand they were mainly angry at US Chess for dropping the ball, but still it resulted in some insults hurled Frank's way when there would have been no event at all without him. Now that the Championship has a lucrative home in St. Louis, few people remember that FKB kept it alive for two years; long enough for the new patron to be found. Traditional chess in the heartland of the country has always been different than in the major metropolitan centers of New York and Chicago. The scattered chess population and long distances involved make it more difficult and expensive for players to congregate for events. And yet it still has muddled along thanks mainly to enthusiasts like Frank. He held that chess was a sport foremost, and only secondarily a social tool. He lamented what he believed was the recent takeover of U.S. Chess by scholastic chess enthusiasts who changed the organization's mission to primarily focus efforts on using chess to empower people — as the new mission statement now says — and the subsequent diminishing emphasis in the past three decades upon the vigor of the traditional sport itself. He had seen the sport dwindle due to the aging player base and lack of new blood. He railed against this trend. Like many of the Fischer-Boom era player/organizers, who are now retiring, he thought it was anathema when top national chess politicians stated outright that "traditional sport chess is dead" and that the future of chess was in scholastics, social programs, and online play. It must have seemed to him that his long efforts to conserve the sport were being undercut in the new national paradigm, and that his work might prove futile. Surely, he believed, tournament chess itself was the main thing that badly needs more empowerment. Frank Kim Berry spent his entire chess career making things happen for traditional chess. He was dedicated to its conservation. This is worth remembering. And yet all this is really only one slice of his chess life. His twin brother Jim Berry (former US Chess president) is perhaps the only one who could tell it in proper detail and include the many funny stories they both experienced over the years.  I didn't even mention Frank ran a chess center in Los Angeles where he was personal assistant to GM Eduard Gufeld, that he was friends with many international grandmasters and had a huge collection of autographed chess books in many languages, plus what has been described as the world's largest collection of chess posters (from chess matches and tournaments), many in Russian. He was also a fine Class A player, and once beat Fabiano Caruana in a U.S. Open tournament game. Of course, the kid was only about 9 years old at the time, but Frank was always happy to add, "Still, I rolled him up like a burrito!"
Services have been entrusted to Palmer Marler Funeral Home of Stillwater.  Visitation will be  1 pm to 8 pm Sunday, June 12, 2016 in the funeral home chapel.  Family will receive guests from 6 pm-8 pm.  Funeral services are scheduled for 11 am Monday June13, 2016 at Palmer Marler Funeral Home. Find more details on arrangements here.