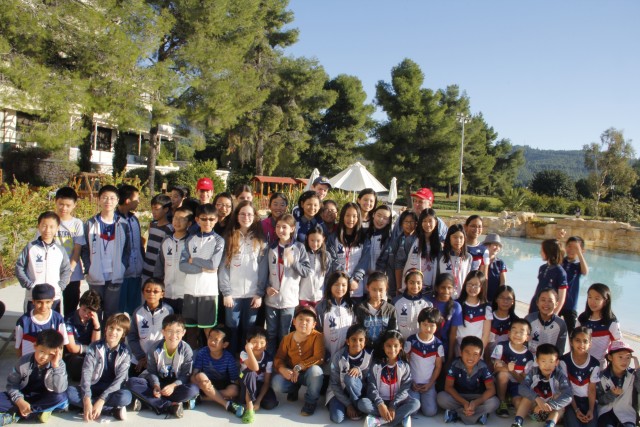 Group Photo of Team USA, sporting Two Sigma uniforms "I see so many players wearing the USA team uniform I feel like I am playing at home!" Anthony He Open U10
"I'm so glad it's over... I can't take it anymore. I mean, we've been to nationals – several times – but this... this is another level." I didn't quite recognize him, all I was certain of was that he was a parent of a USA player – it is hard to remember everyone in a 300+ team delegation – but in his face I could see the same expression of mixed feelings that many other parents wore. Relief the stress of the tournament was over, and at the same time appreciation for the greatness of the tournament and the experiences it provides. Chess in America is rather strange, making it difficult to convey the way tournaments are played in Europe. Weekend swisses, different playing schedules, four rounds in one day... these are concepts that are very familiar to American chess players, especially scholastic participants, but unheard of in the old continent. "This is real chess!" the same parent continued, "It's a different world". The World Youth Chess Championship is the first taste for many of our talents of what tournaments are like in the rest of the globe – and in the professional scene. The tournament lasted a grueling 14 days if one only counts the time it takes to get to Porto Carras, the arrival day and the round days. There is also a rest day, something that most players don't know how to handle as well as time to prepare for games. When I play tournaments in America sometimes I don't even bother bringing my computer: why even try to prep when there are more than ten hours of chess per day, and the rest of the day is spent simply sleeping or eating? The routine in Greece was intense. For the coaches, we had an early breakfast followed immediately by working from around 9:00-1:00 pm preparing our students. Most of them would come with their own mini preparation and we would iron out the details of what was to be played today – either by pointing out specific improvements, providing plans and games to follow, or simply by giving general guidance. The students would typically go back to their rooms to finish off the preparation, and then engage in morning activities. Ping pong, walking on the beach and soccer seemed to be among the more popular options since the weather was slightly too cold for a dip in the ocean or the pools. After lunch, it was off to the games at 3:00. For the coaches it meant some nap time before game analysis, which was from 5:00-8:00 p.m. Some of the younger players would finish around five, but for the most part we sat around on iPhones watching the games of our players that were being relayed on the DGT boards. There was plenty of suffering watching some of the critical games, and since there was a 30 minute anti-cheating delay on the relay, sometimes we would all be huddled around a phone when the player we are watching walks in the room. At times we were greeted with big smiles, while on other occasions it was obvious that the player had just wiped tears from his or her cheeks. But it didn't matter if the result was favorable or not: the game was reviewed, lessons were learned, and it was time for dinner, some rest and sleep time for the players.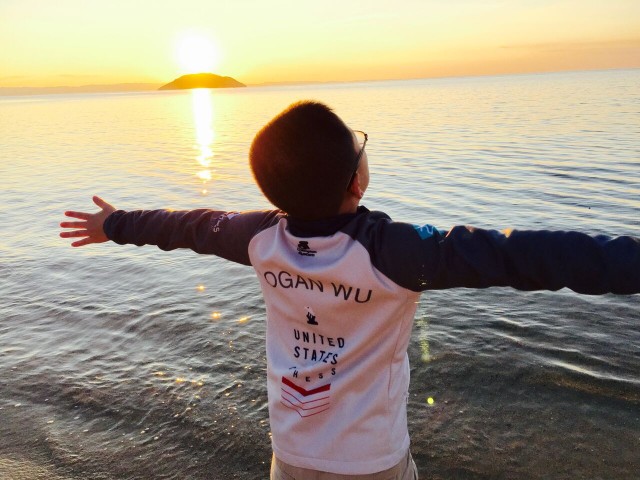 Overview of our performance
Chess is a very unforgiving sport. A couple of slight mistakes can ruin a tournament completely, destroying and nullifying months of preparation and weeks of work. Overall, however, I have to say that our delegation did a great job. We had players that were just dipping their toes into the chess world as well as players who thought that anything less than podium was a disaster. At the end of the day, USA brought home four medals, more than any team except for India, who completely swept the tournament with eleven medals, five of which were gold. In the U10 Open section, our medalist was Justin Wang with 8.5/11, half less than the winners. He showed excellent resilience in certain situations, and even had good chances of taking the tournament had he converted a winning position against the top seed. A fateful blunder in that game cost him the game and put Justin in a difficult situation, but he recovered with a nice last round win to clinch his bronze. America had a very strong showing in the u-10 overall, and we can expect great things from many of the players that participated in that section. In the U12 open we came in with one of our strongest players: Awonder Liang, who already had two gold medals to his name. In chess, many times the result of a whole tournament can depend on a single move. After starting with 3.5/4 Awonder was paired to one of our other strong players, Andrew Hong. Awonder was winning that game at some point, but he misplayed the position badly and lost. This gave Andrew the confidence that he needed to start with a dashing 7.5/9. However, as fate would have it, it was again an American vs. American duel that determined things. Andrew was paired against David Peng in round ten, and David was determined to show his class in the last two rounds. With two beautiful wins, it was David that ended up on the podium, with a brilliant 9.0/11. Awonder finished 5th, and despite Andrew's amazing start he also lost the last round and finished 12th. Oh, and let this be a lesson to every player out there that the tournament isn't over until it is over: David started with a weak 3.0/5 only to win his last six in a row. That is the spirit of a champion. Our medalist in the U12 Girls section was Carissa Yip. One of the sassiest twelve year olds I have ever met, Carissa is funny, silly, and extremely witty.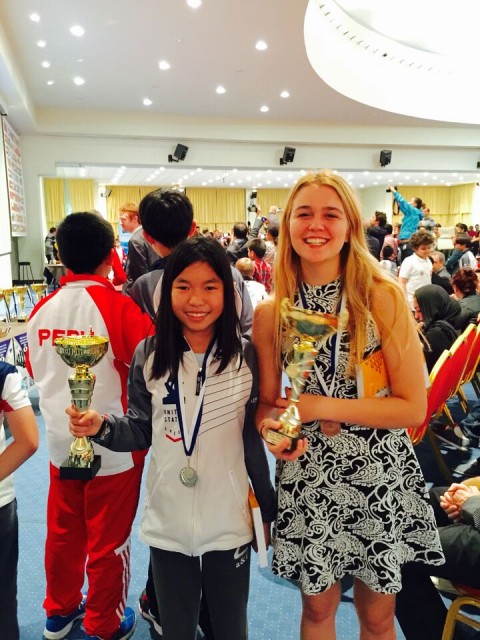 "With great uniform comes with great responsibility". - Girls Under 12 silver medalist Carissa Yip, here pictured with fellow medalist Agata Bykovtsev
However, when she is in front of a chess board, it is as if she went through a transformation. She is mature, calm, and showed a degree of understanding that surprised me. Carissa started with 6.0/6, and the way she was playing it seemed that if she overcame her obstacle in round seven she would have a clear path to gold. As it was, she spoiled a promising position, lost and had to play catch-up after that game and a subsequent draw. She recovered, finished on 9.5/11 and was relegated to only silver because of tiebreaks. Agata Bykovtsev was our bronze medal in the U16 Girls. I've had the pleasure of teaching Agata at a chess camp before, and I always thought of her as a relatively serious and calm person. However, at least in this tournament, she was simply a roller coaster of emotions. She worked extremely hard, and you can tell that just by looking at her deep and on point preparation that she had with her coach Andranik Matikozyan. She suffered her two losses in the middle of the tournament like no other, but she mustered the strength to go on a winning streak, destroying everyone in her path including our own Ashritha Eswaran and the top seed, Canadian Qiyu Zhou. Losing the last round was a big blow for her, as a simple draw would have guaranteed her gold, but she was happy and relieved when the tiebreaks gave her a just position in the top three. Good tournaments are not limited to medals. We had many strong performances, and many top-10 finishers. A good tournament can even be simply personal improvement: we had players jump up more than 100, and sometimes more than 200 rating points. Two weeks is a long time, especially for children. After fourteen days of chess, soccer, ping pong, and visiting new places, it is only natural that friendships arise. Players usually stay with their own federation, but once in a while they would go out of their comfort zone, meet someone from a new part of the world, with a different language and a different culture.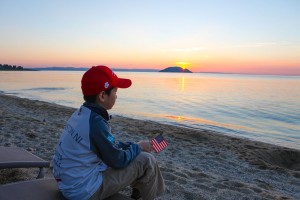 Winston Ni
After fourteen days they can say that they suffered through all the happiness and all the sadness that comes from an international chess tournament. They can say they prepared, worked hard, played an eleven round event, visited a new country, and focused 100% on chess. The World Youth is a stepping stone in the chess lives for many of these players, and I hope to see them grow from all the experiences learned in Greece. I looked at that parent in the elevator, and all I could do was smile and tell him "well, get ready to do it next year in Batumi."
Browse full results here and find more information on the official website. Also look for a perspective from co-head of delegation Aviv Friedman and see the official PR on the US Chess partnership with Two Sigma.