The Final four of college chess head to New York City this weekend,
where four teams will fight for the President's Cup at the
historic Marshall Chess Club.
 The event kicks off on Friday, March 24 with an opening ceremony at the headquarters of
Two Sigma, one of the event sponsors. M
anaging director of the US Chess Trust, Al Lawrence will be reporting for US Chess as Webster University, Texas Tech, Saint Louis University and the University of Texas at Dallas compete for the increasingly competitive title. Follow the games live on the official website
http://uschessfinalfour.org/
with live GM commentary. Check out rosters below, and
Al Lawrence's article on the Pan-Ams,
which qualified the four finalists.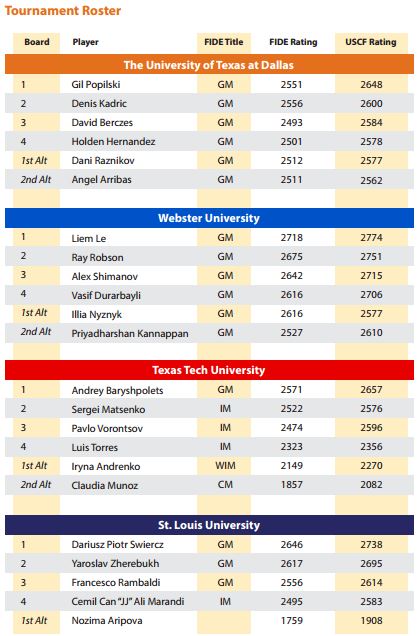 GM Alexander Onischuk recently contributed a piece for US Chess on expanding college chess at
Texas Tech
, while
SLU coach GM Alejandro Ramirez has written about his team at Saint Louis Public Radio
. You can also find plenty of live updates on Webster University's trip to
NYC from GM Susan Polgar's twitter feed.
 For more details on lineups and the college chess programs, download the 
2017 Final Four of College Chess program (pdf). 
https://twitter.com/SusanPolgar/status/844982385196322818