Photo Lennart Ootes
BERLIN, GERMANY, March 27, 2018: GM Fabiano Caruana of St. Louis, Missouri, has qualified to compete for the World Chess Championship which will be held from November 9-28, 2018 in London, England. Caruana topped a field of eight candidates (which included 2016 world-championship runner-up Sergey Karjakin of Russia) in a tournament to determine the challenger to current world champion Magnus Carlsen of Norway. American Wesley So was also a candidate, finishing the tournament in seventh place. Caruana won $117,000 for this victory. The winner of the world championship will receive $740,000 and the runner-up will earn $495,000. Caruana, the 2016 U.S. Champion (he will compete again for the 2018 U.S. Championship from April 17-30), was born in Miami, Florida in 1992. At the age of 12 his parents relocated the family to Italy where Caruana also holds citizenship. He moved back to the U.S. in 2015, switching his allegiance from the Italian Chess Federation to US Chess at the same time. Carol Meyer, the Executive Director of US Chess, captured the mood of chess fans when she said, "Caruana's victory is the result of his tireless preparation and the growing infrastructure that supports chess in the United States. US Chess congratulates Fabiano on this well-deserved victory and we will all be cheering loudly when he faces Magnus later this year."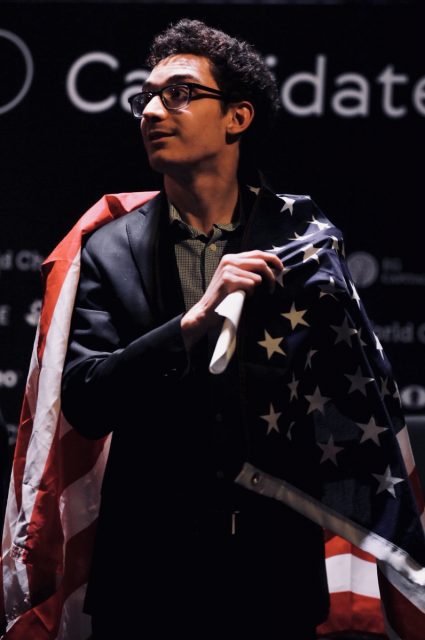 Fabiano Caruana wins the Candidates a full point ahead of the field.
Photo worldchess.com
The last American to compete for the world championship was GM Gata Kamsky, who lost a match to GM Anatoly Karpov in 1996. Bobby Fischer was the last American to win the world championship title when he defeated Boris Spassky of the Soviet Union. Fischer held the title until 1975 when he chose not to play against his challenger Karpov. ### If you would like more information about this, please call Daniel Lucas at 931.200.5509 or email at dlucas@uschess.org.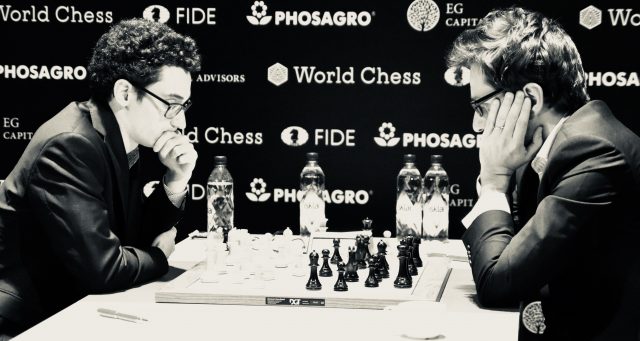 Fabiano in his crucial 13th round win over Levon Aronian, Photo Brian C. Glover