Dean of American Chess
.  GM Denker simply said to me, "I want to do something for the kids." At first, I thought he was going to donate his time to do a simultaneous exhibition or volunteer to pass out trophies at one of the Nationals. But as it turned out, he wanted to do a whole lot more than I expected. He provided an idea or two suggesting an event that brought together every state high school champion.  The question was how to select deserving players who would want to travel to this event. Would it be the highest rated player who qualified? Would it be based on age or something else? As it turned out, we agreed to invite the champion from the high school tournament of each state to play. But, when? Since I was acquainted with the scholastic schedule, I knew that many of the months that might be considered would be out. Fall was the start of the school year, winter would present problems with travel, and spring was devoted to competing in state events and the Scholastic Nationals. The end result was a decision by both of us that summer would work best. But, where? There were few scholastic events available during the summer because most families were on vacation. This would mean starting a new event with no support. Arnold suggested the US Open as a possible site. He had been US Champion and had played in the US Open for many years so it seemed a possibility. The US Open was a very prestigious event with many strong players at all levels and ages wanting to compete so the fundamental question was, "Would the US Chess Federation accept a bunch of high school kids playing at their event?" Maybe yes, maybe no. Because GM Denker was well known to the adult chess community and the Delegates, he created a motion that I co-sponsored and the delegates agreed by acclimation after he said the words, "This is good for chess."  This action created what is today known as the
GM Arnold Denker Tournament of High School Champions.
first National Senior Tournament of Champions in which he tied for first.
  In addition, Alex's son, Mitch played in this year's Denker!  The Denker Legacy is alive and well. Four events have followed this initial Invitational offering:  GM Polgar Girls, Dewain Barber Tournament of K-8 Champions, National Girls Tournament of Champions and the National Senior Tournament of Champions.  It has been quite a story over these last 34 years.  I have been pleased to have been a part of this Legacy with the sponsorship of the US Chess Federation.  I would also like to thank the US Chess Trust for their support. The future is very bright for Scholastic Chess.  We are all poised, youth and adult, to fulfill the mandate given to us by the Delegates of US Chess when they revised the mission of our Federation to focus on education of both youth and adults. To carry out the change in the mission mandated by the delegates, in the words of our Executive Board president, Allen Priest, "We have a legal and moral responsibility to change."  This movement of change to an educational organization for all ages started in 2008 with the delegates' mission restatement.  It continued with the filing of revised Articles of Incorporation in 2009.  And the IRS recognized the change by granted US Chess 501(c)3 status in 2014, retroactive to 2009. To further support this change, all we have to do is look at what Allen saw when he visited the US Chess Championship in St. Louis this year.  He stated, "This is a very American Event with merit and opportunity for American participants who represent a diversity from around the world.  We are an American institution.  Just visit one of our National events and you can see who we really are."
Education.
Chess is an educational tool aiding in the learning of planning, cause and effect relationships, pattern recognition, and research, all key skills for success in STEM (Science, Technology, Engineering, Mathematics)."
Another area of concern is the development of a strong Scholarship Program for Youth.  President Priest said, "We now have in place a program that can support scholarships that are earned by scholastic players."  I look forward to working to assist with this goal.  I hope that many colleges/universities continue to support scholarships for our chess youth.  In addition, we need to seek out donors who clearly see that by donating to the US Chess Scholarship Program, we will be using these funds to support this goal.  These funds will be separated and maintained for the future. I would like to thank the Executive Board and Delegates of the US Chess Federation for honoring me with the title: "Dean of Scholastic Chess". I will continue to work with everyone to promote scholastic chess.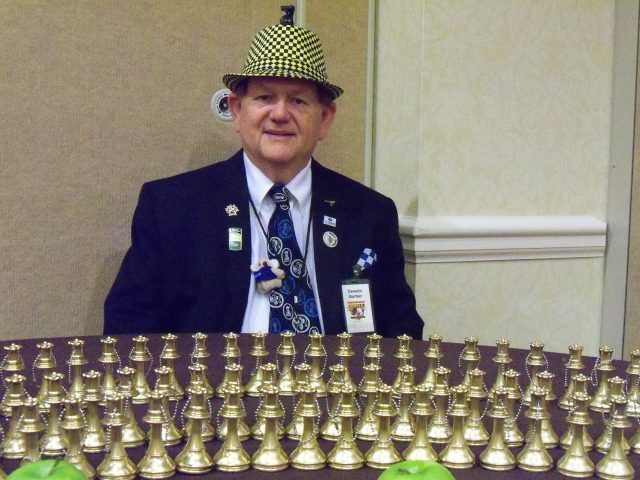 Dewain Barber is our new US Chess Dean of Scholastic Chess, and the founder of the Barber tournament of K-8 Champions. Find more his writing at barberchess.com. He is the recipient of many awards, including Recognition in 1995 for his 20 years of service to Scholastic Chess by the Southern California Chess Federation Board, 2000 Teacher of the Year, Buena Park School District, 2000 US Chess Scholastic Service Award, 2002 US Chess Special Services Award, 2008 U.S. Chess Trust Harold Dondis Award, 2010 US Chess Meritorious Service Award, 2014 City of Fullerton, CA 40 Year Achievement Award for Morrison Scholastic Chess Tournament, 2016 US Chess Distinguished Service Award for Lifetime of Dedication to Chess and 2018 US Chess GM Koltanowski Gold Medal for exceptional support to chess. 
Also find Dewain Barber's article on remembering our heroes on 9/11.