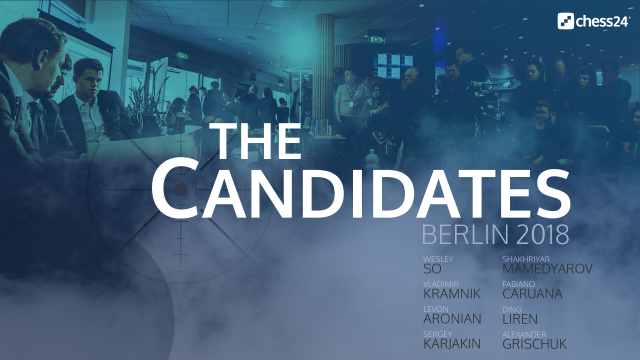 On March 10 the Candidates tournament to find a challenger for Magnus Carlsen will begin in the German capital Berlin. Of the eight players who will compete in a double round-robin tournament at the Berlin Kuhlhaus, two are US representatives: Wesley So and Fabiano Caruana.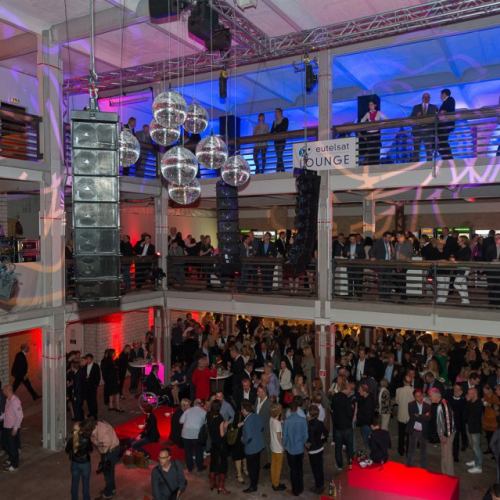 When asked for the player he favoured to win in Berlin and challenge Carlsen, former World Champion Anatoly Karpov admitted "I have no idea!" Karpov went on to explain that, "We are in a rare era where five or six of the Candidates could reasonably hope to win." Most pundits are listing perennial Candidates bridesmaid Levon Aronian as nominal favorite, but So and Caruana, along with Shakhriyar Mamedyarov and Vladimir Kramnik, have odds not far behind Aronian.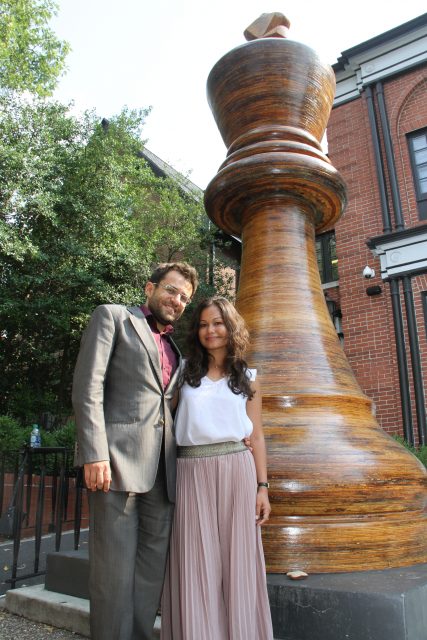 Levon Aronian and Arianne Caoili, Photo Cathy Rogers
2016 Candidates winner Sergey Karjakin knows how to perform when the pressure is on, but his form since his title loss to Carlsen has been rather modest. (Nonetheless, he was one Karpov mentioned, along with Aronian and Caruana, as his three tips.) The chances of the other two Candidates, Ding Liren and Alexander Grischuk, are being downplayed: Ding for his inexperience and Grischuk for his habitual time trouble. At the time of writing Ding is 14 to 1 on the betting markets. Great odds, but please gamble responsibly. The two most notable players who missed the cut were Maxime Vachier-Lagrave – who deserved the wild card but unfortunately was French not Russian – and Hikaru Nakamura, who simply failed to perform well enough in the qualifying events. Viswanathan Anand, despite showing excellent form in 2017 and again this week in the Tal Memorial Rapid, gave himself few chances to qualify for the 2018 Candidates. Yet it will still be strange to see the final stages of a World Championship cycle without the Indian. Such a time did exist, but you have to have followed chess in the 1980s to remember it. While Kramnik's comment that "it looks like it's going to be the strongest Candidates Tournament ever" seems a little over the top – 1965 was a hard year to match and even the 2013 Candidates tournament won by Carlsen stands up well against the 2018 version – the eight players in Berlin are all awesome Grandmasters so a spectacular tournament – perhaps with a higher winning score than usual in the modern era - is to be expected.
Before the Match
There is a surfeit of information online but two sites have done the curating job for you already.
Chess24.com has published useful overviews about each of the eight players
, including recent tournament performances, while
the Chess For all Ages blog
has found interesting interviews to introduce all the candidates. There are so many interesting chess sites but ones with consistently interesting analysis of top events include
alexcolovic.com
and
thechessmind.net
Games begin at 9am East Coast time, so a healthy German breakfast is in order. The staple food to be consumed after an early morning arrival at a German railway station is potato pancakes with apple sauce, and luckily they are easy to whip up before the games begin. To make
Kartoffelpfannkuchen mit Apfelmus
you will need potatoes, apples and not much else (an egg, milk, salt and oil). First peel and cut up an apple, place the chunks in boiling water and then simmer until most of the water has evaporated, by which time the apple can be drained and mashed into submission. Meanwhile, peel and cut a potato, place the chunks in boiling water and simmer until soft but not mushy. Peel another potato and grate it into water – which can be half lemon juice if flavouring wanted. Leave for 5 minutes. Drain the grated potato and put it in a bowl with the boiled potato. Mix thoroughly with an egg, milk and salt to taste. Heat a frypan with oil and dole out the mixture into flat lumps. Brown and crisp on both sides. Place the potato pancakes on a plate and add dollops of the mashed apple. Eat, and vow never to accept mere hash browns again.
During the Games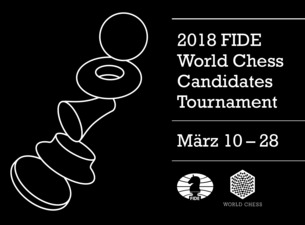 Even some in Berlin might find the $50-$280 day tickets for the Kuhlhaus a little pricey, so fortunately the range of options for spectators sitting at home are more varied than ever. The organisers Agon are once again asking a one-off $15 fee to watch the official video stream for the entire tournament and expressed the hope that 250,000 people would sign up. (Given that, according to Agon, only 35,000 paid to watch the stream of Carlsen's last world title match, the line for Agon between hopes and dreams appears to be very thin.) For your $15, a pay-per-viewer will get live video of the games and access to the on-site commentary. The star will be Judit Polgar who, according to Agon "understands and knows the game better than anyone in the world." Exaggerated praise aside, Polgar did an excellent job at the 2016 World Championship match; one hopes this time she won't be forced to explain how a knight moves, for people who can't play chess but accidentally paid $15 to tune into a chess broadcast. Agon will also broadcast on Facebook Live, and a roving correspondent returns, talking to spectators and seconds – the ones not locked in their hotel rooms. As usual Agon is also experimenting with some off-the-wall ideas, including Beyond Thunderdome camera-work from high above the stage, and producing dozens of strange stickers, one with the inspired slogan b-o-r-i-n-g! According to Agon, "chess is an emoji-friendly sport." No doubt there will be a Tal emoji for sacrifices and a Giri emoji for… witty tweets.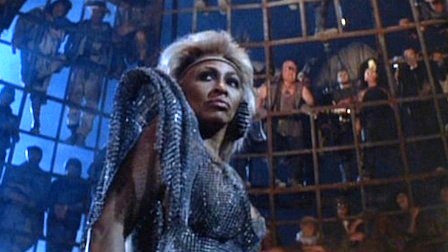 Unlike the previous Candidates tournament, Agon have given up trying to force spectators on to their site by banning competition. Agon have now granted sites permission to provide their own commentary, on condition they observe a not-too-onerous five minute transmission delay. However those site must also provide a link to the official paid site, a note pushing viewers towards that site, and an additional statement that money so raised – actually only 10% of that money - will be added to the prize fund. Of course in their usual heavy-handed manner, Agon have threatened to take legal action if "rogue" sites do not cooperate. As usual, Chess24, which have won all of the multiple legal case Agon has launched against them, will ignore Agon's threats and provide commentary in three languages. Chess24's English language team, GMs Peter Svidler and Jan Gustafsson, are regarded as the most authoritative regular commentators, both with regard to the chess games and film criticism. Chess24 will have the ebullient GM Pepe Cuenca and IM David Martinez as their Spanish team and the happy fmailies team of WGM Melanie Lubbe and IM Nikolas Lubbe providing commentary in the local tongue.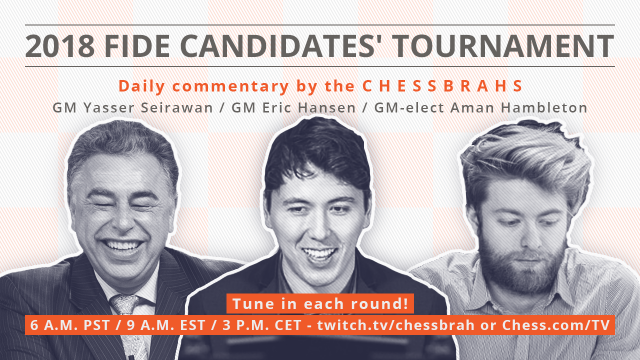 After an unsatisfactory earlier experience using the Agon tournament widget, Chess.com are hosting their own commentary on both
Chess.com/TV
and
Twitch.tv/Chessbrah
.
As in Wijk aan Zee, the Chessbrah commentary team will feature GMs Eric Hansen and Robin van Kampen with additional contributions by GMs Yasser Seirawan and Aman Hambleton.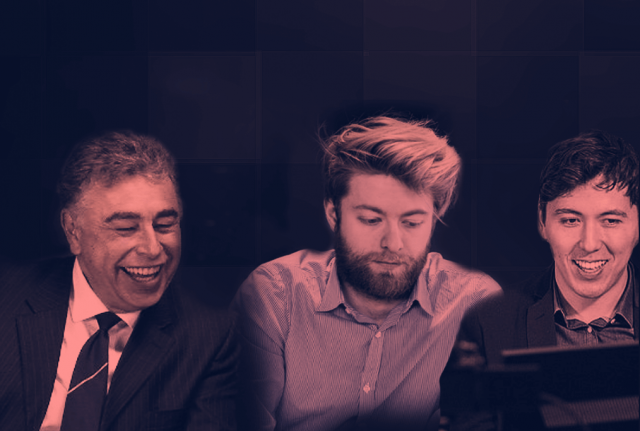 The ChessBrahs: GMs Yasser Seirawan, Aman Hambleton and Eric Hansen
Internet Chess Club
are going to use the official live feed of the moves and relay them on all platforms - Windows, Mac, iOS, and Android, while ChessBase is also planning on showing the live games with Agon's permission.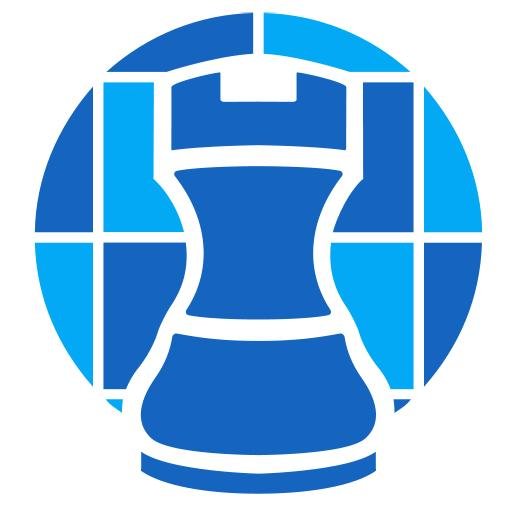 To discuss the games in progress
ChessGames.com
is the go-to site, though social media has become more and more relevant as a place where kibitzers can share ideas as the games go on. The official Twitter hashtag for the tournament is
#candidates2018
. The players with Twitter accounts are unlikely to use them often during the tournament but watch out for the chess journalists' accounts, often pointing to articles and interviews that might otherwise be hard to find. One to watch will be
@Stefanloeffler
, a local with an eye for controversy.
After the Games
As soon as the games finish, the two players will be taken to a short press conference, which can be seen on the official site or replayed a short time later on a site such as Youtube. The most asked question – and one of the few likely to be answered openly - will, as usual, be "What are you planning to do on the rest day?" Chess.com is usually fast and authoritative with their daily reports and
ChessBase
have raised their game with editors – hopefully the dynamic duo Mokal and Shah - on the spot. Chess24 has one of their (exhausted) commentators record a Game of the Day each evening, while ICC will also have recaps during the rest days, to be broadcast on ICC's
YouTube Channel
. There will be many pundits analysing the games via text and Youtube without the advantage of being in Berlin – Chessbase is lining up GMs such as Danny King and Simon Williams, both popular figures.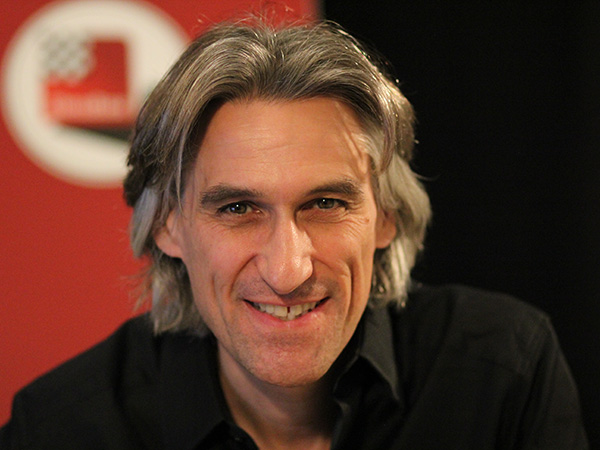 For the final five rounds of the Candidates, Seirawan will join up with his old team – Jennifer Shahade and Maurice Ashley –
on Saint Louis Chess Club's Today in Chess show.
 That show, broadcast on
uschesschamps.com
will begin at Noon EST starting on March 22, three hours into the start of play. For a succinct round-up of the Candidates – and just about every important tournament played around the world – check out Mark Crowther's
The Week in Chess
. So, once you have whipped up the potato pancakes, watched the games with three commentary streams, munched on the comestibles, sighed at the non-answers at the press conferences, watched and read the post-mortems and found time for work and sleep, you'll be well ready to enjoy the world title match in London in November. (Just remember to train yourself well in advance to enjoy British culinary treats such as black pudding and baked beans.) Ian Rogers will cover the Candidates tournament in Berlin for US Chess. Look for his first report after round 5.
2018 Candidates Tournament Schedule
Round 1 Saturday    March 10 9 AM ET Round 2 Sunday      March 11 10 AM ET (Daylight Savings in USA Starts) Round 3 Monday      March 12 10 AM ET Round 4 Wednesday   March 14 10 AM ET Round 5 Thursday    March 15 10 AM ET Round 6 Friday      March 16 10 AM ET Round 7 Sunday      March 18 10 AM ET Round 9 Tuesday     March 20 10 AM ET Round 10 Thursday   March 22 10 AM ET Round 11 Friday     March 23 10 AM ET Round 12 Saturday   March 24 10 AM ET Round 13 Monday     March 26 9 AM ET Round 14 Tuesday    March 27 9 AM ET