The
Good Moves
art exhibition at
The Power Station
, a gallery founded by contemporary art collector Alden Pinnell, benefits
Vogel Alcove
. Vogel Alcove is a Dallas-based, non-profit organization that helps young children overcome the lasting and traumatic effects of homelessness. From now until October 6, anyone can bid on the
Good Moves
artworks via
an online auction
. Proceeds from that auction will endow a Vogel Alcove chess program specifically designed for homeless children. A short, shareable version of the auction link is
ha.com/goodmoves.
Build Brains and Repair Hearts
On September 13, I interviewed Karen Hughes, the President and CEO of Vogel Alcove. Hughes told me that chess is a great fit with what Vogel Alcove does, which is to "build brains and repair hearts." When Alden Pinnell mentioned plans for a chess-themed art exhibition, with its proceeds to endow a Vogel Alcove chess program, Hughes was immediately interested. Hughes explained that homeless children's brains are wired differently, due to the traumas they have experienced. Hughes hopes that a once-a-week chess program will enhance the children's executive functioning.
Federally-funded research
on chess and executive function hypothesized that a specially-designed chess club held after school for one year would lead to improved executive function and then to improved academics for the research subjects, children ages 8-11. At the website for the
2011 Koltanowski International Conference on Chess and Education
, Dr. Teresa Parr's PDF "Exploring Why Chess Works" explains that executive control includes the abilities to reason, plan ahead, multi-task, switch between tasks, sustain attention, and delay gratification. Parr believes that chess may help develop that executive control, which is also sometimes called "executive function." Chess examples include controlling impulses by following the touch-move rule and delaying gratification, as winning a chess game typically takes 30 or more moves. Parr and her colleagues shared promising early results at the
2015 London Chess Conference
. Data analysis is on-going. To my knowledge, repairing hearts through chess has not been the subject of research. But stories about the life-changing effects of chess abound. Hughes mentioned the documentary
Brooklyn Castle
, where middle school students bonded with each other and their teachers through chess. (Aside: I am volunteering at a free screening of
Brooklyn Castle
on September 28th at the Audelia Road Branch Library
.)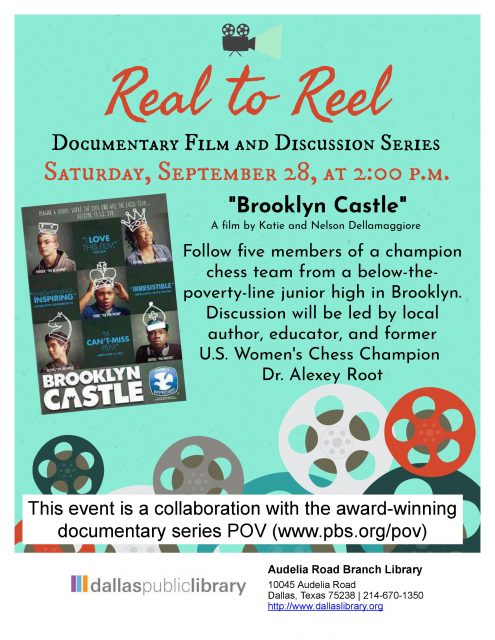 There's also the Disney film
Queen of Katwe
, based on the true story of Phiona Mutesi. Chess provided Mutesi sustenance, initially through food and then through emotional and scholastic support. Perhaps most relevant to the homeless children served by Vogel Alcove is the story of
Tanitoluwa Adewumi
, who went from being homeless to having his future secured after he shot to the world's attention in
Nicholas Kristof's article
this past March.
Interview with an Artist
One artwork that caught my eye, from the auction's photo of it, is by Francisco Moreno. Its tall white-and-black structures reminded me of
a chess set modeled on the New York City skyline
. But when I saw Moreno's artwork in person at The Power Station, and learned that its name was
Points
, I appreciated its educational value. I interviewed Moreno via email.
ROOT
: What is your personal history with the game of chess?
MORENO
: I started playing chess in 2017 because Zeke Williams, another artist in the
Good Moves
show, had a set in his studio. I became really interested in the game since that first encounter. I mostly play with other artists.
ROOT
: How did your chess background influence 
Points
?
MORENO
: I bought a couple of books on chess sets,
one was edited by Dylan Loeb McClain
. I was intrigued by the various designs throughout history. When I first started playing, I wanted to play with anyone and everyone and found myself talking a lot about the value of each piece. When you are playing timed games, if you are a beginner, you often forget you have a certain valuable piece somewhere. So I thought it interesting to have the pieces obviously represent their values. The
exhibition at Luhring Augustine
was also got me thinking about artists' sets and making my own.
ROOT
: How did you decide on the height of the kings?
MORENO
: The king is valued at 0, so I made him super tiny. I love seeing the queen and the king next to each other. The queen is such a magnificent piece, and I think it is so awesome how big she is. It really communicates her power. At 11 inches high, she looks even more powerful next to the king, who is no larger than a bottle cap.
ROOT
: Do the 
Points
 chessmen come apart, in case someone wants to change the points assigned to each chessman?
MORENO
: No, they are fixed permanently.
ROOT
: Do you plan to mass produce your 
Points
 artwork, so that chess teachers could use the sets to teach point values?
MORENO
: This set is unique. If there were someone interested in helping me mass produce it, I would be more than happy to walk with them.
ROOT
: How does 
Points
 compare to 
other art you have created
 or are working on currently?
MORENO
: I make painting sculptures that rely on black and white, so it came pretty naturally when thinking of this set. My father has a 3D printer, so I have to give him credit for helping me realize my design. I recently just finished building and painting a
Chapel that was acquired by the Dallas Museum of Art
. I'm currently working on some works on paper and planning my next big project.
ROOT
: Why did you decide to contribute an artwork to the
Good Moves
exhibition?
MORENO
: I love chess and have loved seeing how artists have made their own sets over time. When Alden Pinnell contacted me about it, I instantly jumped on the opportunity.
ROOT
: Anything else you would like to say to readers of 
Chess Life Online
?
MORENO
: I think that they should look at artists' chess sets! They are super cool and can make you think about chess in different manners.
ROOT
: That is certainly true for me. When I first saw Kevin Todora's
Phantasmagoria Board
, I was sure it was set up wrong. But then I realized that if I imagined the pink chessmen and pink squares as White, the chessmen and board were set up correctly. I still struggle with seeing that artwork as "correct," as I mistakenly see the yellow color as representing White.
Participate     
The
Good Moves
exhibition and auction has gained international attention, in part because of an article I wrote about it for
ChessBase
. One reader of that article, FM Mihael Ankerst from Munich, Germany, emailed his fan art response, "shiny moves," which is a visualization of Vachier-Lagrave versus Carlsen from the Sinquefield Cup 2019.
"Shiny Moves" by Mihael Ankerst
To contribute fan art, see the artworks at The Power Station (by appointment only), or learn about special events associated with
Good Moves
, please contact Gregory Ruppe, the Director of Exhibitions at
The Power Station
. One special event is Family Day, which will be held at The Power Station on Saturday, September 28, from 2:00 p.m. to 5:00 p.m. Family Day features free chess instruction by the
North Texas Chess Academy
. At a second special event, on October 5, from 6 to 9 p.m., The Power Station adds a new entry to the history of chess and performance art. The creative team includes UT Dallas chess team member Grandmaster-elect Zura Javakhadze, award-winning composer Scot Gresham-Lancaster, computer scientist William Thibault, and audio cognition expert Sharath Chandra.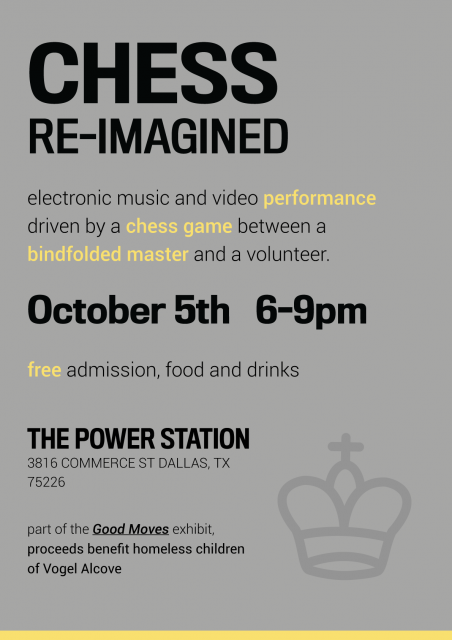 Their piece, titled
Chess Re-Imagined
, is an electronic music and video performance driven by a chess game between Zura Javakhadze and a volunteer from the crowd. Zura will play the game blindfolded. Audio and video will react to the state of the game, including data like which piece just moved, and which player has an advantage. This intriguing night of art, chess, and food is free, and also provides a last in-person chance to discover the rest of the exhibit and charity auction during intermissions. Bid on the artworks before October 6th at 7:00 p.m. Central Daylight Time. 
The auction page
 includes photos by Kevin Todora of each artwork in the exhibit.