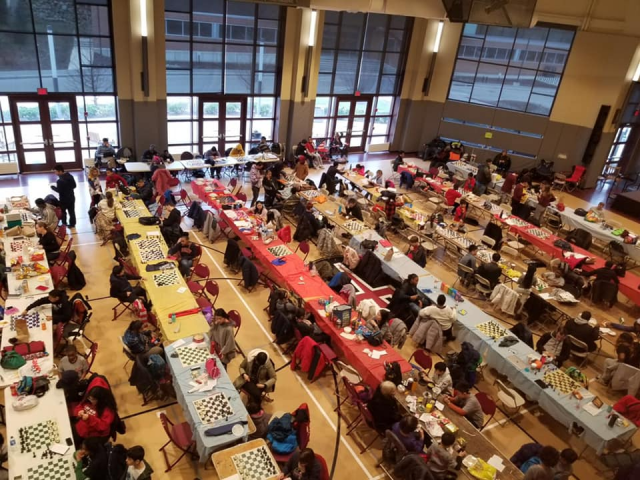 Like many scholastic chess coaches in Philadelphia, my day starts long before round one. Collecting students from various and criss-crossing locations across the city, making wake-up calls, taking breakfast orders, and finding lost pawns; tournament days are most hectic before 9:30 check-in. As the team pulls into the parking lot of the University of the Sciences, I've already listened to at least five different conversations about how the weekend of chess will go. Osvaldo, one of the newer players on the team, and fast becoming a favorite because of his positive and hard-working attitude, sums up the discussion by saying, "I think we will do well because we have each other, and we have Morphy." Laughing, because the team has recently been reviewing Paul Morphy games and I can see that something, at least, has stuck, we make our way across the parking lot on campus boards and notation books in tow. Other than young Fernando, who is already on a timeout for throwing paper, the energy of the kids reflects that this weekend is not going to be a sprint; it is going to be a marathon, a chess marathon. Saturday, January 26th and Sunday, January 27th, 2019, over 350 Philadelphia scholastic chess players compete in the 12th annual PECO-
ASAP
Checkmate Violence Marathon tournament. Now in its 12th year, the event continues to be run by the After School Activities Partnership (ASAP) and owes sponsorship to its community partner, the Philadelphia Electric Company (PECO). It's an important event: Urban areas in the United States remain the most violent in the developed world. Most of this violence is concentrated in parts of the city where people are at the most disadvantaged and disconnected from socio-economic success. Philadelphia, like many cities in this country, experiences a high rate of youth violence. The mission of this tournament, and events like it orchestrated by ASAP, is to involve the youth of Philadelphia in a positive activity that will keep them safe and engaged during the dangerous and often violent hours outside of school. As we wait for Coach Hummel and the other half of our kids to arrive on campus, Jadrian explains, while rubbing the sleep out of his eyes, that the last week had been crazy. A shootout happened on his street and since then there had been cops and helicopters all over his block. I told him I thought that must be terrifying. He said he was used to it, and felt as though he was prepared: his parents have him hide under his bed and they make sure the windows and doors are locked. I'm not sure how to respond to this story and instead I ask him where his glasses are. He's forgotten them. I am aware that the city has a strategic plan on reducing youth violence that includes addressing key areas; education, a safe environment, positive youth development, meaningful engagement, and, finally, training and employment. I tick them off in my head. Chess, as many of us know and research supports, can be said to address all of these areas and I hope chess can do the same for Jadrian.  Interestingly, although there is no direct correlation with the Checkmate Violence tournament itself, the rate of youth violence in Philadelphia has been in decline since 2008.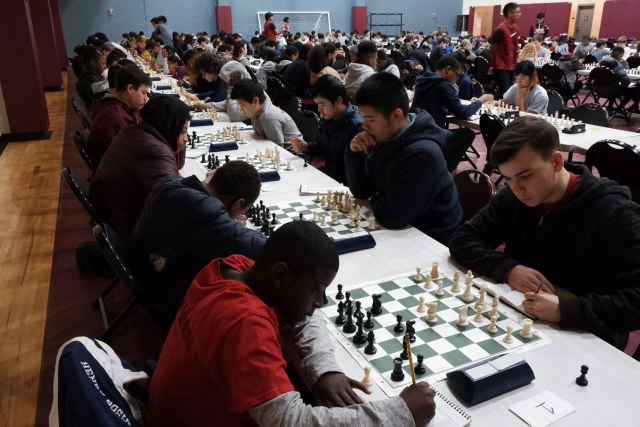 The Skittles room is a buzz, tables and chairs full, and so Coach Hummel and I take our cooler with lunches and snacks and camp out with 22 kids on the floor. Immediately, chess boards come out. This all would seem more stressful except at the table next to us is Coach Gil Motley from Lenfest Center. I say good morning and commiserate with his SEPTA bus ride down - taking six middle school-aged children and transferring three times. We briefly brainstorm mutual funding ideas and agree to touch base later. Coach El Mekki from Dark Knights comes up and gives both of us a huge hug and smile at the same time as helping one of our students find their lost headphones. A first year coach from a local elementary school is standing right behind him - last time we met he had asked about club behavior-management tips. From Bregy, the Kuan sisters rush over to our high schooler, Daiana to share their excitement for the day.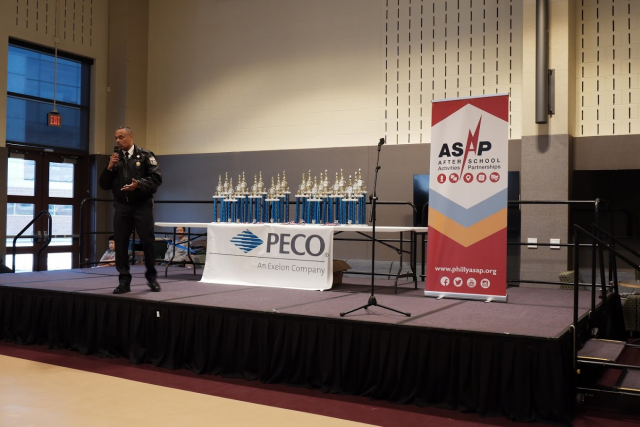 At 10 am the room has reached a fevered pitch. Philadelphia Police Commissioner Richard Ross takes the stage. Many of our chess players have a poor relationship with the police, but the Commissioner speaks to them about the thing they all love, "When you play [chess] against people who are even better than you, not only do you get better, but you can also, just like in life, learn from the wisdom of others, even if sometimes you are just watching the mistakes that other people make." No one can argue with that. Councilwoman Jannie Blackwell follows and also welcomes the players, parents, and coaches to Southwest Philly and the third district. After lauding the players and the game for the critical thinking and strategic skills developed, she invites the students in the room to consider the benefits of attending the University of the Sciences. The University prepares students to be leaders in the healthcare and science fields; it is only logical that they should want chess players to apply. Many of our kids don't appear to be listening - they are still moving pieces even though we told them to stop their games.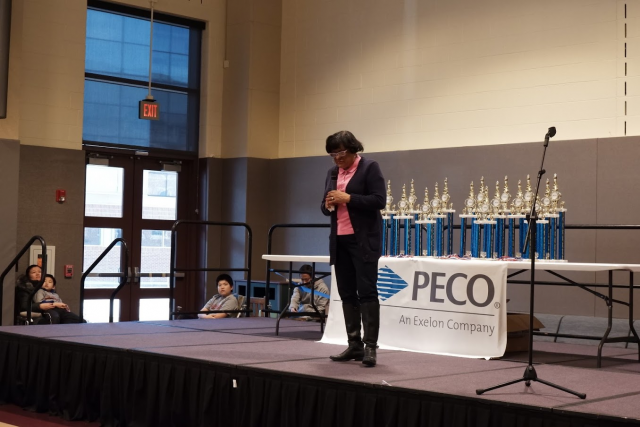 From the University itself, Jesse Phillips of Youth Sciences closes out the kick-off, "...my mother and father got me involved in chess in an after school program just like you guys. And I can remember learning how to play chess and at the time I didn't know what it did for me…. I learned a lot about life. Chess taught me patience, it taught me how to focus, it taught me how to listen. It opened my eyes up to many things that I use today…. What you guys are doing is amazing." The marathon of chess is amazing. A huge rush to the pairing charts precedes the clocks starting on round one. Boasting a one day unrated section and two-day rated sections, the tournament reaches all levels of scholastic chess players. Medals are given to unrated players who score points after five rounds of chess on Saturday. On Sunday, both club and team trophies are awarded, as well as first through fifth individual, top Under player, and top female in each of the rated K-3, K-8, and K-12 sections. An additional 7-12 Under 800 section allows older scholastic players new to rated chess a niche. With upwards of seven rounds over the two days, it really is like 26.2 miles of chess.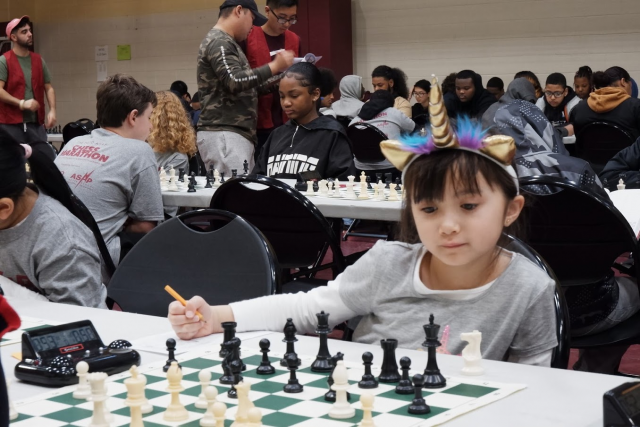 Of course, chess tournaments are more than the results of rounds, or sections, or ratings. In the middle of the day, Fernando, the paper thrower, is called back to the tournament director. Standing under the K-6 pairing chart is his opponent, a worried eleven year old girl. A premature checkmate is the topic of the dispute. I'm a little worried because Fernando's notation stops prior to the end of the game. However, in reviewing the game with him, he shows me the three moves, as he remembers them, that led to his win: [fen]r2q1rk1/pbp1bppp/1pn2n2/5Q2/3N2N1/2PB1P2/PP1B2PP/R4RK1 w - - 0 1[/fen] Playing White, his knight on e3 moves to g4 - a sacrifice to deflect Black's f6 knight...if Nxg4,then
Qxh7#.
While there are many other things to discuss about the quality of his game, when Black chooses to take the Knight, the resulting checkmate is clear. The girl, also with uncertain notation, claims the kingside rook had moved to e8 prior, giving the King e7 to escape mate. Ultimately,
Qh8#
makes the entire claim moot, but without complete notation from either side, nobody really knew where the pieces were on the board.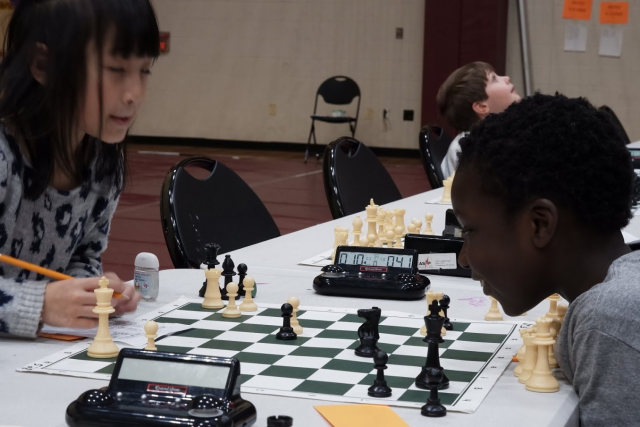 As Mr. Bradley Crable, the TD gives his ruling, the both players learn the laws of chess, as well as the importance of having a voice. With deliberate clarity, the TD addresses both kids, "You have to speak up. By saying nothing, [Black] agreed to the checkmate. You need to have a voice. Just because your opponent says checkmate, doesn't mean you have to agree. You look at the board and decide for yourself if it's checkmate. And I know you don't want to hear this, but you need to do this in life too." There are some tears, but I am especially proud of Fernando: he offers to play another game if she wants. We will work on notation another day. Having tournament directors like Bradley Crable available, who regularly directs state and national tournaments, is invaluable. It's opportunities like this, and tournament directors who are willing to take the time to teach and explain, that allows learning to happen over the board and outside of the playing hall. By the end of the first day, keeping count of all the students on the team quickly becomes impossible. Kids from other teams have come over to play friendly games. Some kids are with other coaches and players looking at games they just finished, and most are somewhere in the dense crowd at the far side of Skittles. In the middle is a table labeled "
Philadelphia Chess Society" (PCS).
Here former scholastic chess players who have been to state and national competitions are reviewing games.  Coach Angelo Dellomargio captivates the young group and it looks like story time in a Kindergarten classroom - kids gulping down game analysis like juice boxes.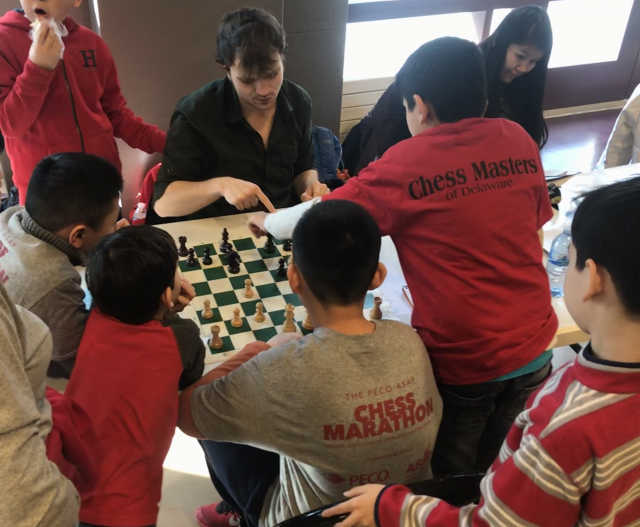 PCS, as an organization, provides assistance in helping local clubs and teams get to national competitions like High School Nationals (HSN) and All-Girls Nationals (AGN). In hopes of even more young Philadelphia chess players travelling to these events, they offer the game review as a way to support an increased level of play in the community. Towards the end of the first day, Coach Jason Bui, Vice-President of PCS, coach of South Weir Mitchell chess team and Minor Threats chess club, takes the stage to announce that there are still seats available on this years' bus to both AGN and HSN. I'm excited to see a couple of parents and at least one coach asking Coach Bui questions about the reserved hotel rooms, costs, and school district paperwork. Without the help of PCS, my team wouldn't have even known a trip to a national competition was possible. Without ASAP, my team wouldn't have known that a trip to the state championship was possible. And without people like Coach Angelo, my team wouldn't have been able to compete at that level. Checkmate Violence is a unique tournament. Philadelphia chess is a unique community. As Justin Ennis, Executive Director of ASAP says about the two-day tournament, the chess played here allows both, "practicing problem-solving skills and strategic thinking skills… and also has begun preparing them for more serious competition. And when they go on to compete at the state and national tournaments, they go to compete as Philadelphians." In this way, with ASAP, Philadelphia Chess Society, and a growing, family-like network of Philadelphia scholastic coaches, the usually competitive and singular story of one scholastic chess team rising to success becomes a tale of a city-wide community that improves the competition and ultimate success for everyone. Ennis continues, "It's really brain over brawn here, practicing problem solving skills, about pushing themselves. But it's also a community activity."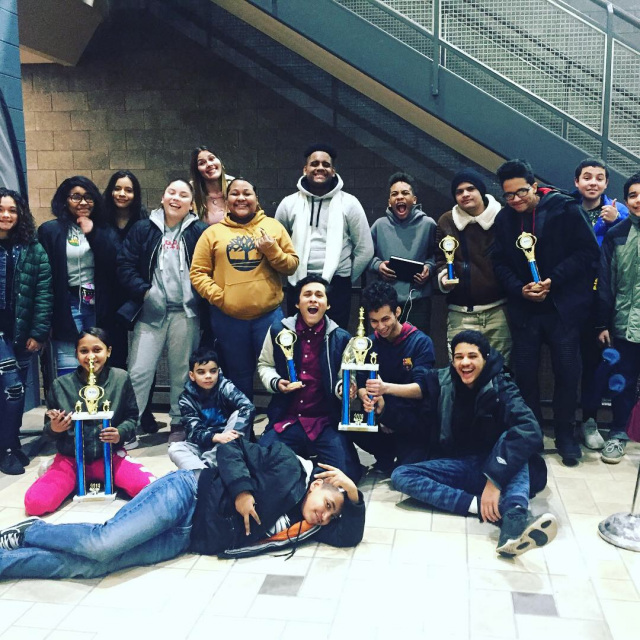 After the coaches' non-rated, quick tournament on Sunday, around the middle of day-two, everyone is tired. But the good-natured joking about the five "adult" games fills the room with camaraderie. Most all the kids are in their own round and I've taken a moment, one of the few we get as coaches, to sit quietly in Skittles with Coach Hummel and Bui.  Looking around the room and noting the other team tables - Coach Fritz of Palumbo, inspiringly positive, sitting with a new player, Coach El Mekki gathering a crowd and preaching about life, the ASAP staff, a few kids waving notation sheets - it feels like being home.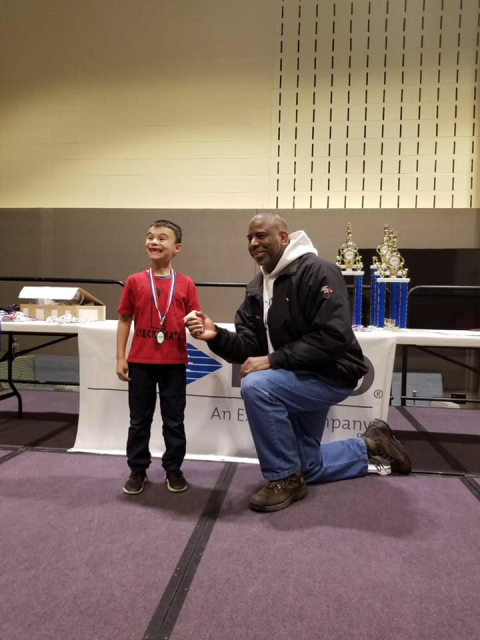 The award ceremony is a bonus at the end of the day. ASAP Board member and former Philadelphia scholastic coach, Theo Mont presents a large table of trophies to the players. Then, after a few quick pictures, everyone piles into the vans. As we drive past row homes and corner stores on our way towards the highway, the conversation centers around, not the trophies won, but, surprisingly, engineering. Jadrian, the sleepy, under-the-bed-hiding, eighth grader, starts by wondering out loud if the University of the Sciences is a good place to go to school. Daiana, now a 10th grader, asks him what he wants to major in, and for the next 25 minutes words like "GPA", "Scholarship", and "AP class" cover the miles it takes to travel 76 and the Boulevard. This group of would-be first generation college-goers are planning their future like quickly developing pieces on a chessboard. If I wanted anything out of the weekend, it was this. And as it turns out, they were listening yesterday when Councilwoman Blackwell spoke. Or, perhaps they weren't; perhaps just being at a University, engaging in a beneficial activity, having a safe space and the support of invested adults was enough to spark that conversation. The PECO-ASAP Checkmate Violence Marathon tournament, in its 12th year, proves that where community exists, where we have each other - parents, coaches, peers, partners, networks - and where we also have Paul Morphy and the game of chess, then, as Osvaldo says, "we will do well."
Gabrielle Moshier is a teacher, chess coach and board member of the Philadelphia Chess Society, which you can find out more about on facebook and their website.